Posted by Big Sky on Oct 17, 2018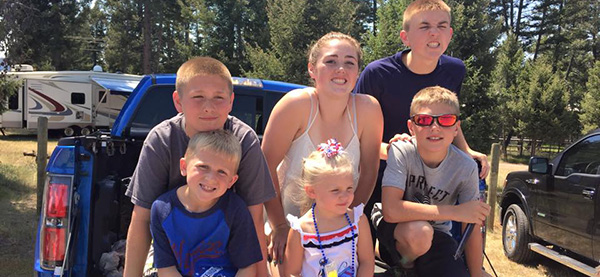 Cousins 2015
It's no secret that family is a pretty big deal to us. We grew up in what I consider a pretty tight family and as we created and grew our own families, well - we're still a pretty close knit group. A few odd balls here and there but hey - every family has them, right? Regardless, we're all about making memories, no holds barred teasing, I-got-your-back and you've got mine, be there for one another - FAMILY.
And perhaps one of the greatest documentations of every family are those lovely family pictures. Oh joy…those special moments of forced family fun that are filled with fake smiles, loving poses and that one person that always has their eyes closed or that doesn't like the picture and insists on 'just one more time'. Whether professionally done, with your iPhone or simply a candid capture, family pictures truly tell a visual story of our life.
But what is also important to remember is often times there is a story behind the family photo. Not always but generally - there is meaning in more than just the faces and expressions that are captured. A moment that is being recognized. A feeling that is being sought. There is a story there. And it's that story, that feeling, that memory that when we look back on that family photo - that is what we pass down to our children, to future generations, what we tell around the fire, what we belly laugh about, it is what fills our gratitude jar at the end of our days.
So without further ado, allow me to share some of the favorite family photos in my life and some of those family photos in the lives of others that were so generous as to share. Not only were people so gracious as to share the photos but more importantly - the story behind them. Enjoy!
My Family Photos
Before I begin - I have to say this was a magical journey…Lots of laughter looking through these, just seeing the expressions on the faces. Was also a magical journey with my hair. The color. The cut. The style. Ugh. Some of it not pretty. I started with a quick look back at how much the kids have changed and then did the fam. My children will probably be less than thrilled. Shocker.
The Babies
Came across this gem by accident. Hard to believe they were that little. Ever. I will be honest in that I don't remember the day but I do remember the days - the days when they were that small. That swingset in the background and the countless hours they spent on it. The fact that although having three 3 and under was hard when they were babies, it was worth it as they got older as having them all close in age gave them instant playmates. And rivals.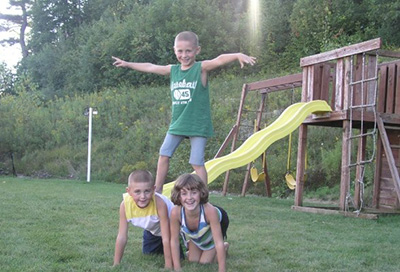 Let them be little
This was December of 2016. In our house, we go get our tree Griswold style on the day after Thanksgiving. And yes, it is an exercise in patience for all of us - finding that perfect tree. And everyone has their own opinion with the exception of oldest son who just wants to get a tree and go home. Rob then hands out the decorations one at a time and the kids hang them. And we have decorations dated back to when they were all born. So I love that part of it. And I love that my oldest son is smiling. He takes life so seriously that to catch a smile on his face - it's rare. And I treasure this picture for that reason as well.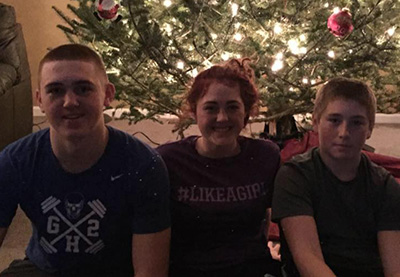 It's a Griswold Family Christmas
I think every parent is unprepared to see their children 'all grown up'. We attended our first wedding as a family this past August. I was fighting with one, another has that thing on their chin and the third - just wants to be done taking yet another picture. It was not a perfect day. But to me - they are the most perfect thing I have ever done.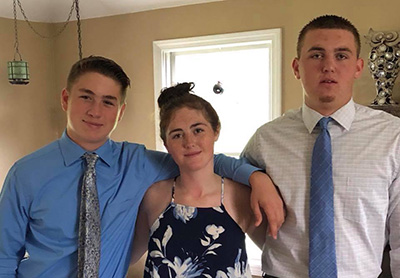 Mine
The Fam
This was the first Bruins game and the only Bruins game - in fact, the only professional sporting event - that all five of us have been to. Was a huge treat, we did it up right, they got whatever they wanted that day and then some. We still have those jerseys as they've been passed down to the littlest Schu. And my hair - short and a little reddish.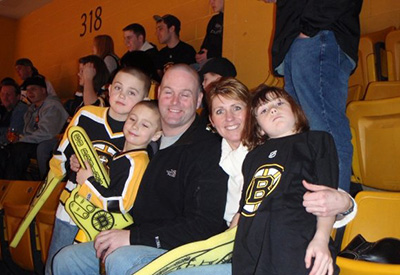 Forced Family Fun
Oh and how we love Easter! When the kids were little, hundreds (okay more like 100) eggs were hidden outside as they went around with their buckets a finding. Loved the holiday, loved the anticipation, loved the 'belief' in the Easter Bunny. And the knock-overs to move others out of the way to get the most eggs. One had a mohawk, one was near tears, one is eyeing the eggs, Rob is cold and yep, my eyes are closed. But I'm rocking the short do.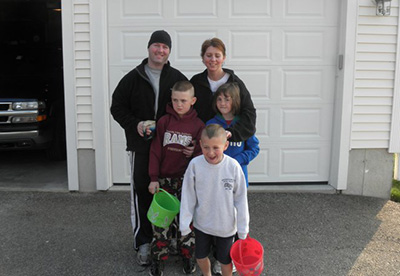 Where for art thou, Easter Bunny?
We don't often get the chance to get away - life is a lot and add in dogs at home and a crazy career. But this one February vacation we did get away and headed up to Maine to spend a couple of nights with close friends of ours. Rob and I did a few family runs on the tube hill and then went in to enjoy the warmth of the fire and beverages while the kids went off and did their thing with one another. We used to tube down the driveway in the winter with the kids and it's amazing how something so simple can bring about such great memories. And the hair was long and dark red…good Lord.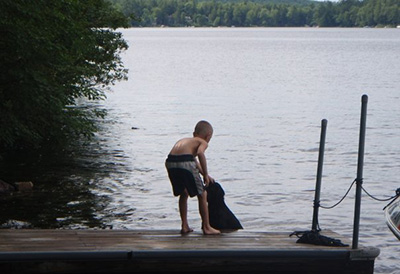 Winter Wonderland
We spend a lot of time in the car. Between schools and sports, I swear I have permanent scars in certain places from spending so much time traveling in the car. We were headed up to my brother-in-laws to celebrate New Years Day and the birthday of our youngest. Playing music smack down and the alphabet game. And I may or may not have had a beverage to help get me through the hour and a half drive. But this pic right here - it is perfect as a reflection of our life with kids and speaks volumes of the memories made spent with one another in the car. Oh and look - my hair is short again.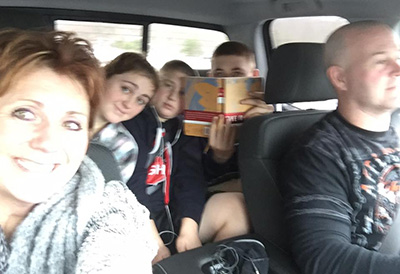 Are we there yet?
I love this picture - one of my favorites. My children adore their father. And his entire life is his family, his children. He made Lieutenant and at the formal ceremony, his children were there to honor him. And their love for him is as evident as his love for them. Oh and the hair - going for the 'feathered' look…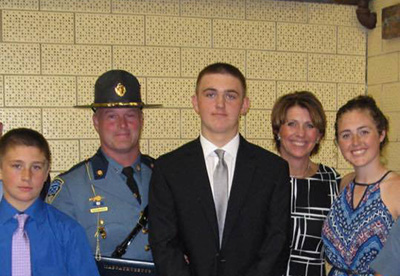 Sir, yes Sir
And this is probably my most favorite family picture we've taken. Was taken about a year ago. My little, being the youngest, it's not often where he gets the opportunity to shine. And this day, we all came together in support of him. Oldest son rallied in pajama bottoms, daughter came home from college for the game and my youngest - he was the center of the universe. I can't look at that photo and not just feel incredibly and totally blessed for the gift of the four of them.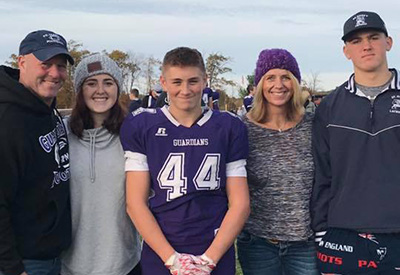 Schumaker Strong
My Brother's Fam Jam Photos
Well I would be remiss if I didn't include a few family photos of my brother and his family and the cousins. Love them, miss them, and oh how my brother's hair has been a journey…
A picture he would love to have go away permanently and one that I will hide away safely to bring out when needed. I have no words for this picture - his hair says it all for me. And that weird look in his eye. And the creepy smile. (I'm dying…sorry not sorry, Casey)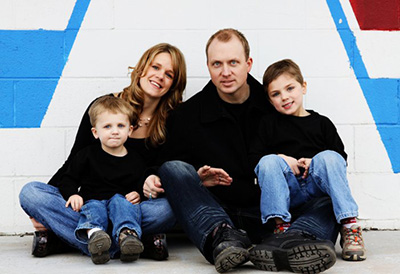 Hello Clarice
Seeley Lake, MT is a place of years upon years of summer memories for our family. And every year, my brother, his family and my parents go up to Seeley for a week and spend the time together. It's one of those places where it's truly 100% all about the family. We have been fortunate enough to go a couple of times in recent years and I am so hopeful that maybe we will get to go this summer.
Sunshine and Summertime
Every Halloween, my brother and sister-in-law make a point to dress up with their kids. I think this is the best he's ever looked, to be quite honest. Au natural.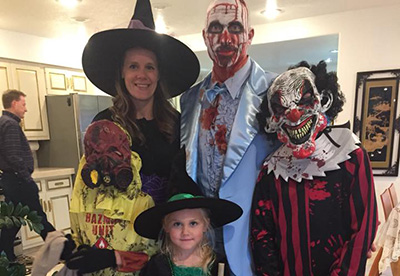 Fright Night
Big football fans, they are without question a house divided when it comes to the big game. This was their Christmas card from last year and shows not only their love for one another but also how as always, they come together united. Two years ago they surprised the kids with tickets to the 49'rs vs. Seahawks game on January 1 and it was one of the best vacations I think they've taken. Love this and love them!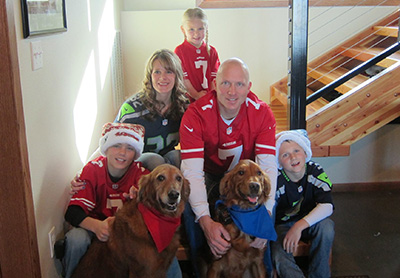 From Our House to Yours
Your Family Photos
I asked for your family photos and you did not disappoint. Loved the photos but loved the story behind even more.
I love this picture and the family in it! A mom and her three children, at the end of a very long and arduous year. Not only did this mama pick herself up by the bootstraps and survive - she and her children THRIVED! No looking back on the past but eyes forward to what lies ahead. And their future's so bright - they gotta wear shades!
See ya later, Alligator!
This picture is not only stunning with the backdrop but the family in it is just as beautiful. The photo was from a 2018 summer vacation. It was a family trip to Montana. Yay!! They went to the State Fair to see Seether (one of my favs) and his wife knew the drummer (jelly!). They went all over Montana including Fort Benton, Goose Island and Glacier. It was a trip that brought the family together again when life had them going in all different directions. And you can see from the smiles on their faces - it was memory making!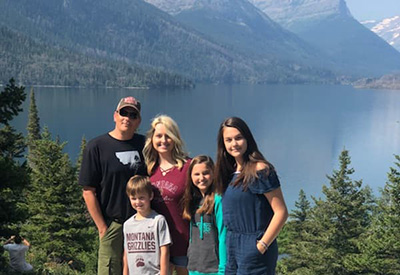 You are so beautiful to me
Another gorgeous family photo that epitomizes the blessing of family. After a challenging pregnancy filled with testing, scares, more testing and ultrasounds, what they were certain was a third baby boy was in fact a healthy baby girl born in March of 2016. A young lady who completed their family. I was told that they have hundreds of professional family photos and knowing the momma - I have no doubt. But she told me that this one - this was the one that she treasured the most because all she needs to do is look at it and she is flooded with the same gratitude, joy and love that she felt on that day. And that is AWESOME!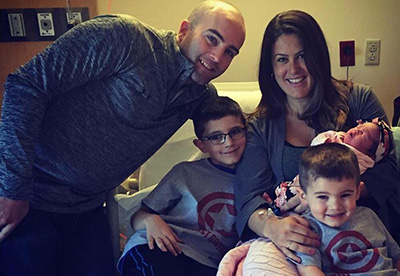 Sugar, Spice and all things Nice
And this pic, it is so special! This was a Christmas gift from a grandmother to her children and her grandchildren. They celebrated a 13th birthday on the trip. It was the first time some of the grandchildren had been to Disney. It was a first cruise for all but the grandmother. And it was the first time all eight of them flew on a plane together. It was a week of family memories that will not be forgotten. Ever.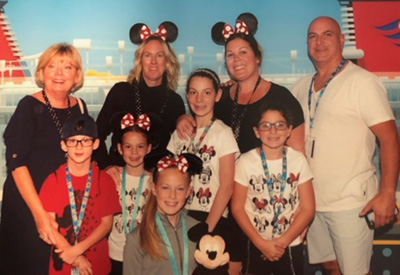 We are Fam-i-ly
Big Sky Wrap Up
Family is so important. We get it. We live it. We love it. Heck, we even work it! At the end of the day it creates the very foundation from which we build our lives and our family photos, they not only create the visual timeline but they also tell the stories that shape the rest of our lives. The history we leave behind with our children and loved ones.
Cousins 2017
At Messages in Metal, family is whom we design for. Parents, grandparents, moms and dads. Siblings. Best friends. Our family jewelry was created to showcase those people in your life that matter the most. That are the cornerstones of your personal foundation, your safe place to land. We use the best quality materials because we believe that family is OUR best quality - and that it is deserving of nothing but the very best. Our packaging is second to none, countless hours put in to making the recipient feel special when it is delivered. Because to us - family IS something special. And worth the extra attention to detail. You have our promise that we treat your order as if it were being gifted to a member of one of our own families.
Your family. Our jewelry. Where family always comes first.
Messages in Metal.