Posted by Big Sky on Sep 05, 2018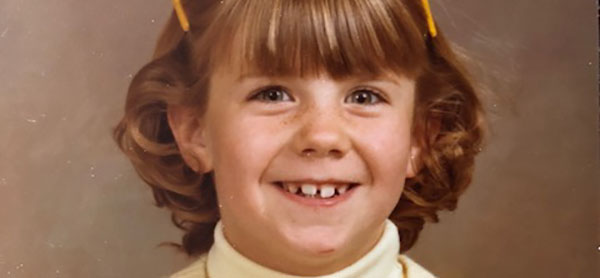 Hallie Kay
Wow - September is here in full force y'all! And I don't know about you but I am reeeeeeaaady! Had a fab Labor Day weekend and spent Labor Day doing, well - labor. Yard and outdoors Fall ready, garage straightened and swept, even had myself a pumpkin beer. Bring on the leaves, the bold colors, the cooler temps cuz this girl is dialed in!
Amidst the festivities of the weekend we ran into a friend of a friend and she is nine months pregnant. I asked her if they knew what they were having - a girl. And I asked her if they had a name picked out which they did - Noelle. And she was beaming the entire time. It got me thinking about how important names are, the names we give our children, our dogs, our first names, last names - obviously you see where I'm going with this. Names are totes meaningful.
I started thinking about my own name and the many names I've had in my life - some of them downright cringe worthy, some of them funny, some of them sweet and some of them not so much. So I thought why not share and take you all on a magic carpet ride of the triumph and the heartache, the successes and the failures of my name and the many names I've held. Strap yourselves in and let's go!
Oh To Be Hallie
I'll start off by saying I have never been what one would call 'fond' of my name. It's difficult to say as there are fifty thousand different ways to pronounce it and I've probably heard them all. Try making a to-go order and giving them the name Hallie (pronounced hal lee) and you go and there is no order for you. But sure enough there is an order for Kelly…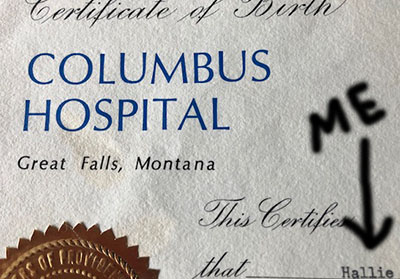 That's Me!
Now pair that up with a challenging last name. I've had two thus far in my lifetime and do not plan on having any others. My maiden name was no picnic to pronounce and the mispronunciation of the two strung together haunted me every start of the school year as it was butchered repeatedly. Fast forward to now and my last name is no better. Schumaker (pronounced shoe maker) is misspelled, mispronounced and at least once a month I'm asked, "Oh do you make shoes???" Yeah. Fun-ny. Needless to say, owning the name that I have is at times a challenge but it is mine and I do embrace it as best as I can. And at times I go by Kelly Schwamiker because its just easier.
I asked my mom why the name Hallie and she told me that they had friends that took in foster children. And one of the little girls that they fostered, her name was Hallie and that my mom loved the name from day one. Wish they would've fostered a little girl name Natalie, Grace or Emma but Hallie stuck with her and with me.
Nicknames
I have had a lot of nicknames. Before you read further realize that I was a child of the 70's and 80's. And this was a time where we had thick skin, siblings made fun of each other, parents weren't focused on building children up but more so on keeping them grounded. Different times, different world. And I survived so no weeping at some of the nicknames. I'm not emotionally scarred.
The very definition of a nickname is 'a familiar or humorous name given to a person or thing instead of or as well as the real name.' This makes me laugh because at times my nickname was the only thing I was called and at times I was called a series of different names. Applaud my bravery for sharing with you…
Childhood Nicknames
As you can imagine, Hallie is difficult for many adults to pronounce. Imagine a child. Or, better yet, imagine a three year old. I have a sibling that is three years to the day older than me and when I was born, that sibling found 'Hallie' a mouthful to say. In a very short period of time I went from being called "Baby" to being called "Hi". Back then, acceptable. Today - probs not a good nickname for anyone at any age. And it was the 70's - jus sayin…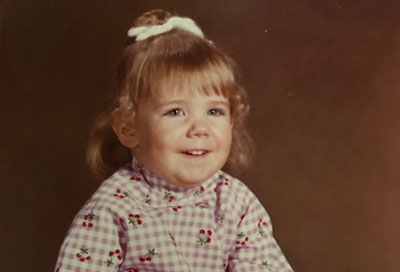 Hi! My name is Hi
I wasn't a particularly attractive child but I don't think many of us were back in that time. I was a middle child and therefore at times kind of got a little lost in the shuffle. Happens. One particular short-lived nickname I had came about after a haircut. A close friend of the family was over at the house in the morning and then came back in the afternoon. While he was gone, I was treated to a haircut. At the teaching beauty school. Where my hair was cut by a student. All of it. When Gary came back in the afternoon he says to my mom, "Hey, who is Casey's friend? My name is Gary, young man!" Casey is my younger brother of five years. And I was 'the friend'. That was a super day.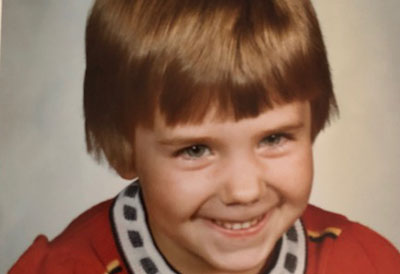 Hey! My name is Casey's Friend
I also had a very robust appetite back in the day. Had long gangly legs that were always in the way and a thick sturdy body. And we used to have to wait until my mom got home from work and fixed dinner which by that time I was starving. I would shovel in my food as quickly as I could, saving my milk to wash down the onions from the salad and promptly help myself to seconds. For a young girl, I could pack it away. It was said at the dinner table one night that I ate like a little piggy at the trough - my manners probably were about in line with that statement as well. And there came about the nickname "Penny Pig". Which in time was shortened to "PP". And that one - that one stuck around for a looooong time. Any time someone in the family wanted to get my goat all they had to do was call me "PP". But don't feel sorry for me because we used to call my brother "Rambi" - a cross between Rambo and Bambi. Everyone was fair game. And, yes, I survived them all.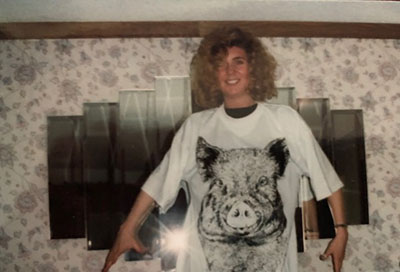 Sup. My name is Penny Pig
Teen Nicknames
During most of my teen years I don't think I had a lot of nicknames - a few that are not worth mentioning and we will leave it at that. I went by my last name during sports as is commonplace now but for the most part - I was fairly steady with my given name. Except for one class.
I took four years of French. And I believe our French teacher's name was Mrs. Johnson but I may be wrong. Regardless, in French class our freshmen year we had to choose a French name and that name was what we would go by, answer to, etc. whenever we were in class. By the time it was my time to choose all the good French girl names that I wanted had been selected. I was left with names like Heloise, Olga, etc. to choose from. Nice enough names sure but zero cool factor. I decided to go outside the box. When I was asked what my French name for the year would be I promptly answered with much fanfare, "Je m'appelle FiFi!" And FiFi it was for the next four years.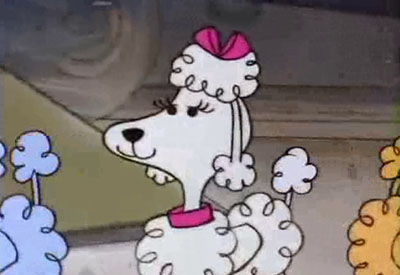 FiFi The Dog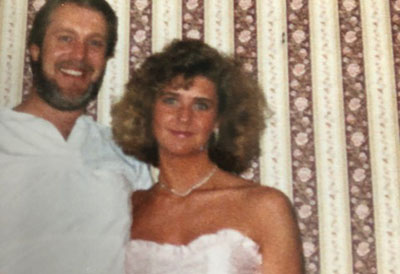 Je m'appelle FiFi
Adult Nicknames
This is super because I've had a few. Now remember I'm a Montana girl. With arguably no accent. I met my future husband in a bar in Boston. And he is born and raised Massachusetts. With an accent. When I was introduced to his friends after hockey one night, I took on any number of nicknames the more beers they drank and the harder they tried to pronounce my name. I quickly became known as "Schu's girlfriend." In time I was called "fiancee", probs "that girl" by a few family members that struggled to warm up to my in your face personality and eventually "wife". I still am called "Mrs. Schu" by countless football players that I have known for more years than not and that will always be one of my top five names I've had.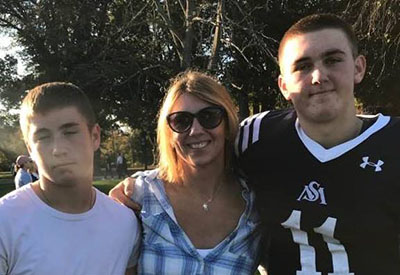 Mom to us. Mrs. Schu to you
And then there are these names. "Mommy" and "Momma" and "Mom" and "Momeez" to name a few and those of course are all chart toppers. One of them also went through a stage where they called me "Meemoo". Not ideal being named after a noise a cow makes but they called Rob "Peepoo". One of us was a winner in that go-round and it was NOT Rob. I'm sure I could add a couple other names on there that have been mumbled under the breath on the way up the stairs or out the door but I'm having a super day so let's not go there shall we…suffice to say not all the names given to me by my children have a five star rating.
Probably one of the funniest and best nicknames my children have given me came about one lovely Easter Sunday. My daughter whom rarely rocks the boat sends a family text and says, "Mom's new nickname is Deadliest Catch!" I, of course, walk right into that, thinking there must be some sort of sweet reason behind it and said, "What? Why?" Prompt response, "Cuz you're always crabbin!" Suffice to say for the remainder of the day and for weeks after I was called "Deadliest Catch" or some version in every text message sent to me. That one not only stuck but if you look at their phones, I know for certain on one or two there is no listing for Mom - however you will find my number listed under 'Deadliest Catch' complete with crab emoji.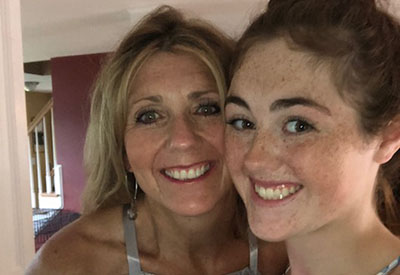 This is my Mom...aka Deadliest Catch
You Name It
Names are important and tell a story. We get it. So many of the names you'll find highlighted in our products are people that are important in our life. Our name jewelry was created to express the names and the people in your life because we understand and feel that same connection with the letters strung together to make those names that matter. One name, two names, nicknames, first names, last names - we can make it happen!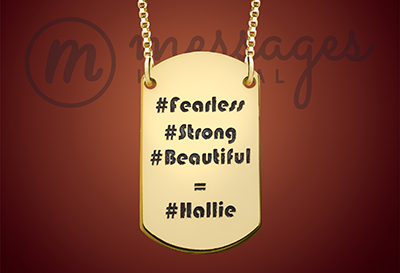 Proud to be named Hallie
I shared my story with you - now share your story of those names that make up your life. The options are endless, we've got countless designs and can even custom create a name necklace that is exactly what you're looking for. Your name, our jewelry, your story!