Sports Team Dog Tags are a great way to say "Job Well Done".
As athletes and parents of athletes, we invest our all in our sports seasons. Countless trips in the car to and from practices and games, extra meals for bodies that have given their all and then some on their field of play, extra time invested by the coaches and staff to figure out ways to get the most out of their players and make the season a success - it's a lot! And choosing that perfect gift to commemorate not only the season but more so the players is a great way to celebrate all the time and effort that goes into a team by the coaching staff as well as the teammates.
Our collection of sports number jewelry was specifically designed to help celebrate every athlete and their team! Beautifully crafted from sterling silver and 24k gold plated over sterling silver, the pendants are accented with everything from a jersey number to initials to a sports accent such as a soccer ball, a basketball and more. These team dog tags are the same shape and size yet can individually be personalized to reflect each individual athlete and coach.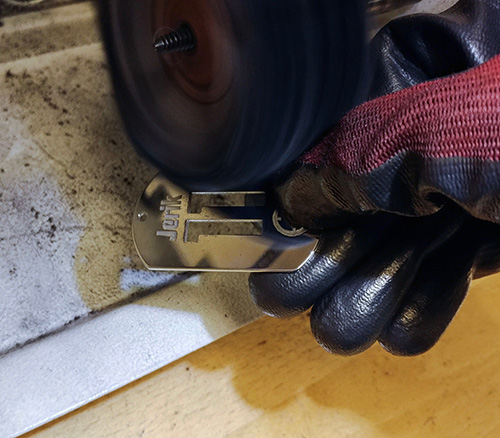 Ideas for choosing team dog tags:
Keep it simple.
Engraved dog tag necklaces can be personalized with simply the initials of each member of the team and the coaching staff and this is a great option for those teams that maybe are not as mainstream - think the debate team or perhaps an a cappella group. The pendants have a slight texture on the initials themselves and are a simple and straightforward way to recognize each individual member of the team or group.
Think sports number jewelry.
Let's face it - from the time we start sports at a young age, many athletes gravitate towards a number. And that number often follows them throughout their athletic career and means something. Sports number jewelry is a great way to give each player a tangible recognition of a number that holds embodies their athletic career. You can choose a one or two digit number and even ask the coach if he has a particular number that he wore throughout his athletic career or a number in his life that holds special meaning. It's individual to each player and because sports number jewelry includes a chain, there are no extras to buy!
Field of play.
For those athletes that choose a field of play that is a little more commonplace such as football, basketball or soccer to name a few, number necklaces for sports are a great option! These sterling dog tags have a one or two digit number cut out at the center of the pendant and below the number is a sports accent like a football or baseball. The dog tag style is appealing to every gender and because the number necklaces for sports include a 24" chain, it gives the athlete the option of wearing underneath their clothing or on the exterior of their clothing.
Names, numbers or names and numbers
Dog tags for men and women, boys and girls - they offer a lot of versatility. Team dog tags can be personalized with a cut out of a players number, personalized with a players first name, last name or nickname or with both their number and their name! This makes for endless combinations and you can really fine tune what best works for the team and the coaches that you are celebrating.
How we help make that perfect gift PERFECT
We have athletes at home. Most of us played sports, were members of a group, appreciate that team dynamic and we are dedicated to helping you celebrate your team and creating the perfect gift for each team member and coach.
Discounts for team sterling dog tags
We offer a discount for those that are looking to choose team dog tags and sports jewelry. Our customer service staff will go the extra mile to make your team gift not only special and one of a kind but affordable as well.
Accuracy matters.
Before any production is started, our customer service will reach out to verify the order and make certain that all numbers are correct, all spelling is accurate and that you are 100% satisfied with your order.
Presentation is key.
Your team is special and your number necklaces for sports teams is special too! Each pendant is individually placed in a jeweler's gift box and then placed in a monogramed white presentation box. We can go so far as to label the bottom of the presentation box with the name/number/initials of the pendant inside so that when your sports number jewelry arrives you don't have to open every single one.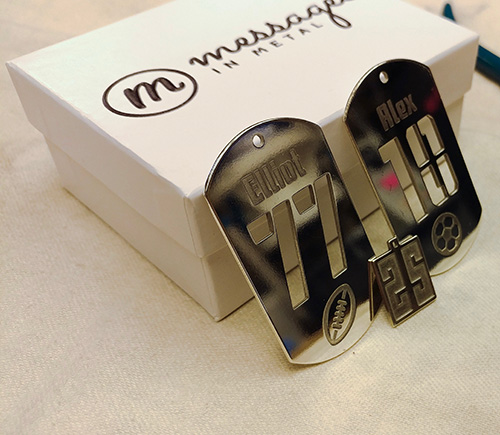 Let us custom create!
Custom designs are our specialty and just because you don't see it on the site doesn't mean we can't make it happen! Have a team motto? Consider a pendant such as the Silver Character Trait dog tag! We can personalize with your team motto in the background and do player names in the foreground. Mascots, emblems, you name it - we will design it. Simply give us a call, send us an email, upload your emblem and send it our way and let us wow you!
We are all about team and believe that celebrating the individuals as well as the coaches is a great way to give back to our players and let them know we are proud. We also feel that recognizing the coaches and the time that they invest is of equal importance. Our sports number jewelry and team dog tags are a perfect gift idea for any coach and team and we will go the extra mile to knock it out of the park!