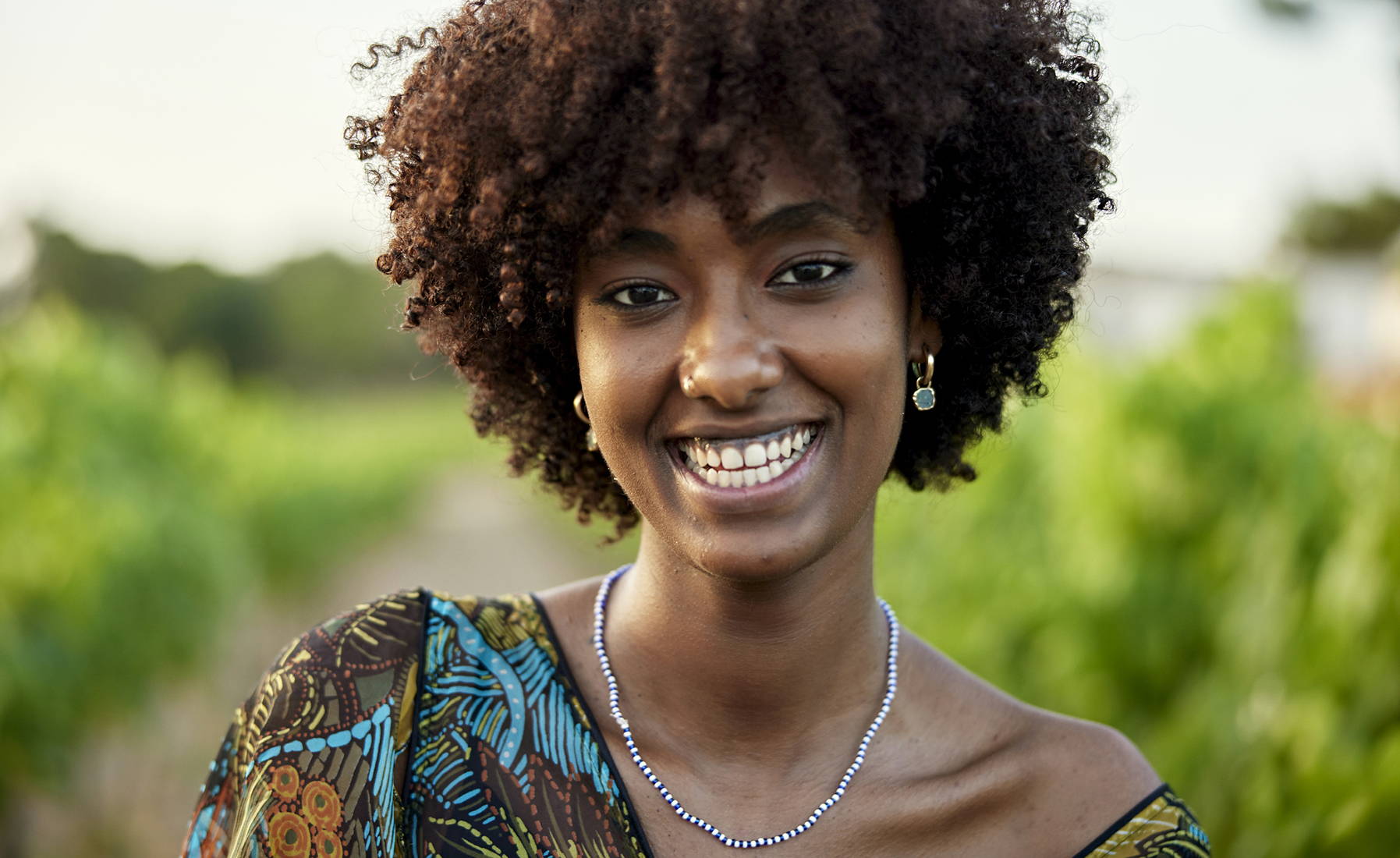 Like many aspects of fashion, jewelry trends change with the seasons. Shifting colors, styles, and even what jewelry people favor is common as the seasons change throughout the year. When thinking about your wardrobe, it can be daunting to figure out what to pair with that cute summery sundress or your new favorite look. However, if you take the time to familiarize yourself with what works best for your clothing, you'll find an easy way to elevate your everyday outfits (and add a pop of color or sparkle while you're at it.
PREPARING your jewelry FOR THE NEXT SEASON
If you enjoy matching your jewelry to the seasons, you likely already anticipate those yearly changes. But do you prep your jewelry for the next season or just your clothing? You may want to consider making sure you're ready to stay on top of both before you're caught thinking about what you could – or should – be wearing!
STORE YOUR JEWELRY APPROPRIATELY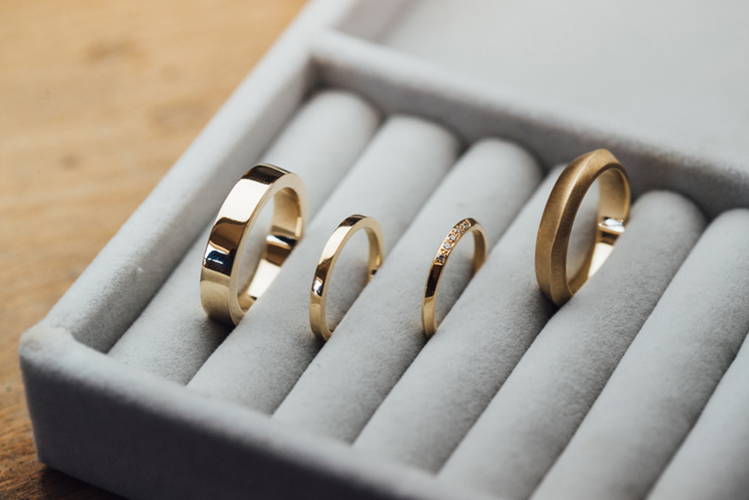 It's important to take care of your jewelry. If you know you won't be wearing certain pieces for a long time, you may want to consider storing them for a few months. You might want to put them with the rest of your seasonal wardrobe for safekeeping if you are in the habit of swapping out your closet.
If you do, it's important to first make sure each item is cleaned and sanitized properly before putting it away. Make sure all pieces are dry and kept in a climate-controlled area so they won't tarnish, rust, or break.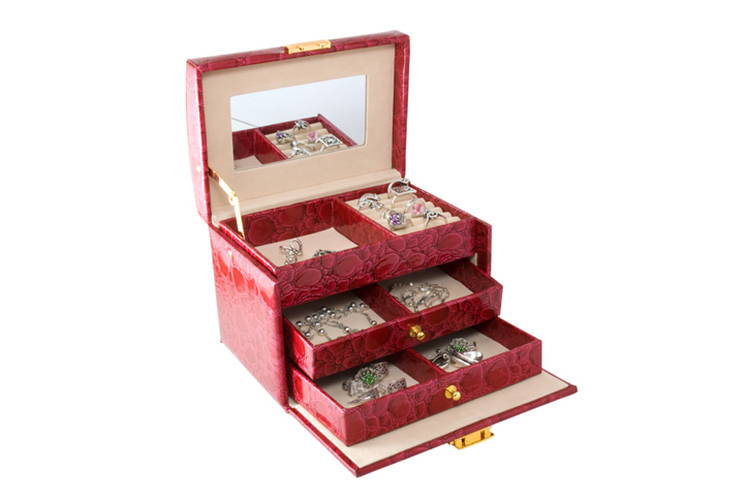 Do you organize your jewelry? If not, it might be time to consider developing a system for how you store and keep your jewelry. While some people may do so by materials, types, or size, you can also consider organizing your collection by seasonal wear.
You obviously have pieces designed for daily use, but you also likely have items you only wear during certain times of the year. It might be helpful to reorganize those pieces based on the seasons you wear them. That way, you can easily find what you're looking for when that time of the year comes around again.
CHECK THE TRENDS BEFORE NEXT SEASON
Like fashion, jewelry trends change seasonally. Fortunately, consumers usually have a good idea of upcoming trends before the season hits. If you want to follow trends, you'll want to see what might become popular in the upcoming months.
That means it's time to do some research! You can follow sites like Vogue, Elle, or Glamour to see what's going to be most popular soon (or to check out current trends!). You can also find plenty of style bloggers on Instagram or TikTok who offer advice and suggestions for pairing accessories with clothing and different hairstyles.
Most of the time, you'll have a pretty good idea of what to expect from retailers a few months in advance, as commercial jewelry and fashion take nods from runway designers to incorporate aspects into accessible items.
MAKE SURE YOU'RE BUYING FROM REPUTABLE SOURCES
How many ads for beautiful jewelry (or make-up, clothing, and even home-goods) do you run across on any given day while scrolling through social media? The odds are that you see tons. But do you recognize any of the brands?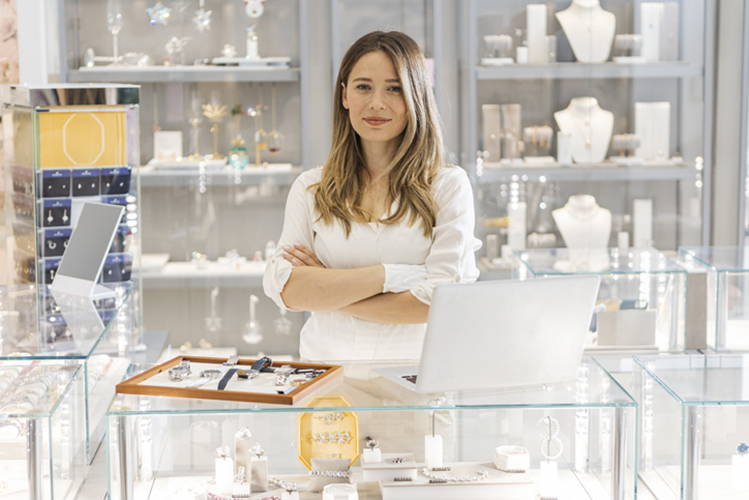 It can be easy for anyone to be drawn into pretty product photos and hard-to-beat prices. However, it's equally hard to know the actual quality of what you're buying when you take a risk on certain deals that seem too good to be true. Odds are, they probably are!
Your best bet is always to find a reputable jewelry store to buy from. Whether that's a local brick-and- mortar location where you can see the pieces in person or a well-established online vendor, you should know what you're getting before you make a selection.
INVEST IN QUALITY PIECES THAT ARE TREND PROOF
While this might sound counterintuitive to our last suggestion, it's not quite the case. It's fun to explore new trends in jewelry, especially when you find something flattering or that fits well within your style. However, you should be aware that sometimes trendy doesn't mean flattering or worth your money.
Some jewelry pieces are timeless for a reason. You can wear them every winter or bring them out during the spring without fail. If you are going to spend money on an expensive piece of quality jewelry, you should be sure you are investing in something that you'll wear enough to get your money's worth.
Unless you have the budget for it, you should take care in choosing expensive pieces. Think about how it fits in your current wardrobe and how often you'll reach for it when you're accessorizing.
COORDINATING your jewelry TO SEASONAL OUTFITS
Let's talk about coordinating jewelry with seasonal clothing! Many times, we put together the perfect outfit for the holidays and only then think about what accents or accessories we may want to add. It's no surprise that accessories can often make or break your outfit – especially if it's a seasonally-specific event. But it's not just seasonal outfits that you can coordinate! Here are some good tips for choosing great jewelry that will always flatter your body, your outfit, and the season.
MATCHING YOUR SKIN'S UNDERTONE
How do you choose what metal is right for you? Do you look better in silver or gold? Well, the best way to determine the most flattering jewelry type for your skin comes down to your skin's undertone.
Your undertone doesn't necessarily have anything to do with the shade of your skin. (You'll find dark-skinned people in all categories!) Your undertone is the tint beneath your skin. Most people fall into one of two categories: warm or cool. However, you may also see neutral undertones mentioned as well.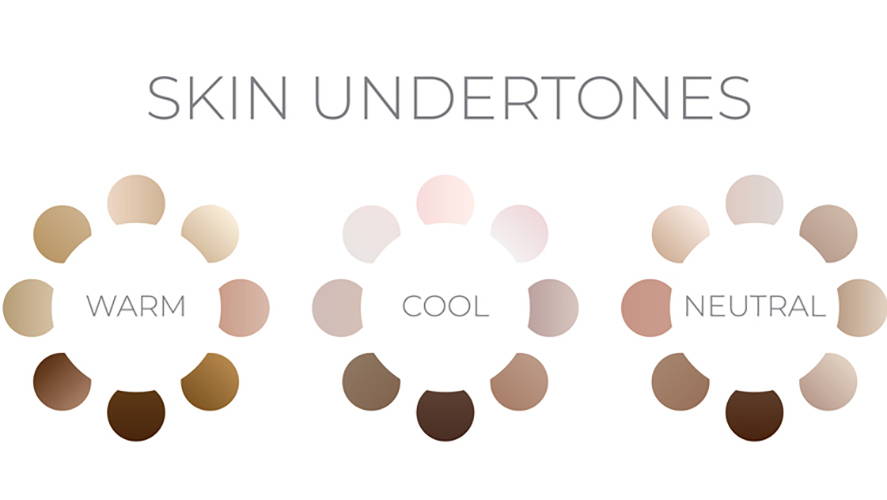 The easiest way to determine your undertone is to look at the color of your veins along your inner wrist and forearm. If you have blue or perhaps purple, you probably have cool undertones. Your skin may have a pinkish or rosy-red tint to it, depending on the shade.
Cool undertones look great with silver, white gold, and platinum. You'll also find gemstones like pearls,rubies, emeralds, and blue sapphires look lovely against your skin as well.
If your veins are yellow or green, you have warm undertones. If you've ever been told that you have olive undertones, then you have warm undertones. For darker skin, you may be more yellow or golden than green or olive – but it's still in the category.
For warm undertones, you'll favor yellow gold or perhaps rose gold. You'll also probably gravitate toward gemstones like topaz, garnet, citrine, peridot, and yellow diamond.
What if your veins aren't visible? Or perhaps they look different in different lighting? You probably have a neutral undertone! You may have a mix of warm and cool tones if this is the case – as your undertone is very close to your skin tone.
If this is the case, you look are one of those lucky people who look fabulous in any type of metal or gem!
As a note, don't let your undertone stop you from wearing whatever metal you enjoy! You can absolutely wear whatever metal you like best, especially when it comes down to special jewelry or sentimental pieces. You don't need to abide by these rules necessarily. They only offer a good rule of thumb for choosing colors that may flatter you the most.
---
Color isn't the only thing you should consider when choosing jewelry to pair with your outfit. You also want to think about styles and shapes. More specifically, you'll want to consider how certain shapes work together if you want to create a cohesive look.
When you wear prints that mimic organic textures or shapes, you'll likely want your jewelry to compliment them. For example, you may want to pair a botanical print with wooden earrings or bangles, or in colors that complement those found in the design. You may also want to go with more organic-shaped pendants or gemstones that feel natural when paired together.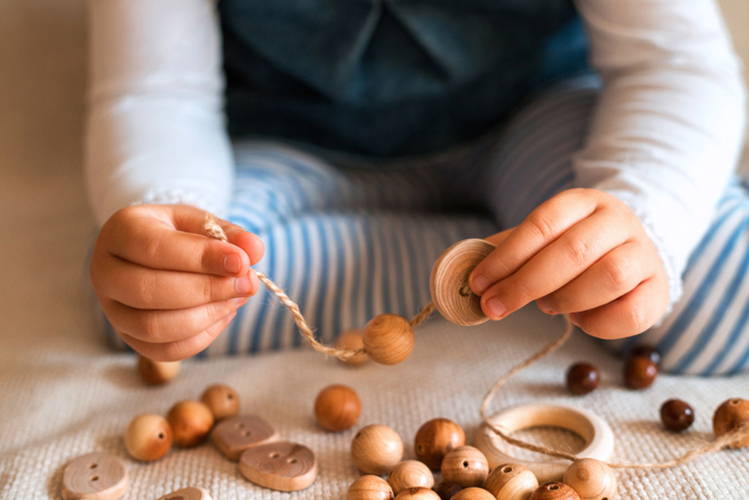 When wearing round shapes (like polka-dot patterns or loose lines in your outfit), you may also want to consider organic shapes in your jewelry. Beads, pearls, or even softer overall lines in pendants or curved gemstones make suit the look better than sharp edges.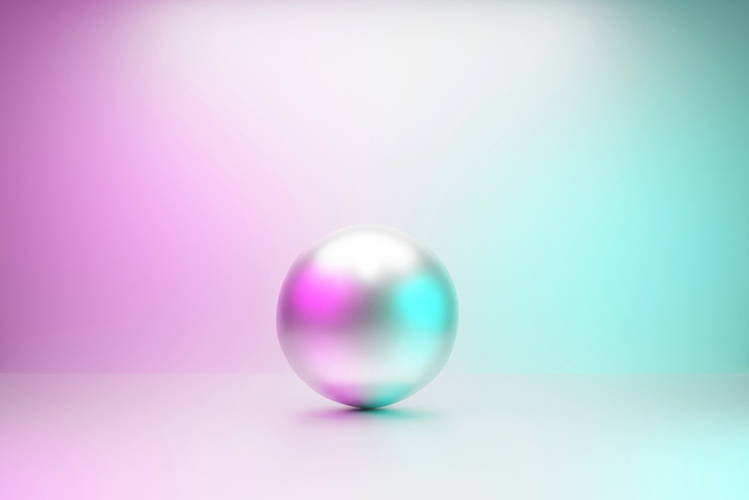 If you are wearing a busy print (like plaid, houndstooth, or any similarly complex pattern), you will likely want to pick jewelry that is simple to pair with it. You won't want your jewelry to get lost in the print or clash with the design.
Likewise, you should experiment with different styles to see what works best with the items in your wardrobe. You may find that a little creativity can spark a pairing you never would have considered!
---
It goes without saying that you should always consider the occasion when choosing jewelry. The appropriate necklace for a day out at the beach isn't going to be the same as when you're attending a traditional black-tie affair.
When it comes to pairing jewelry with casual everyday wear, you don't need to be too picky about matching. A pair of jeans and a t-shirt can be dressed up with a little bit of sparkle – like studded earrings or a small pendant – or dressed down with a simple pair of hoops or a fun bracelet.
It only really matters when you might be doing something that day that could potentially ruin your jewelry or cause you to lose it. For example, you probably don't want to wear expensive rings when you are gardening.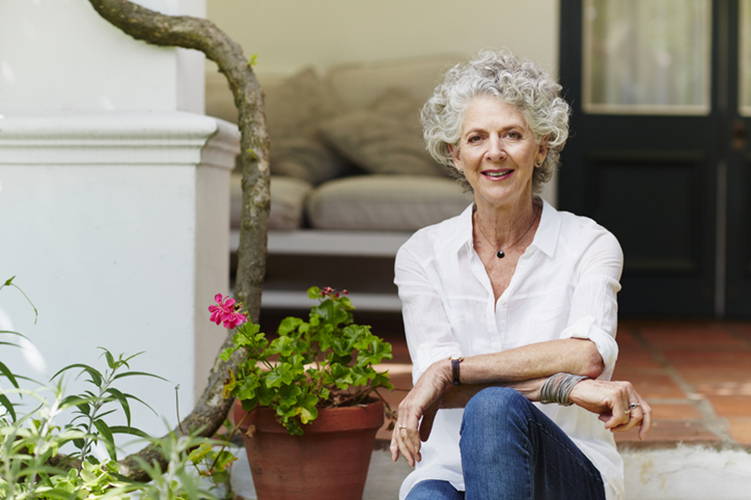 Professional jewelry, specifically for an office setting, is often considered conservative and understated. You'll find that most people stick with simple pieces – small pendants, hoops or studded earrings, etc – to complete their look.
There is something to be said about wearing a larger pendant on a longer chain to accentuate a basic outfit. These rules do not apply to those in the creative fields or anyone who may work in a setting where style is an important part of their job.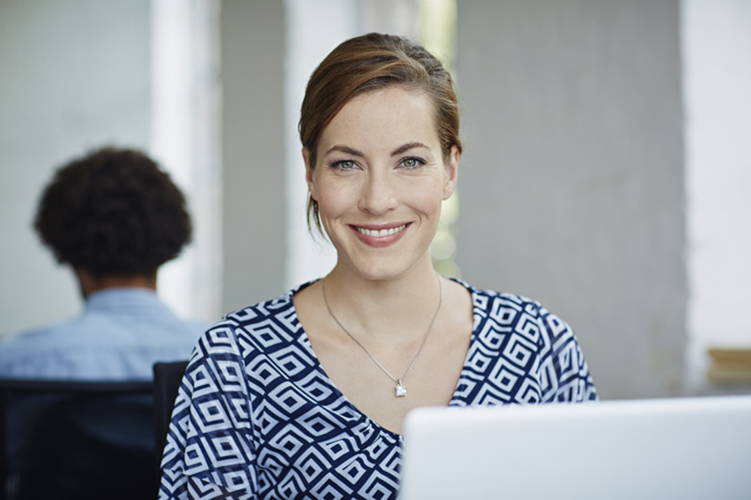 Most of the time, the rules for formalwear accessories are stricter than on other occasions. Weddings often have unwritten rules for what is appropriate or not. Often, the smaller pieces the better for these occasions. You don't want to overpower your dress on a day like that, right.
However, you may find that if you plan to attend a black-tie event, you'll be able to match a larger or brighter jewelry piece – necklace or earrings – with a simple black dress. Many times, you'll find that these statement pieces complete an outfit instead of overshadowing them. For masculine clothing, you might go with a larger pair of cufflinks with studded gemstones or precious metals.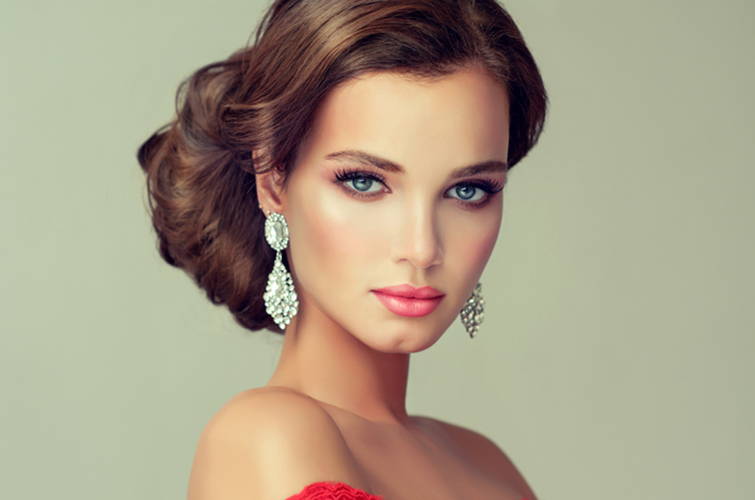 When it comes to party attire, all bets are off for the rules! You can wear whatever you'd like. However, we recommend matching it to your hair, outfit, and other accessories! If you're wearing a lot of bright colors, you might want to tone down your jewelry.
Let your new shoes or the interesting print on your skirt take center stage. On the other hand, if you are planning on neutral colors (or a lot of blacks), your outfit may pair well with some brighter gemstones or bigger, bolder pieces.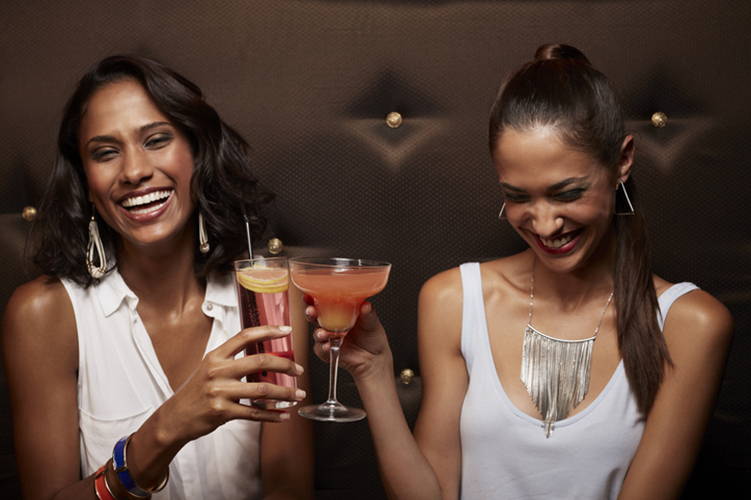 ---
Wearing specific jewelry is a great way to highlight your features. If you are wearing your hair down, you may find that earrings can easily get hidden. You may want to go with a simple pair of studs. However, if you are wearing your hair up, you might find that a larger pair of earrings will frame your face and draw attention to your features.
It has the added effect of elongating your figure, much the same way bangles or long necklaces will do. A choker or princess-length necklace will draw attention to your neck. If you have a rounder face shape, a Y- or V-shaped necklace may help you feel self-conscious about it. If you are tall, longer necklaces can emphasize your height (and give your self-confidence a boost).
There are countless ways to use jewelry to highlight the parts of you that you love most.
---
WHEN IN DOUBT, GO GOLD & BLACK

For many, black is always a go-to for the moment. It's versatile, easy to clean, and looks great on everyone. It also looks fabulous with gold jewelry. You can easily dress up an all-black ensemble with a splash of gold. Whether it's a pair of hoops, a statement piece, or even a delicate bracelet, you'll find that gold really pops against darker shades like black or even navy. They pair well together for any occasion.
---
There's a lot to love when it comes to layering your necklaces, stacking simple rings, or going big with your earrings. However, it's important to know when all those accessories are simply too many. If you're excited to wear a few stacked bangles to accent your outfit, you may want to reconsider layering too many necklaces at the same time. If you plan to go big in one area, you may want to step it down and go subtle (or not at all) somewhere else. When wearing a big or bold jewelry piece, you likely don't want your other pieces competing for attention. It's probably better to save them for another occasion where they'll shine on their own.
As Coco Chanel famously stated, "Before you leave the house, look in the mirror and remove one accessory." Then again, this all depends on what the occasion calls for (and what matches your personal style). If you are a fan of maximalism in your wardrobe, you may routinely throw this tip right out the window.
A jewelry guide FOR THE SEASONS
While some seasonal trends fade out as soon the next whisper of change is in the air, there are many tried and true ones that endear year after year. You know the ones! You can always count on chunky necklaces in the colder months as much as those cute beachy wooden beads for the summer. We're going to break down some of the most popular jewelry styles for each season so you can bring them into your wardrobe with ease!
When it comes to dressing for cold weather, the color palette mimics that change in the wind with darker, richer colors that make us all think about cozy nights in front of the fire, bright lights around the trees, and the slow change of leaves against the skyline.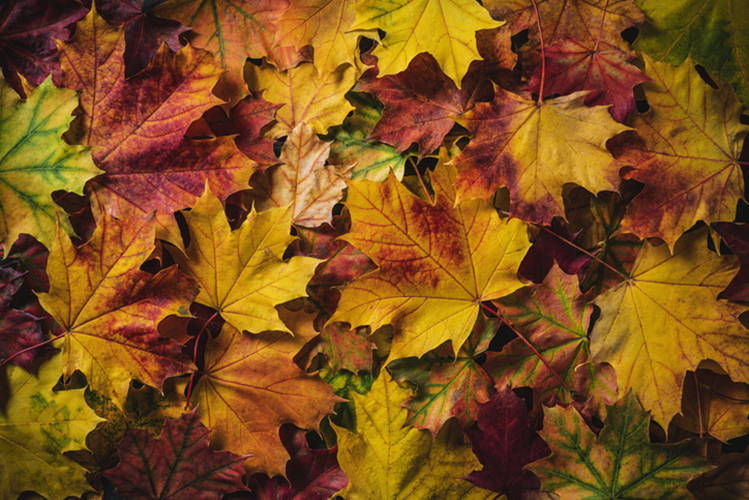 The colors most associated with fall are dark olive greens, burnt oranges, and fiery reds. Mustard yellow is always a popular pick as well. You'll see dark purples like mauve and aubergine. Neutrals become more prevalent as well, with darker browns and khaki as popular as neutral grays and blacks.
---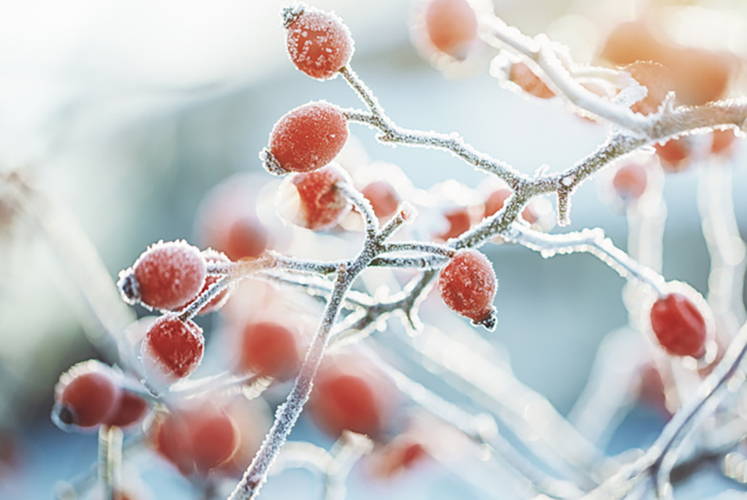 While winter often evokes an absence of color, including the whites of snowfall against the ground, your color palette likely is anything but boring. You'll see an increase in darker jewel tones during the season like Emerald green, Sapphire blue, and ruby red. White and cream are present, of course, but darker greys and black are also popular.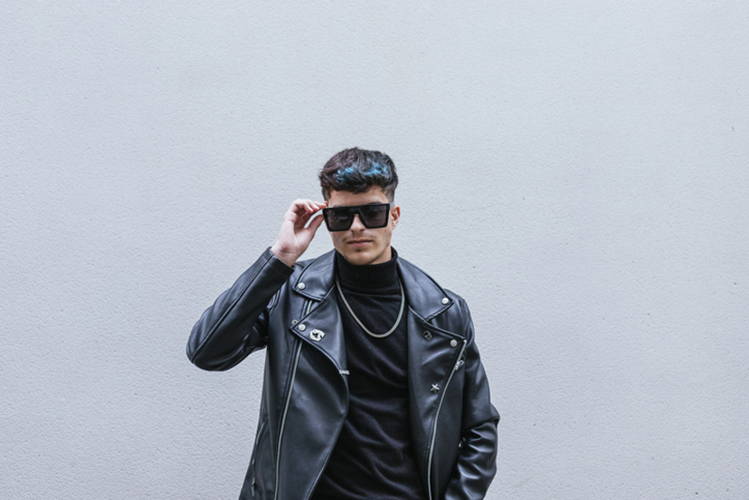 As temperatures begin to dip, we often find ourselves adding more clothing layers to compensate for the change. That means that you'll likely have higher necklines and bulkier clothing to consider when you start thinking about how to accessorize your attire.
You may want to skip layering your jewelry in this case. Instead, you can pair a long statement necklace with a turtleneck or boatneck top to add visual interest to your clothing. Because you'll likely be wearing scarves or hats, you might want to stick to small earrings like studs or hoops for your everyday look so they won't get stuck on your outer layers.
When bigger clothing, you can take more risks and go bigger with your jewelry choices as well. As we said before, larger pendants pair well with bulky sweaters because they won't get overwhelmed by the outfit (nor will they overwhelm it). Chunky chains are a great option if you want something simple but still stylish.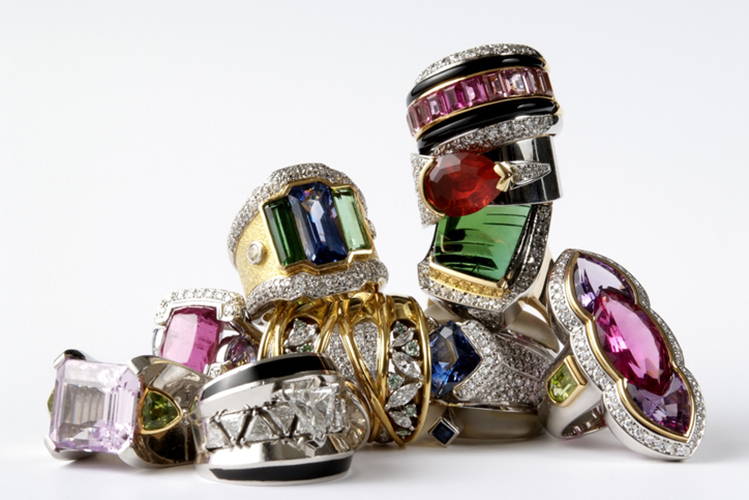 When it comes to rings, instead of stacking smaller styles, this is the perfect time of the year to go for larger statement rings. Big stones and sparkles are always appropriate for the winter, as are more interesting or complex designs.
For example, at Messages in Metal, we have Walking Silver Dollar Handcrafted Rings for a large, unique piece that pairs well with other, more delicate pieces or all on its own. The same goes for bracelets, too. Statement bracelets are especially popular during the fall, especially when you go with a stacked pair of bangles.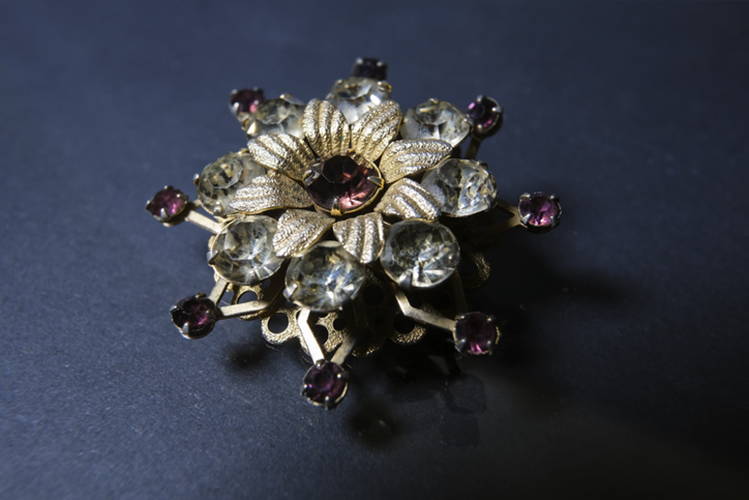 You might think oversized brooches and pins are just for grandma, but they've made a stunning resurgence over the last few years. You can find a host of vintage items on auction sites online or choose something antique-inspired with modern jewelers. You can wear them pinned to your hat for a slightly more updated look or go with the classic sweater style. They can be added to your scarf or on your jacket if you want to add something to your outerwear.
Holiday Parties Are For Glitz & Glam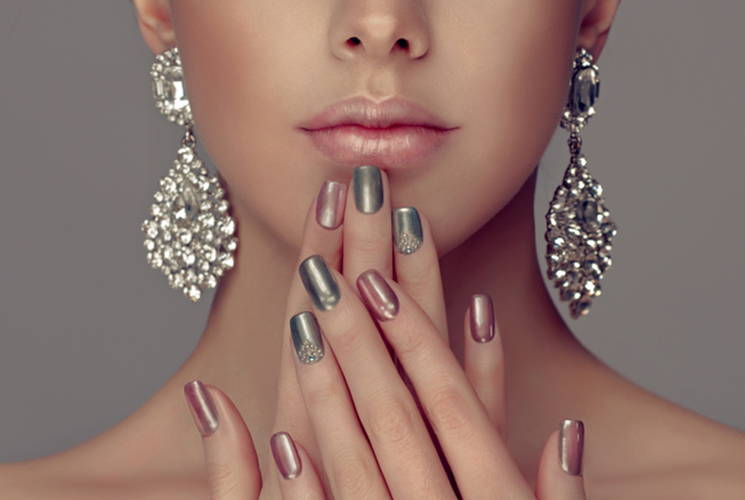 Jewelry has always been a big – and fun – part of holiday parties and events, especially when it comes to the kind that glitters and sparkles. Gemstones – especially diamonds and sapphires – always populate holiday parties.
Even if you go with a classic little black dress for New Year's Eve, you can pair it with a bigger necklace or go with gold for a classy, understated look. For parties, the same rule for the season applies – you can always go big! Large earrings to accentuate your neck and face are everywhere.
While Spring and Summer may keep some of the boldness of the winter months, you'll find more bright colors to match. Many of the colors are inspired by sunshine, flower blooms, green earth, and (of course) the ocean. These trends hold true for seasonal jewelry styles as well.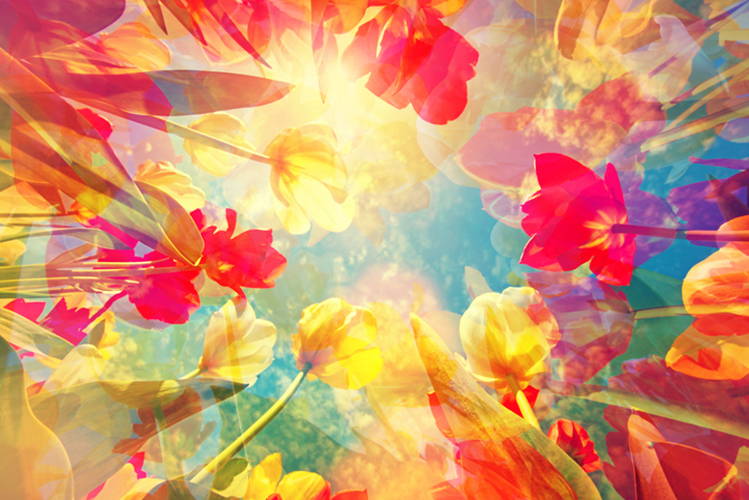 Spring is all about the promise of what's to come – warmth and sunlight. It's a season of change and so we begin to see our color palette shift from darker shades to the opposite.
Spring is filled with soft, light colors and pastels. You'll find peaches, light grays, soft yellows, blues, and mint greens among the colors that make up the season. It's best to think of the season as a pastel rainbow – just about anything works as long as you make it bright and airy.
---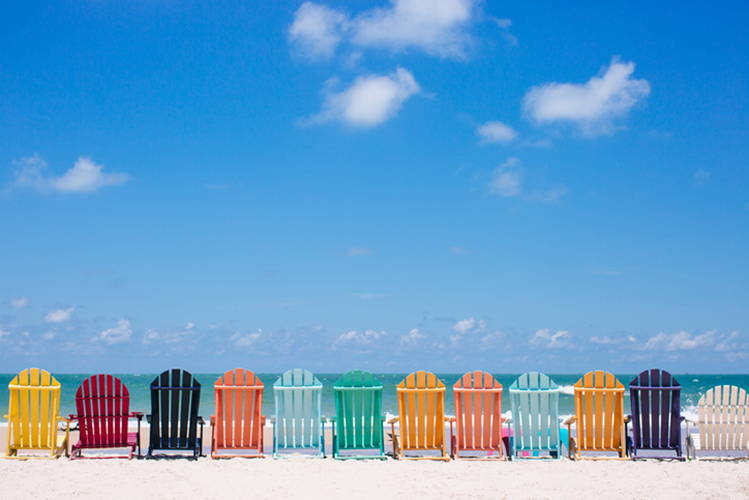 Summer is the season to stay cool in the heat. Most of the time, this is reflected in the bright colors that mark the season. In addition to the obvious white (because it's a great reflective color to keep you from the worst of the sun), you'll find lots of pinks, yellows, brighter reds, and greens. Think of gems like yellow quartz, sunstones, spinels, and pink topazes to brighten your looks. Turquoise is another popular color – for clothing and jewelry – for the season.
The best thing about summer is that almost any color can be a summer shade, especially if you stick with the brighter, richer hues that take a cue from the sun and summer flowers that bloom this time of year.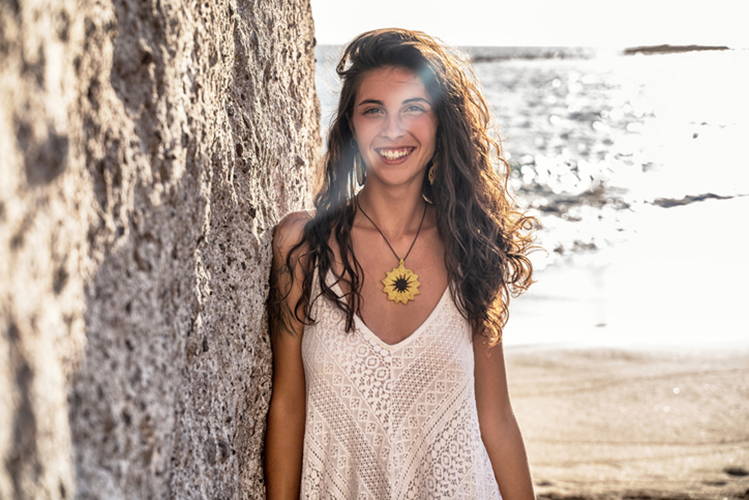 Summer is the perfect time for layering smaller necklaces. You can add a lot of interesting elements simply by adding a few necklaces of varying lengths to your jeans and tank top combo. You can also do smaller statement pieces this time of year, not always relying on the outright size of the jewelry as much as the design. If you are going to wear chains, you might do better with a delicate snake chain compared to chunkier options.
This is also a great time to wear bracelets! Since you'll probably have shorter sleeves this time of year, it's a good opportunity to show off a few smaller chains or a larger bangle or two.
Go For Texture & Complexity
One of the biggest things you see in the warmer seasons is an increase in organic-inspired jewelry. You'll want to consider anything with texture – from woven bracelets and necklaces to hexagonal honeycomb designs in gold. Even gemstone pieces usually mimic this as well, as you'll see flower-inspired cuts and pendants that build from flora (and even fauna).
You'll begin to see more mixed materials in summer and spring jewelry. Wooden and glass beads are especially popular. They can be colorful additions to a relatively modest outfit, especially when paired with a white sundress.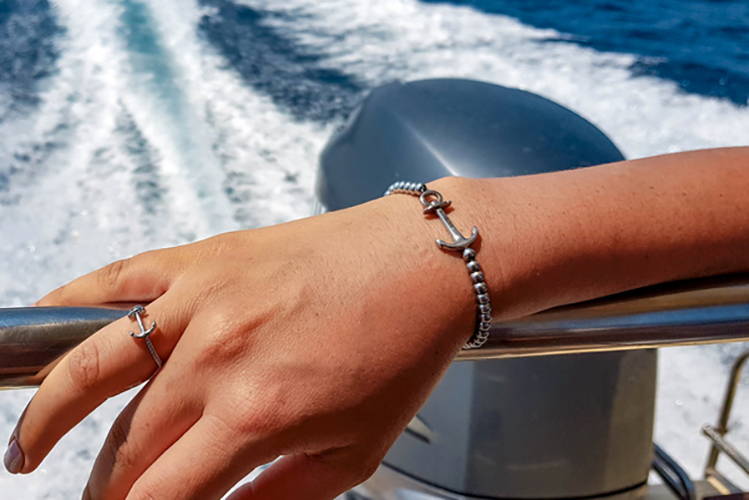 One popular trend through the summer months that never seems to fade is nautically themed jewelry pieces. You'll see a lot of red or blue pieces paired with a pop of white that adds a retro feel with a few stripes or polka dots. Anchors, waves, and even dolphins or seabirds appear regularly on bracelets, earrings, and pendants. The same goes for the colors as well with green blues, turquoise, and cool-toned gems.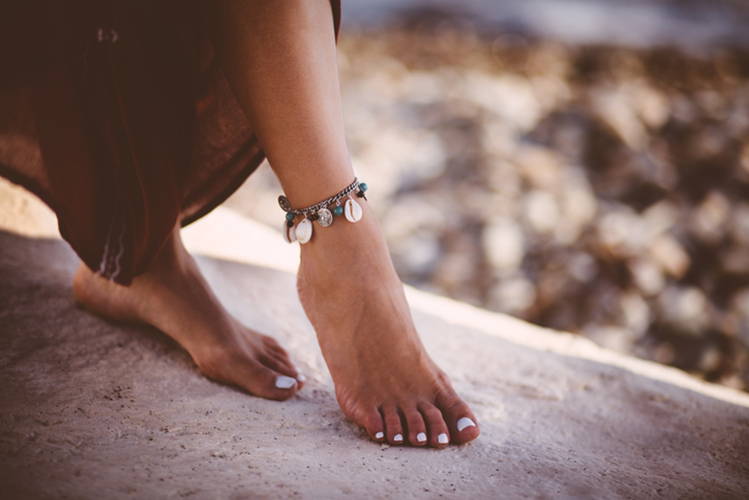 Time to show off your legs! Summer is the occasion to pull out an ankle bracelet or a couple of cute toe rings for a subtle accessory. Since you'll be wearing sandals and open-toed shoes more often, it's going to add something extra to really pull your outfit together.
Beat The Heat With Lightweight Options

If you live anywhere the temperatures rise then you likely know the dangers of overheating. With that in mind, you likely won't wait to wear too many big, heavy jewelry pieces either. They may look stunning, but you might regret cleaning the sweat off them later. You're going to be wearing lightweight clothing – shorts, dresses, and sleeveless tops – a lot of the time. You don't want to overdo it on your accessories. You'll have more chances to wear lightweight, delicate jewelry items.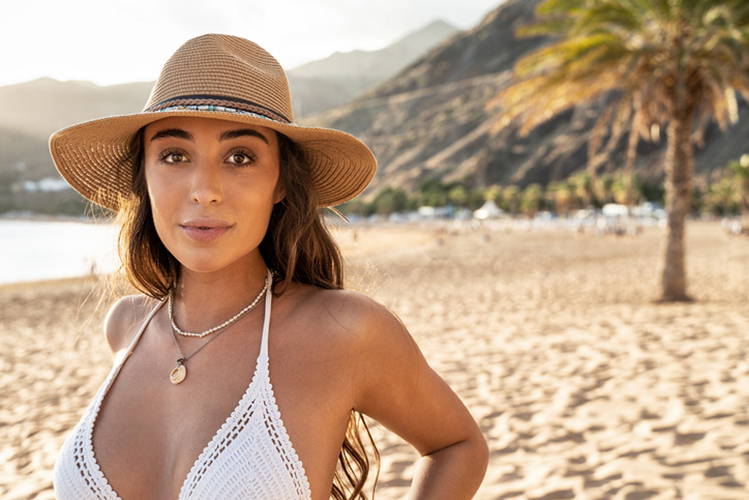 This Personalized Two-Name Infinity Necklace Personalized Two-Name Infinity Necklace is the perfect example of that size. It's a dainty piece that can be dressed up or down depending on the occasion.
Other materials like wood or even acrylic are great if you do want to add a larger statement piece to the mix. Acrylic earrings are a light option when you want to go big. They'll remain lightweight while still giving you that big final touch that makes your outfit pop!
Some jewelry is timeless. It's also worn year-round. While some things are associated with a certain time of the year more than others, it doesn't mean that you won't find them throughout the year.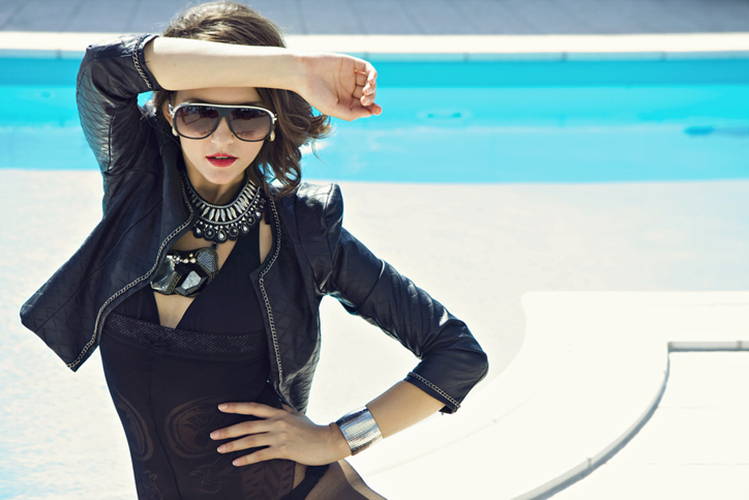 Large pendants, especially those with a little flair or a hint of your unique style, are always popular. You may change up the type of pendant – going for more sparkle during the winter as opposed to organic or beaded in the summer – but you can always wear your favorite piece out.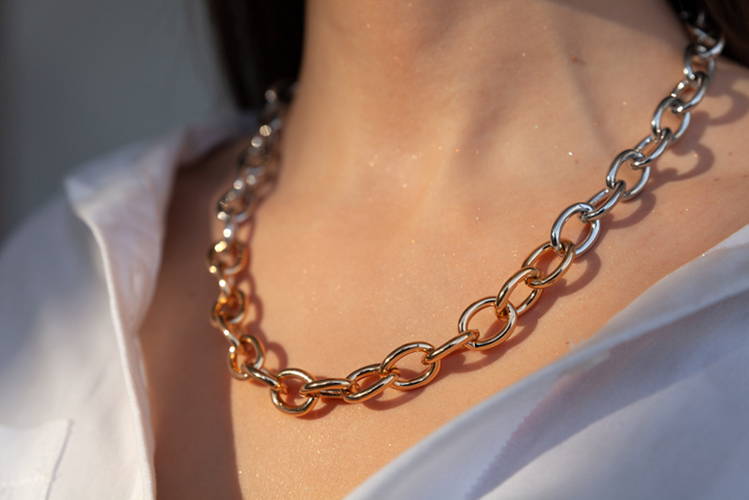 While we've offered a couple of suggestions on how to wear them during certain times of the year, gold chains never really go out of style. Because they are so versatile, you'll see them all year round in different styles and lengths. With a mid-size chain necklace, you can incorporate it into everyday wear or use it to dress up a casual look. Check out our chain selection here online!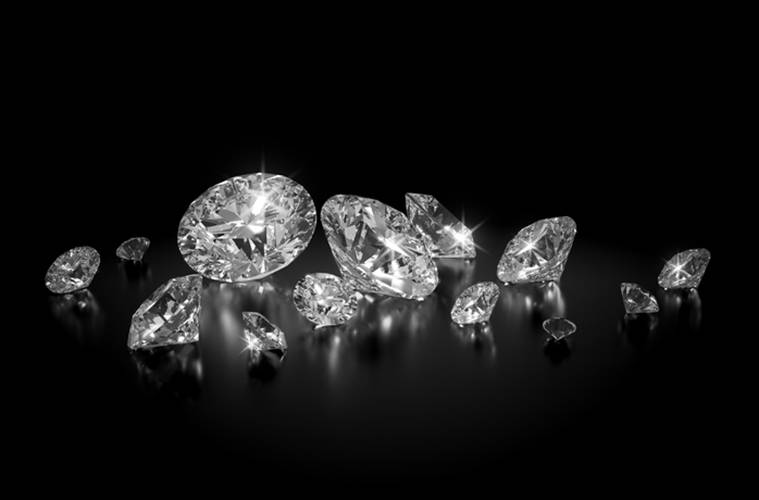 Diamonds are forever, right? Well, they are popular year-round! Diamonds, no matter the color, never really go out of seasonal style. While we might associate them with parties (hence the winter season), you'll find small pendants and studs throughout the warm weather as well.
The same goes for pearls, though you see more of them in the summer and winter compared to other seasons. While smaller, delicate pearl items pop up during the warmer months, you'll see larger and bulkier pearl necklaces and bracelets more during the winter holidays.
Much like the most popular gemstones, silver and gold always seem to be on rotation. While we associate gold with winter holiday parties, we also consider it a staple for summery looks. Silver, on the other hand, is perfect all year round and isn't especially associated with any one time. Pairing silver and turquoise makes for a uniquely summery feel while adding dangling silver earrings to your cold weather ensemble evokes a winter wonderland.
WHERE CAN I FIND good jewelry FOR EACH SEASON?
Even if you know what kind of accessories you are looking for, it can be hard to know where to look for them. Here are some options to find some great selections of seasonal jewelry.
Big box stores often carry the current trends in jewelry and fashion. We recommend checking out places like Nordstroms, Madewell, Target, and Kate Spade for a good selection. Even if you don't know the trends going in, taking a look around one of these stores can give you some ideas for what will be in style for the upcoming season.
Want something hand-made? Etsy is the place to look. This single site hosts thousands of unique shops owned by artisans and makers who design and make their own items. You can just find about anything there. Great for non-traditional materials like wood, resin, bone, or bronze.
PERSONALIZED JEWELRY MAKERS
Many online retailers offer personalized jewelry as well! At Messages in Metal, we specialize in personalized pendants and premium chains that can complete any look.
You may be surprised by what you can find in your hometown. Local art and craft fairs have designers that live in your area and create unique jewelry.
SEASONAL JEWELRY frequently asked QUESTIONS
Is it okay to mix-and-match jewelry?

Yes! You should absolutely try new things when it comes to styling your jewelry. And some of that comes down to knowing what looks good on you – something that only comes with experimentation! You may find that mixing different metals – like gold and silver – with some bright colors can make a nice contrast to your outfit. You don't need to accessorize with only one color, either. You can mix gemstones, non-metal pieces, and anything else. You'll likely find that certain shapes and styles pair better than others do. However, that shouldn't dissuade you from trying new things and branching out from your staples – it's the only way you'll find new favorites!
How do you take good care of jewelry?

Here are a few good tips to keep your jewelry clean, safe, and in good condition.
Keep your jewelry clean and dry. Doing regular maintenance on your jewelry is the trick to keeping it in good condition. Be careful
Don't use any products that aren't designed for use on jewelry. You should also avoid cleaners not designed for the specific material of your jewelry. One cleaner may work well on precious metals but should be avoided on gemstones or natural materials.
Don't wear it to the gym (or to do physical labor). If you are going to swim, sweat, or work with your hands, don't wear your jewelry! Water can easily damage jewelry and so can excess sweat! If you do a lot of physical labor (or are lifting at the gym), you may discover that you can break just about any metal (and sometimes gems) with enough repeated accidental banging against another (especially metal) surface.
Store jewelry properly. When you are not wearing your jewelry, make sure you're putting it away in a safe place. If you leave it out, you could misplace it or even break it under the right circumstances. It can also become a casualty of small children or pets! You can store expensive pieces in padded boxes or bags. You can hang up necklaces carefully but you want to make sure you keep them separate so the chains do not tangle.
Avoid lotions. Lotion – and even perfume – is often an unexpected danger to your jewelry. Those substances can get onto the items and cause long-term damage. Many materials – like pearls or some gems – have porous surfaces that can absorb the chemicals. Metals can be tarnished by them. You should make sure that your hands are clean and dry before you put on jewelry.
Have you run into any problems with your jewelry? You may want to read Common Jewelry Problems and How to Fix Them for more advice.
Can I wear the same jewelry I wear in the summer during the winter months?

For the most part, you can wear your daily jewelry anytime you want. Most jewelry isn't particularly tied to one season over another. Your favorite pendant or pair of earrings is probably not going to clash no matter what season. It only becomes an issue when you swap out brighter summery colors with darker or muted shades favored in fall and winter. You might find that your wintery wardrobe doesn't compliment the cute summery jewelry you like, especially with materials like wood or other natural fibers in the mix. Clothing is often seasonally colored, making it hard to match certain styles or types of jewelry.
However, when it comes to gems like diamonds, they are widely accepted as being appropriate year- round. For our guide on diamonds, check out Everything You Need to Know About Choosing a Diamond.
How do I know if gold or silver looks good on me?
Ultimately, most people can wear both silver and gold without issue. You might find that one of the two looks better on you, however. Knowing which metal – and what kinds of gemstone – look best on you comes down to matching the undertones of your skin. There are three types of undertones: cool, warm, and neutral. The easiest way to determine what type of undertone you have is to look at the underside of your wrist under a bright light. If your veins look blue or purple, you have cool undertones. If they look yellow or green, then you have warm undertones. If you have neutral undertones, then your veins may be hard to find or look similarly hued to your skin tone.
Cool Undertones. If you have cool undertones, you may favor silver jewelry (or white gold and platinum). You should look at wearing jewelry that favors blue gems like Sapphire or Aquamarine, Tanzanite, Amethyst, Ruby, Emerald, and Opal.
Warm Undertones. For warm undertones, you'll want to consider gold or bronze jewelry pieces. For warm skin tones, bright and summery shades look great on you! You'll probably look fabulous in Alexandrite, Peridot, Garnet, Ruby, Citrine, and yellow diamonds.
Neutral Undertones. If your undertone is neutral, then either metal looks good on you! You may want to consider your other features – hair color, eye color, etc – to find favorable gems or precious stones.
What size jewelry pieces look best on me?

Jewelry is a great way to draw attention to certain features while distracting from others. It all depends on what kind of jewelry you wear and how you style it! If you are a larger person, you may want to invest in larger jewelry pieces. Think of larger pendants, thicker chain necklaces, and even larger rings when you're considering new styles. If you're tall, you may want to try out wearing longer necklaces or earrings. These styles can help you look proportional - but only if that's something you worry about!
Smaller pieces may help if you are a shorter person, especially if you don't want to look overwhelmed bythe jewelry you are wearing.
If you want to draw attention to a certain part of your body, wear bold colors near the area. You can draw more attention to your face by wearing your hair up and adding some larger earrings. If you want to bring the eye to your throat, you can wear a choker or princess-length necklace. There are many ways to use the size and color of your jewelry to bring out the features you want people to notice.
Is jewelry a seasonal accessory?
It depends entirely on the type of jewelry. Jewelry can absolutely be a seasonal accessory if you choose! Many jewelry styles are designed to be worn during certain times or with certain types of clothing. You'll find that summer-style clothing looks better with some kinds of necklaces or bracelets than others. You may also find that some jewelry is specifically made to be worn during some seasons, especially near holidays.
You'll also find that some jewelry pieces are timeless and can be worn whenever (and by whomever) chooses. There's no reason to put away your favorite ring or stud earrings just because the weather turns colder. Some colors look good year-round and there's no seasonality to silver or gold (or platinum or stainless steel or even plastic for that matter!).
JEWELRY STYLING for the SEASONS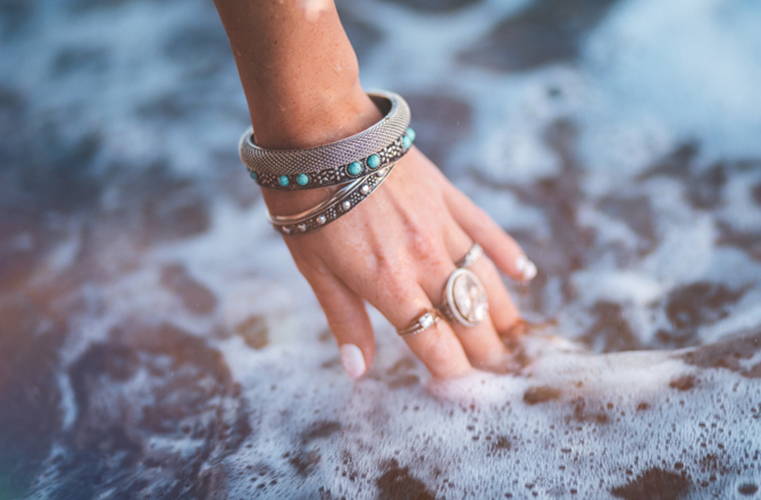 It can take time to build your perfect seasonal jewelry collection. Many factors go into choosing pieces, from your budget to your personal style. Take your time to find items that speak to you instead of snagging the latest "it" piece. With our guide in mind, you'll have your wardrobe sorted out in no time!
February 15, 2023 by Conor Daniels