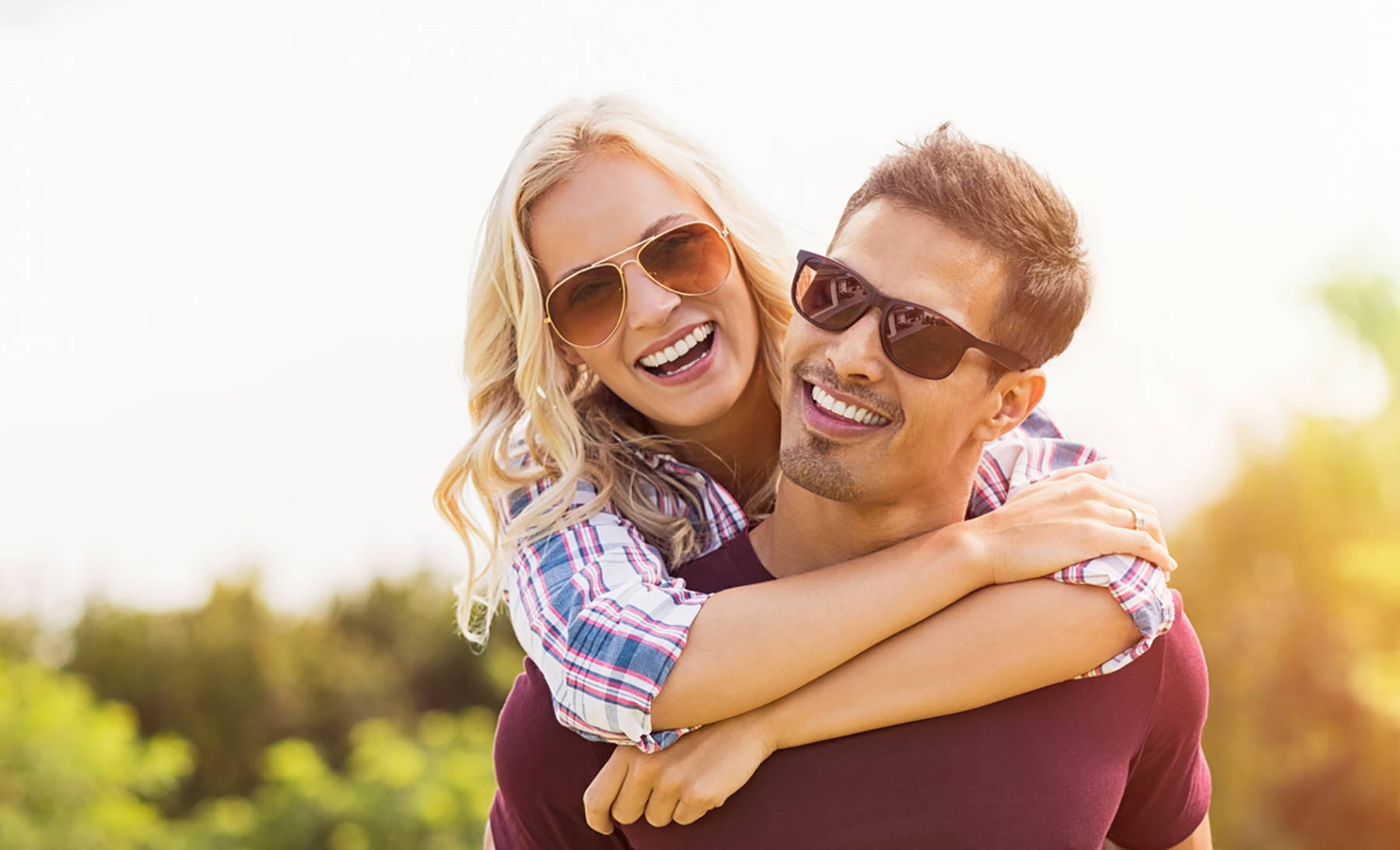 SPECIAL GIFTS for a SPECIAL MAN
There's no secret that right now men's jewelry is having a moment, and this goes double for necklaces for men. While they have always been a more high fashion accessory for celebrities, in recent years, men's necklaces have been showing up all over the place and have been a coveted accessory and staple for every guy to have.
One specific style of necklace that has become popular for men is the name necklaces. This particular necklace not only has an array of styles that men will appreciate, but they also can be customized to their tastes and interests. But even with these choices available, it can still be challenging to choose the perfect name necklace for yourself, or as a gift for a guy in your life.
With all of this being said, we want to give you an easy to follow guide for buying men's name necklaces. With so many styles, lengths, and designs available, we hope that we can make a choice a little less overwhelming and a bit more exciting. After all, having a piece of jewelry customized to you is something worthy of having.
MEN'S NECKLACES versus WOMEN'S NECKLACES
Before we go into the specifics of choosing a name necklace for you, let's talk about some of the fundamental differences between men's necklaces versus women's necklaces. Because while they may seem to be similar, there are some significant and noteworthy differences in design and appearance.
For women, necklaces are usually created to be a statement piece, as something to stand out from the outfit as a sort of centerpiece. For men's necklaces, large pendants or bright colors aren't usually what is associated with it. While women's necklaces are made to stand out, men's necklaces are often created to complement their style and be something of an outfit staple that they can wear daily. This is just something to keep in mind when shopping.
WHAT IS A men's name NECKLACE?
A men's name necklace is a specially engraved piece of jewelry that usually either shows off the man's interests or something that is of meaning to them on a necklace. A necklace like this can range in a multitude of styles and can also display anything from family ties to favorite numbers or even sport's teams. The true magic of a name necklace is their ability to be customized.
While you can usually get many pieces of jewelry engraved, name necklaces are specifically made to hold show off engravings and special messages on their surfaces.
DESIGNS for name NECKLACE
No two men are exactly alike and our men's name necklace jewelry is just as unique! We have a great and varied selection of men's name necklaces that are meant to capture the special qualities of the man in your life!
SIMPLE DOG TAGS WITH INITIALS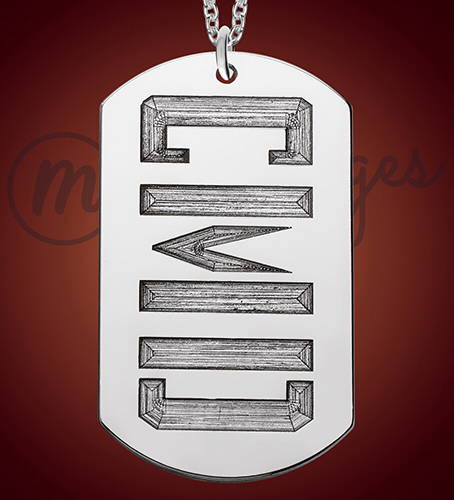 This is an incredibly typical style for a men's name necklace. Dog tags offer a pretty basic style and they can hold a lot of meaning within its simple design.
With only three characters allowed on the surface, you can feature either your own initials or the initials of a special loved one. While the design may be basic to some, it is perfect for men who don't want a flashy design and revel in clean and classic designs.
The Silver Initials Dog Tag is available in gold plated as well and can be further engraved on the back side of the pendant. A great gift idea for any guy!
---
FATHER AND DAUGHTER NECKLACES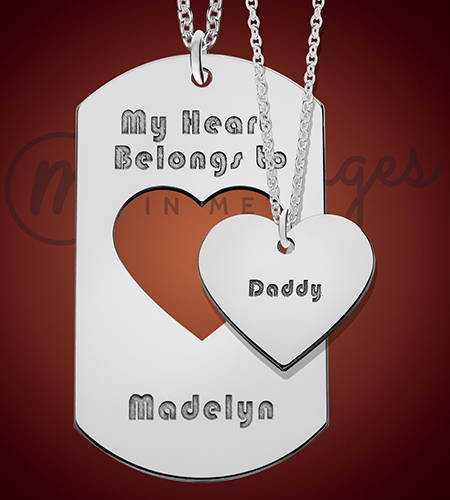 We can all say that there is a special relationship between a father and his daughter, and this special relationship can be displayed in multiple designs of nameplate necklaces. No matter if you are choosing a simple design that shows off her initials or her full name, there are numerous options to see what is best for you.
Some designs even have a cutout paired with the main nameplate as well. For example, this "My Heart Belongs To" necklace features a heart attached to the necklace that cut from the same plate.
The best part about this particular design is that it is also made to be shared between father and daughter, and includes matching chains so that one car wear the dog tag and another can wear the heart that came from that plate.
---
MATCHING SPOUSE NECKLACES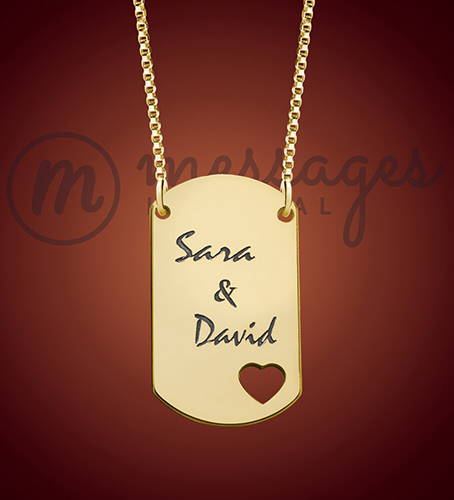 Maybe you are looking for a name necklace in which you are able to have your name on it and also the name of your spouse.
With a simple dog tag styled necklace, you can place both of your names on the space. It's a beautiful and touching sentiment for any couple, and is a great piece to buy for yourself, and also a great gift to give to your spouse.
You can even take a look at this particular style here that features a small heart cutout as well! Let him take the love he feels for you with him wherever he goes!
---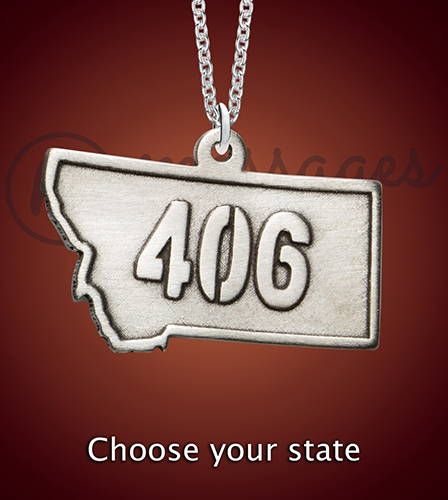 Maybe you want to highlight your home state and show off your pride for it. Getting a pendant in the shape of the state you are from is a fresh and unique way to do just that.
Our state name necklaces for men offer a lot of different options. Choose a state necklace with the area code from his favorite state or maybe the state where you shared a special celebration.
Add even more visual interest by etching in "home" into the face of the nameplate. This way, you always be able to carry the place you love most, no matter where you go.
---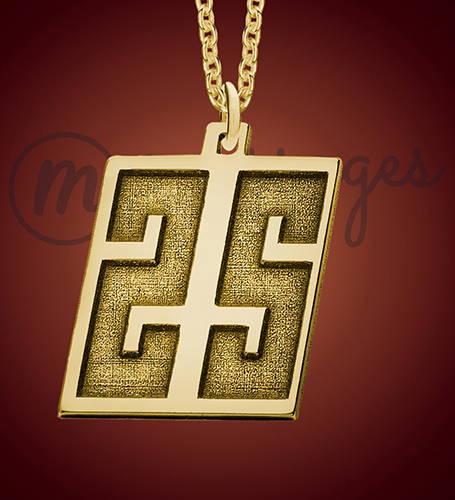 Maybe you are a big sports fan, or even play yourself. Nameplate necklaces are a great way to show off your love for the game or even just your lucky number, by having a number punched out on a necklace.
Necklace styles like the "Gold Number Sports Jewelry Charm" mimics the form of your favorite sport's jersey and display your pride in those digits. Maybe it was his favorite number or the number his child wears on their game jersey.
Not only are you able to showcase the number of your choice in classic block lettering, but you can also place your name above the number, just like a jersey.
---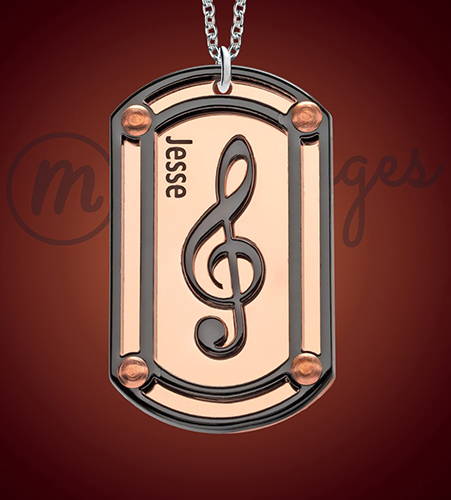 Finally, you could also reflect your favorite hobby on your necklace. Despite the nameplate necklaces typically having a name engraved on its surface and featured front and center, you don't have to follow that format.
Make your hobby the main focus and find a pendant that reflects that for you. Customize it even further by adding in your name somewhere small and meaningful.
Take the Copper Music Note, for example, it makes a passion, music, the centerpiece of the necklace while also leaving space for customization and engraving. There, you can place your name, or even the name of someone who inspires you.
In planning what necklace you will purchase, it is essential also to consider what kind of metal will be the most agreeable for the man you are buying it for. With Silver and Gold being the man options in metals for men's necklaces, it's essential to choose one that is going to not only reflect your personal style but also won't irritate your skin. A reason why we say this is because some necklaces may contain nickel. This causes the metal to tarnish over time and or cause an allergic reaction.
While Gold is an incredibly popular option, it can also be expensive if you are planning to pick solid Gold. While it would be an excellent investment, it may not be wise at your price point to spend hundreds of dollars on a necklace like this, especially if it's your first one. Instead, look for 24k gold-plated necklaces.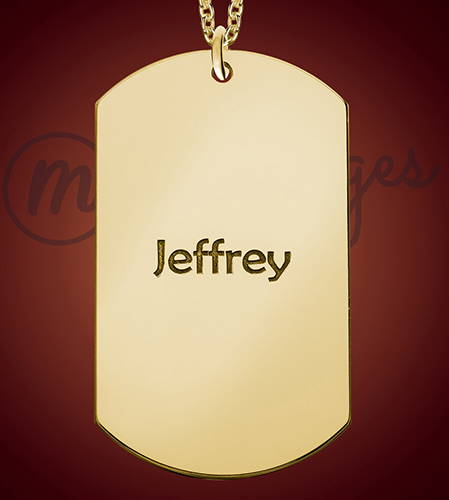 Here are a couple of reasons why this may be a great option in metal for you.
The base of the necklace is sterling silver but is covered by a thin layer of 24k Gold. The silver has anti-tarnish qualities and the metal measures 1mm in thickness.

It's resistant to tarnish and is hypoallergenic, so it works well with those who are sensitive to specific metal jewelry.

It's an affordable gold option. While necklaces wholly made of solid Gold can be incredibly pricy, 24k gold-plated necklaces are a price effective option for those who want the look, but not the exponential price point.
Sterling silver is another excellent metal for necklaces. With their gorgeous shine and high quality, they can be an excellent option for showing off your designs. Also, silver is an incredibly popular metal option for men, as the color is a bit more muted than Gold and tends to complement more men's styles.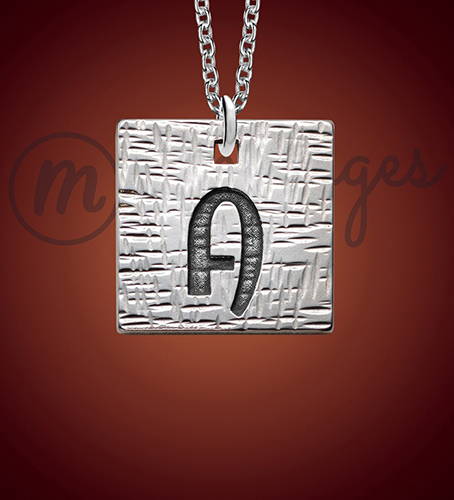 Check out a couple of more reasons why silver may be the choice for you.
Make sure to look for 925 Sterling Silver as it is created with extra anti-tarnish properties to increase its longevity.

Sterling Silver is hypoallergenic and doesn't irritate the skin. Since sterling silver does not include any percentage of nickel, an irritant and also what causes tarnish, it is safe to wear and won't cause you to breakout.

It has a timeless look that has the versatility that can work with any outfit and style.
Copper is an incredibly exciting metal to purchase as a metal choice for jewelry. Unlike silver and Gold, which are great metals for neutral skin tones, Copper is more suited to warmer undertones. With its reddish-brown color, it's no wonder that it is an extreme favorite among men.
There are a couple of more things that you should know about Copper besides its unique appearance though.
Copper is a very durable metal, and is also a very pliable metal, meaning that it is easy to manipulate into different designs.

Although Copper does not rust, it does turn green over time, without proper maintenance. With excellent maintenance, it should only become a more golden brown hue.

Copper can stain due to the metal oxidizing as a reaction to the sweat from your body. But unlike silver staining, this does not last and is easily washed off with soap and water.
SELECTING THE right necklace AT THE RIGHT PRICE
Before you go into buying a necklace, it's good to set a budget. When you are shopping for nameplate necklaces, price is something to consider. Some factors impact the price on a name necklace such as the number of characters allowed for the name and other special customizations. While a simpler design that features a single name is a cheaper option, it won't be the top option if you want to include multiple names on the pendant.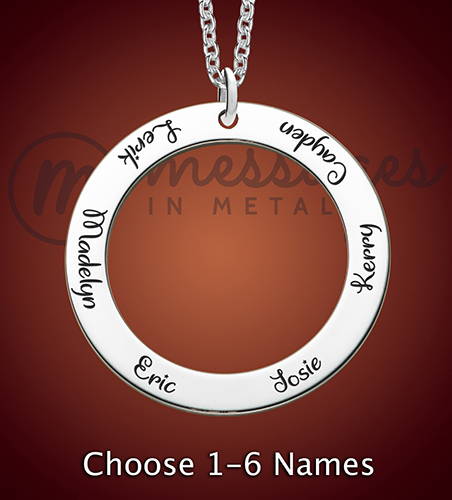 It's also important to look at the engraving costs when buying custom name necklaces. With most necklace options, you will have to pay an extra charge upwards of $15 to $50 depending on the design and how many names you want to be engraved on it.
Some sites like ours will do the calculations for you and will give you multiple options and set prices for how many engravings you want, while other websites and stores can charge by the character, usually a $1 per letter.
Here are some more things to consider when budgeting for the cost and style of your name necklace purchase:
How many names do you want to include?
What metal do you want your necklace to be made out of?
Is this for just him or for him and his significant other?
Are there any specific finishes or textures you want to have on your pendant?
PERSONALIZING your name NECKLACE
So, in what ways can you go even further in personalizing your name necklaces? Well, First, you can customize your jewelry by engraving it. With some styles, you can have up to twelve characters per name on a necklace. This is perfect if you want to show you and your spouse's name simply, or maybe even the name of your favorite sport's team.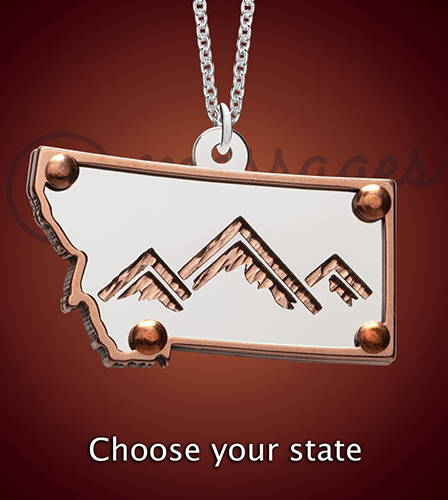 Another incredibly unique way to customize your nameplate is by utilizing textured surfaces if they are made available. Our jeweler's are able to create hammered finishes, antique finishes and more.
Take this Custom State necklace, for example! The design not only boasts a distinct engraving of a mountain range, but it is done in a way that contrasts the silver color of the main necklace and also gives texture to the engraving in copper metal.
It's creative and creates a statement necklace that is still incredibly wearable and not at all flashy.
GIFTING a man's name NECKLACE
If you're buying a gift for the man in your life, it's essential to consider what he would like in his necklace. Also, you need to be absolutely sure if this is a gift that he for sure wants. Below, we lay down some gifting tips to help you figure this all out.
WHAT TO CONSIDER WHEN GIFTING
If you are gifting him a piece of jewelry, show him how much you care by putting extra thought into the selection. Paying attention to his likes, dislikes, hobbies, profession, and even family can give you a clue into what he may want in a necklace.
Here is some additional things that you should think about when considering a nameplate necklace as a gift:
Does he wear necklaces often?

What is his personal style? And what necklace-type will fit best with it?

What are his interests, and how can I incorporate them into a necklace?

What is his lifestyle like? (This can be a critical question if you are looking to purchase a copper necklace.)

Would he wear this?
Asking yourself these questions will give a good idea on how you think this gift may be received.
Well, what if a necklace isn't his style, but you still want to get him something meaningful? Well, you can look into other pieces of jewelry that he may be interested in that can be engraved or customized.
For example, a watch is a great piece to customize, and also makes for an excellent gift. Not only is their space on the back of the watch for a custom message just for him, but it is also a staple accessory that every man should have in his closet.
Another great idea for an alternative gift is a challenge coin. The perfect gift for the sports fan or the coach in your life. Its surface can be decorated with a mascot or picture of your choosing or even a name!
For an added bonus you can also add up to ten lines of text on the back, to place a special message for him.
While metals are designed not to tarnish quickly and remain long-lasting, you still want to take proper care of the necklaces that you receive, to ensure longevity. To help you out, here are some tips to help you maintain your newly acquired pieces.
Store them safely in a dry area so that they don't rust or oxidize. This is most common with Copper when placed in damp areas.

Clean with a jewelry grade cleaning solution and cloth. Do not use standard everyday cleaners on the pieces as it may affect the finish.

Be careful when taking the pieces on and off as excessive force can cause the chain or clasp to break.

It's best to take the necklace off before showing or any water sports, to prevent further disruption of the finish.
If you are on the search for a customized necklace for yourself or as a gift for a man in your life, then we hope that this guide will help you in making an informed decision. If you are super sure that you are ready to buy, then take a look at our vast selection here at Messages in Metal. Here, we have an extensive collection of necklaces for him.
For an even more exciting deal, we also are giving you the coupon code Billings for 20% Off your order. And always feel free to send us an email at sales@messagesinmetal.com or gives us a call at 1-877-244-9625.
YOUR MAN. our jewelry. MESSAGES IN METAL