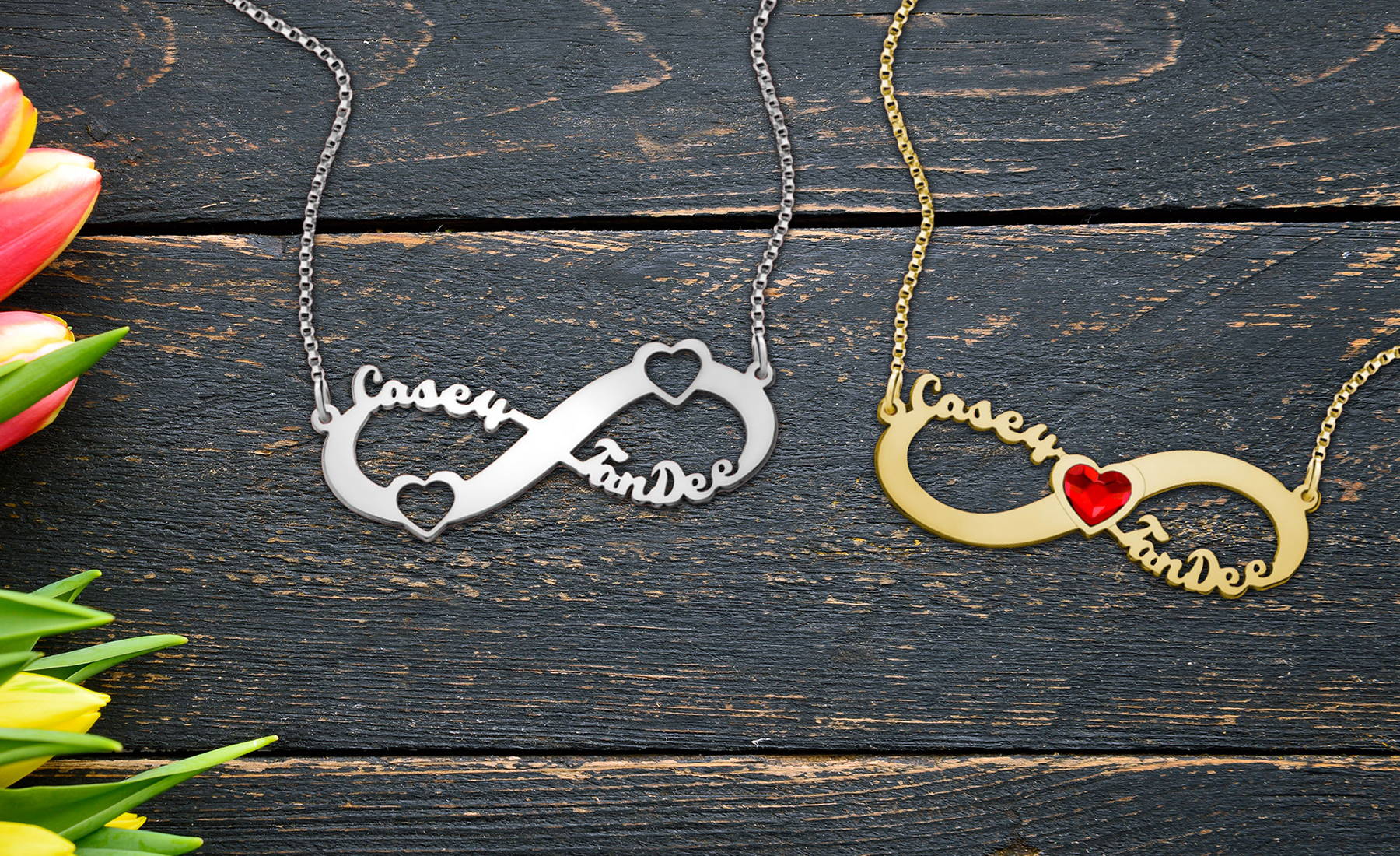 Do you want a beautiful and timeless piece of jewelry that will show the world just who has your heart until the end of eternity? From your beloved spouse, to your amazing children, and also your devoted pets, you can create a customized piece of jewelry that will showcase the love of your life with a personalized infinity necklace.
The infinity symbol has been around since the beginning of time, and this trendy jewelry looks like it will also be around for almost as long. Get your beautiful and personalized infinity necklace jewelry today and show everyone you meet just who has your heart forever.
INFINITY necklace BACKGROUND
If you aren't familiar with infinity necklaces, or what the symbol means, then this section will introduce you to the main concepts of infinity necklace jewelry. From what the symbol means and its history to a brief introduction of the jewelry, this first section will lay the foundation in our complete introduction to buying an infinity necklace.
WHAT DOES THE SYMBOL MEAN?
The infinity symbol is two intertwining circles that have no ending. This symbolizes the idea of being never ending and is most frequently used to symbolize your love for somebody lasting forever. Today, the symbol is universally recognized as representing a mathematical concept of going forever in numerical value and quantifiably being unending.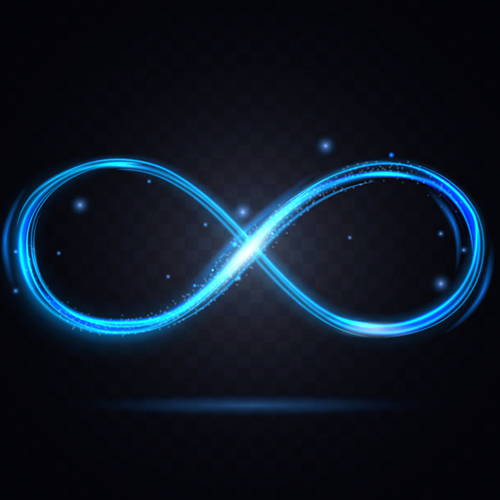 By using the symbol that means mathematically a number that has an unending value, artists are creating beautiful masterpieces that expertly craft the concept of endless love and lasting for eternity. While this endless love is usually connected with romantic relationships, it doesn't have to be. It can also be associated with family, especially the love of a mother for her children.
WHAT IS THE HISTORY BEHIND THE INFINITY SYMBOL?
The word infinity originally comes to us from the Latin word "infinitas" which means unboundedness. And before that the concept came from the Greek word "aepeiros" meaning endless. Early pictures of the infinity symbol are represented in the picture of a snake biting its tail.
This symbolizes the concept of having no beginning or ending. In the 17th century the infinity symbol was tied to the math concept of having no bounds or limits. Aside from the fun math fact, the infinity symbol also represents unending love.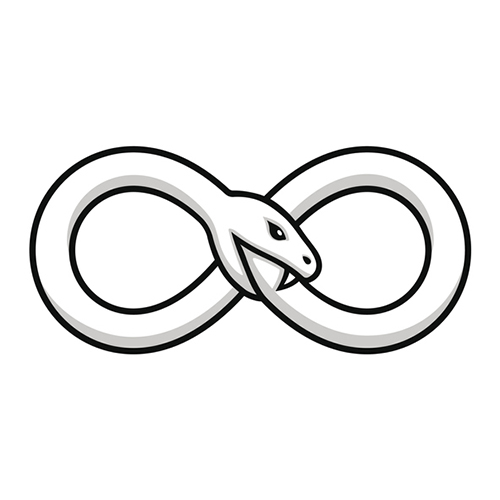 Today, it is mostly used to represent the idea of having no ending and lasting forever. The concept of everlasting love has become very popular recently. People are putting the infinity symbol on their wedding rings, artwork, and even getting it as a tattoo with the name of the person they will love forever.
WHAT IS AN infinity necklace?
If you haven't seen an infinity necklace you might be wondering what they are. In an infinity necklace, the infinity symbol with two names one on each side, is a beautiful representation of two people coming together to create one everlasting love. The amazing message that an infinity necklace sends is one of devotion and that your love also will last for all of time without end.
If you have seen the popular infinity necklaces, we think you will agree, these timeless pieces will be a staple in fashion for some time. They are simple, and yet gorgeous at the same time, and truly capture the essence of boundless love.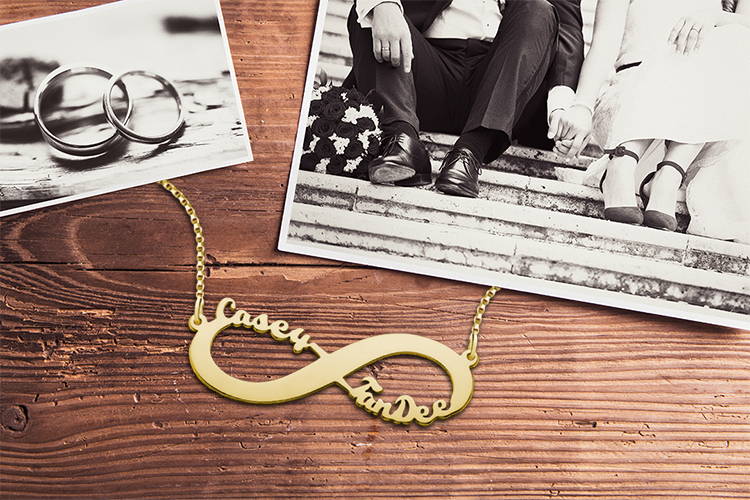 The infinity necklace with both your name and your significant other's name is a magnificent keepsake symbolizing the two of you coming together for eternity. However, you don't have to put a romantic relationship on your infinity necklace. As mentioned before, you can celebrate your relationship with other family members you are particularly close with as well. For example, a mother and daughter might want to make matching necklaces to share their unique bond.
You can also put your children's names on your infinity necklace to show your undying love for you precious children. Every mother would love to have their love for their children forever immortalized in the beauty and grace of an infinity necklace. The possibilities are almost as limitless as the symbol itself.
HOW MANY NAMES ARE ON THE INFINITY NECKLACE?
With most infinity necklaces you can choose to have up to four names put on your infinity symbol for your customized infinity necklace. Depending on the use of your infinity necklace will determine how many names you will want to include. Most people choose to have either one or two names, but your jewelry can be customized just the way you want it.
If you are a mom or grandmother celebrating your children or grandchildren, putting their names on your infinity necklace is a beautiful and custom choice for you. Additionally, you don't have to stop with only including the names of your loved one.
WHOSE NAME CAN I PUT ON MY INFINITY NECKLACE?
This is your personalized and customized necklace. You can choose to have your pet's name, your kid's names, or even your own nickname. If your parent or best friend had a special name for you that you want to be immortalized in an infinity necklace, then putting it on one of our beautiful keepsakes will memorialize it forever.
You can put whomever you want to put on your beautiful necklace, with each name usually being up to ten characters long. As we always say, if you can dream it, we can create it! So, start dreaming today - from you children to your spouse, or from your mother to your pet. The options are limitless and completely customized to your preferences.
HOW CAN I PERSONALIZE MY INFINITY NECKLACE?
When it comes to customization, the possibilities are truly endless. You can add your birthstones, you can change the font of the cursive names on your necklace, and as always you can choose the perfect metal finish for your preferences. We will talk about all those customizations in this ultimate guide to buying a personalized infinity necklace jewelry.
If you are creating a necklace to commemorate your and your spouse's love, you can add your names as well as one or two cut out metal hearts placed on the infinity symbol. If you are making a necklace to celebrate your undying love for your children, you can add each child's birthstone to your necklace. This is a beautiful celebration of their births and entrance into your life.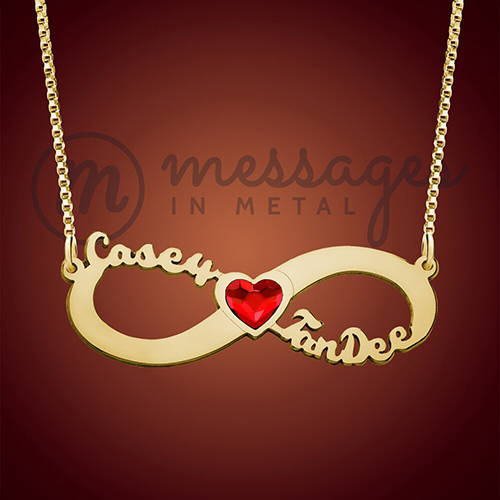 If you want to add a pop of color to your necklace instead of the cut-out metal hearts you can add a red, Swarovski heart in the heart of your infinity necklace. One of my favorite variations to the Infinity necklace is the Gold Heart Infinity Necklace with Name. You are sure to love the colored Swarovski heart to compliment your necklace.
HOW TO select the right INFINITY JEWELRY
Each necklace is meant to be personalized and unique to your own personal preferences. If you are giving an infinity necklace away as a gift for the special person in your life, you will want to consider their preferences and lifestyle. Consider the person you are purchasing for and their lifestyle as well as what they normally wear for jewelry.
THREE STEPS TO CHOOSING INFINITY JEWELRY
STEP ONE: HOW MANY NAMES?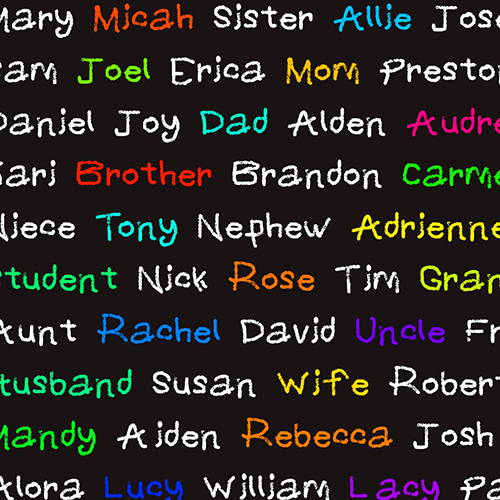 Will you want one name or two? Answering this question will depend on who your necklace is for. Will your necklace be a tribute to your mother, or best friend, or your favorite pet? Then one name will do perfect for you. Otherwise, if you will be immortalizing your relationship, then two names will be the best choice to commemorate both you and your spouse.
STEP TWO: WHAT METAL FINISH?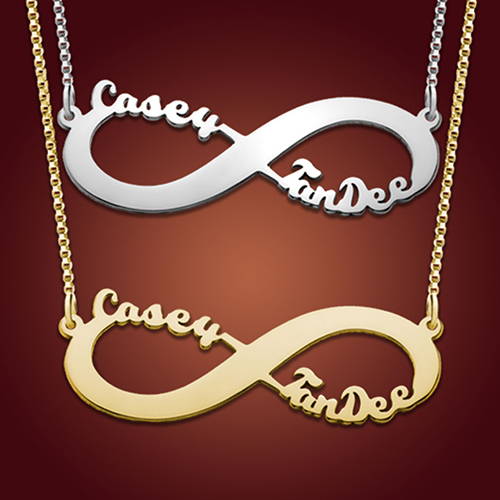 There are a number of metal finishes for you to choose from. This will depend on the personal preference of either yourself or whomever you will be gifting the necklace to. You can choose between silver, gold plated, and rose gold plated. Each have their own unique merits. Silver is classic and goes with anything, just like your favorite LBD. Gold looks great with darker complexions. And rose gold is more modern and might be the perfect choice for younger women.
STEP 3: WHAT IS YOUR BUDGET?
Depending on your budget, you can get as personalized as you would like or stay classic and simple. You want your necklace to be a personalized as you are. And our choices allow you to do just that. Do you want one or two metal heart cutouts intertwined in your infinity symbol? We can do that. Then the Gold One Heart Infinity necklace is the perfect option for you.
WHAT IS INCLUDED WITH your infinity jewelry PURCHASE?
As always with all of our jewelry purchases, we include a matching chain for your necklace. If you would prefer to add some length to the classic 18-inch chain, then we also offer a matching three-inch extension. With the pendant hanging, the extension makes the necklace a total of 23-inch length which is a great option if you love a little longer look.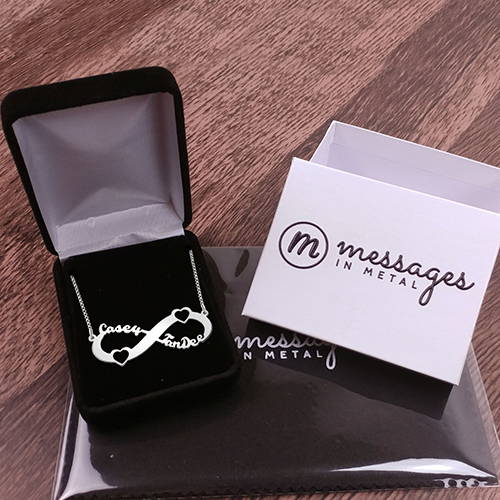 And as with our entire jewelry line, every purchase comes delivered in a gorgeous and protective jewelry box. If you are giving this as a gift, you will know that your gift will be delivered in a beautiful keepsake box to keep your purchase safe and untarnished. The infinity necklace makes a wonderful gift and is sure to please that special someone in your life.
Want to learn more? Check out our video and see What's In The Box!
INFINITY JEWELRY frequently asked questions
Find our most frequently asked questions for choosing personalized infinity jewelry!
One of the names I want is longer than the characters allowed? What do I do?
That is not a problem at all! Because all of our jewelry is created in house, we have the ability to slightly increase the size of the pendant or change up the font in order to allow for more characters. Simply send us an email at sales@messagesinmetal.com or give us a call at 1-877-244-9625 and we will be happy to assist you with creating a custom order.
I love the addition of the heart stone but I wanted a different color. Is that possible?
You bet! We use genuine Swarovski birthstones and accent stones with our infinity jewelry and can easily add a different color heart. Email us at sales@messagesinmetal.com or call us at 1-877-244-9625 and let us know what color heart stone you'd like.
I really love the infinity pendant but wanted to add the names of my four children. Can you do that?
Absolutely! We design, manufacture, package and ship our infinity jewelry from one location so that means we oversee every step of the process. We can add additional names or suggest an alternative product such as one of our family necklaces that will accommodate several names and/or birthstones. Or we can custom create a pendant that is completely unique to you! Give our customer satisfaction team a call at 1-877-244-9625 or send an email to sales@messagesinmetal.com with what you're looking for and we will start collaborating!
Is it possible to have an infinity pendant that is rose gold plated?
We do offer rose gold plating on our infinity personalized jewelry. This special order can be taken over the phone by contacting our customer satisfaction team at 1-877-244-9625 or by sending an email to sales@messagesinmetal.com. All of our personalized infinity pendants measure 1mm in thickness and would be beautifully enhanced with rose gold plating.
I spelled one of the names wrong! Can you fix it?
We typically begin production right away on your infinity personalized jewelry. Should you notice an error, we suggest calling us at 1-877-244-9625 as soon as possible. Most often we are able to catch the error in time and make any necessary corrections.
I wanted to do all the initials of my children on one side and my grandchildren on the other. Can I do that?
What a great idea! We love when our customers show their creativity and this would be a terrific way to show your love for your children and grandchildren in a way that is personal and unique! Given the originality of the letters, our sales team would call to verify the spelling and production would begin right away.
We encourage our customers to think outside the box when designing their infinity jewelry! Nicknames, last names, or even a string of letters that holds particular meaning all make for special and one-of-a-kind ways to personalize your selection.
How long does it take for my personalized infinity necklace to be delivered?
Once your order is processed, we begin designing and manufacturing your personalized infinity jewelry right away. Because everything is done in one location, we are able to oversee the entire process from start to finish. Most orders ship within 2-3 business days from order processing and are delivered within 3-5 business days from order processing. This means that you could receive your Messages In Metal selection in as few as 5-7 business days from when your order was placed.
What comes with my personalized infinity necklace?
All of our personalized infinity jewelry includes a matching chain that measures 18" and is attached to the pendant. The chain has a 3" extension at the end which allows you to lengthen the necklace if you choose. Your infinity pendant is packaged in a velvet jeweler's gift box and white monogrammed presentation box. A Messages In Metal jewelry cleaning cloth is also included.
MAKE personalized infinity jewelry PERSONAL TO YOU
In conclusion, there are so many options to personalize your infinity necklace to exactly your preferences that it can become overwhelming. The hope for this article is that it can become your go-to resource in buying the perfect and completely custom infinity necklace.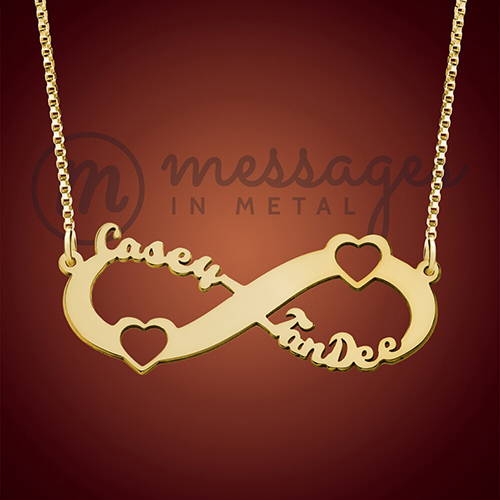 From showing off to the world the love of your life, to recognizing the day you became a mother, or even having the best friend in the world you could ask for, there are a number of reasons why an infinity necklace is the right gift for you. Life can be so fleeting, commemorate those especially important in your life with a beautiful infinity necklace.
Whether you are buying for yourself or as a gift for a loved one, the infinity necklace is a timeless and cherished masterpiece that will perfectly capture your undying love. Do you have a special anniversary coming up? Then there is no better way than to symbolize the beauty of the day you promised to be with the love of your life until death do you part with an infinity necklace. What better way to celebrate a big anniversary with both of your names on a gorgeous infinity necklace jewelry piece?
---
We truly hope this ultimate guide has answered all your questions about infinity necklaces. However, if you have any more questions, we would love to talk with you and ensure that you have all the information you need to make this important decision. The infinity symbol has been around since the time of the Greeks, and your beautiful necklace will showcase your unending love.
For those looking for something more individualized, you are sure to love the beauty and simplicity of the name necklace.
Need a gift for your mother or grandmother? Our assortment of personalized birthstone necklaces would make a wonderful gift selection!
A silver name and number dog tag necklace is a super gift idea for the sports enthusiast in every family!
February 5, 2020 by Conor Daniels