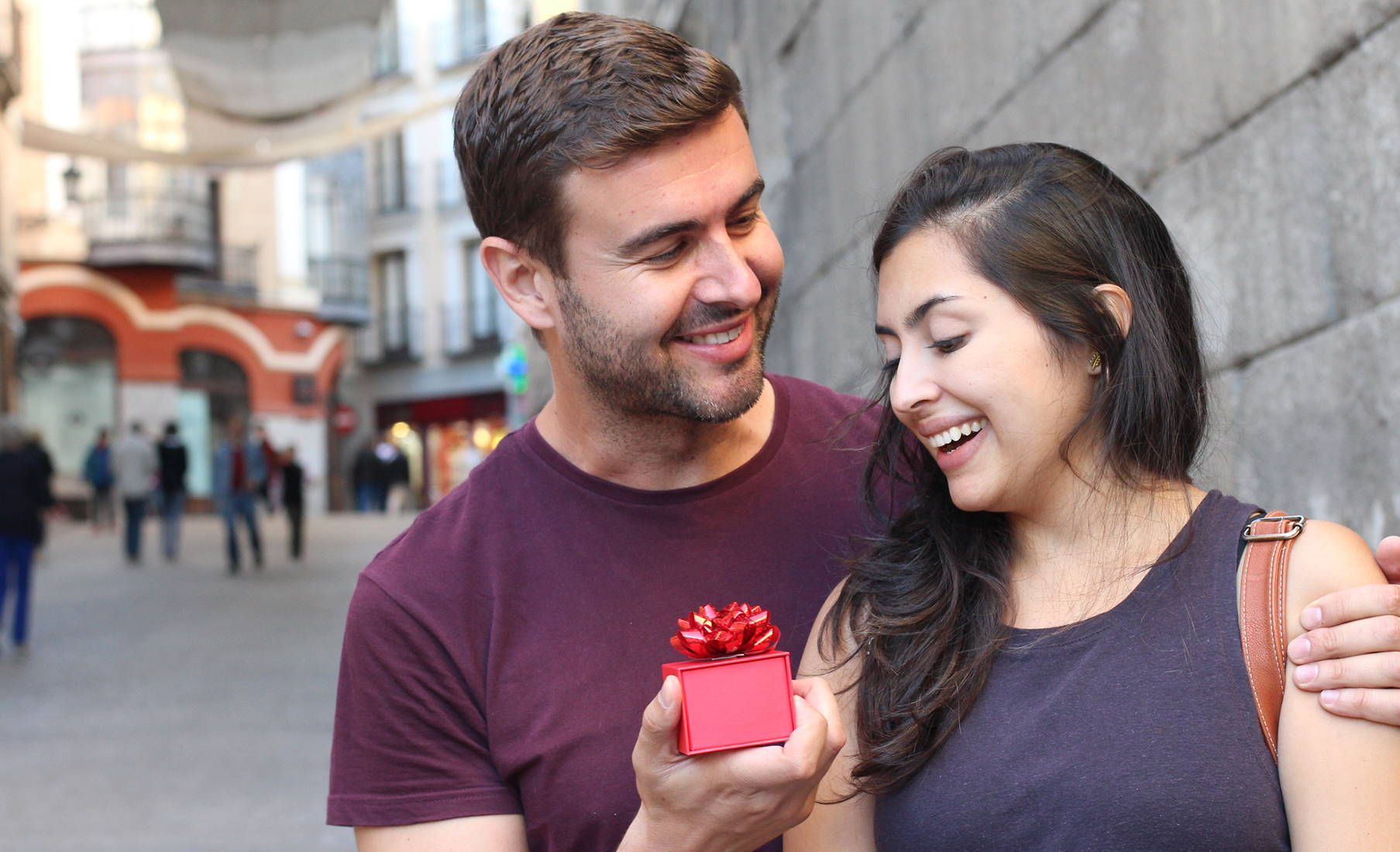 FIRST TIMER'S GUIDE - ENGRAVABLE & PERSONALIZED name jewelry gift ideas FOR ANY STAGE IN A RELATIONSHIP
There are a few universal truths and this is one of them – everyone likes to receive gifts. There's a sense of joy and pleasure from being given something from someone we care about. It's likely that (since you're here) you like giving presents as well. We all love the satisfaction of finding that one perfect thing we know the recipient will just love, even if it isn't always easy.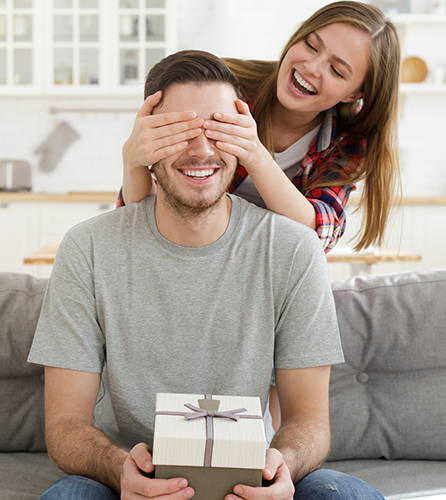 After all, giving the perfect gift can be a challenge. Finding the perfect gift for your Someone Special can be even more difficult. When it comes time to offering a romantic present, there are always criteria and context to consider.
Who are you buying for?

What's the occasion?

What expresses your feelings?

When is the appropriate time to gift certain types of gifts?
It can get exhausting to explore all your options, poring over possibilities for a luxury gift that still suits your budget. We understand. You want everything to be perfect - and that's why we're here. Let us help you find that perfect piece of statement jewelry that will wow your partner and still leave enough in the bank to treat you both to something nice while you gift it!
With this easy-to-read gift giving guide, we'll help you match the right jewelry for the right occasion. No guessing. No nonsense. So, let's get started finding the perfect thing for your perfect person!
With your special occasion around the corner, it's time to find that perfect selection that will wow your partner without being too much. But what is too much? And how do you know what's appropriate for the moment?
Don't worry. We have you covered!
Are you keeping it casual but interested in maybe taking it to the next level? Maybe you've been friends for a while but lately things seem to be leaning into a distinctly romantic direction. It could be that you've been out a few times and want to buy something to show you want to see more of them. Or maybe you've been seeing each other for a few months and you're ready to indicate a little more interest?
We've got some great "Netflix and Chill" options for you.
The Silver Dashing Name Necklace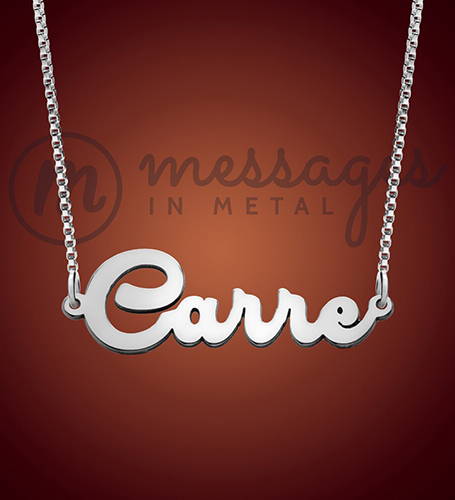 This Silver Dashing Name Necklace is a great gift choice at the beginning of a relationship. It's completely customizable (and we have several other fonts available if you're looking for something a different lettering look) and a very versatile gift. It's a great way to show that you care without being too much too soon.
You aren't tied to names, either. You can always consider putting a clever nickname or an inside joke shared between the two of you on this necklace to give it a more personal touch.
---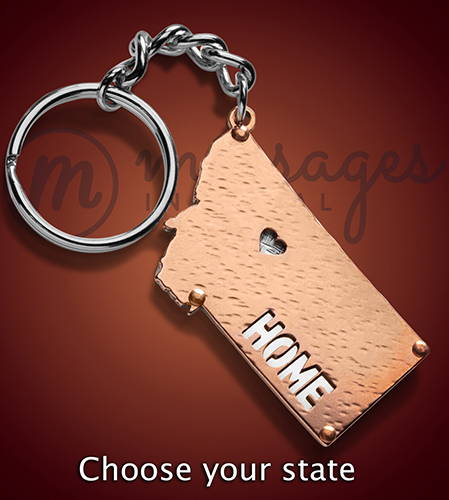 If you want something a little more unisex, why not consider a Home State keychain? We recommend this choice for someone who has a lot of pride in their hometown! It's tasteful and understated.
This one is great for a sports fan, too. (Who doesn't want to advertise their favorite team?) These copper keychains are made of three pieces riveted together for a unique, durable look. The options are endless with this keychain and it's ideal for either a man or a woman.
---
What about your sports crush? We have the perfect thing for the sports fan that caught your eye. Our custom Name and Number Dog Tags are a gift that shows you've been paying attention. Who's their favorite player/ team?
Or maybe they play themselves! You can feature it on this dog tag for a gift that's low key and practical. We even have custom dog tags for soccer, running, football, baseball and basketball!
These gifts are great for showing your interest without being too intimate or expensive. They can be gifted without much fanfare, especially if you are keeping it casual.
You've changed your status; you've posted that cute Instagram selfie of the two of you; and you've even told your mom. Now you'd like to commemorate the occasion with a gift to mark the occasion. Some of the newness of the relationship may have worn off by now – but that just means you're settling into a more comfortable groove with one another.
At this stage, your best choice is going to be a gift that is both sentimental and memorable. You may want to lean into the flirty and cute side of things instead of making a more serious selection. There's always time for that later.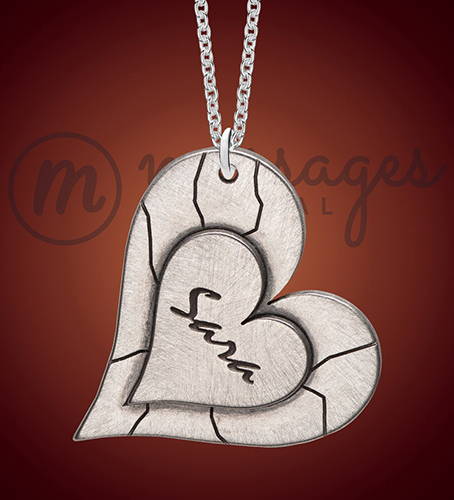 As one of our favorites, this Antique Silver Heart Necklace brings a little hint of romance without being over the top. It's a beautiful anti-tarnish sterling silver that is completely customizable with the name of your choice.
The heart not only has a raised heart at the center but it has exceptional detail surrounding the smaller heart that draw the eye to the center. Your name, their name, a pet name - you choose what's going to put a smile on their face!
---
Silver Letter and Hearts Round Necklace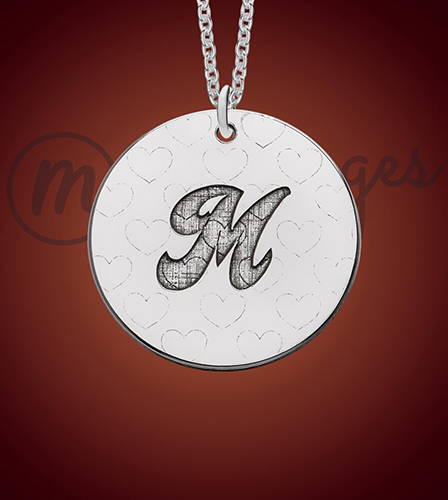 ---
Antique Silver Round Moon and Back Keychain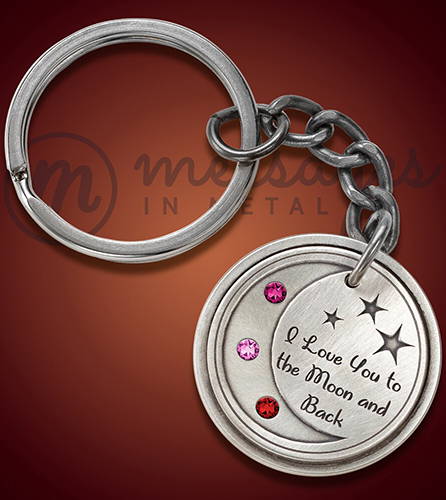 If the special someone in your life doesn't wear jewelry, this Antique Silver Round Moon and Back Keychain makes an ideal gift. The saying is sweet and simple without being trite. You can choose to customize the keychain or order it as is!
This keychain is also customizable with birthstones. Add both of your birthstones and maybe the birthstone of the month you met or that of the birth month of your first pet together.
So you're ready to share a bathroom (and a chore schedule). Congratulations! This is a huge relationship step! Moving in together comes with its own challenges but it means you're ready to start a new journey as a couple. Mutual cohabitation is sign that you're not only committed to this relationship but also to exploring a future together. It's a great relationship milestone to commemorate with a gift, especially on the first night in your new place.
We can't think of a better time to present this romantic gift than over a nice, quiet dinner in your new home together.
Gold Infinity Name Necklace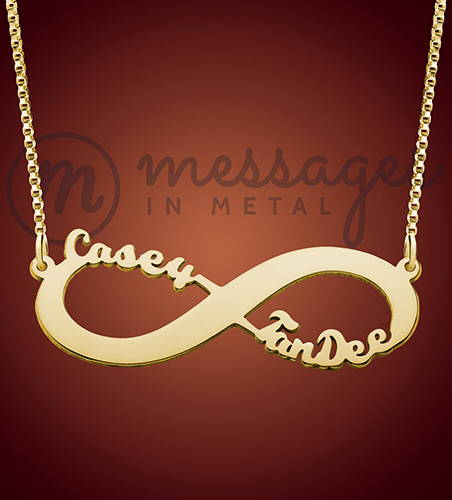 What better way to express your hopes for that future than with the infinity symbol? While its origins may be in mathematics (an added bonus for a partner who might be a little bit of a nerd!), the modern symbolism leans into the idea of the infinite. And what better expression of love than the infinite?
We offer several similar designs of this type, including several metal choices. The first, this beautiful Gold Infinity Name Necklace, is one of our simplest designs. You can pick any two names to be tangled together in this unique piece of jewelry. This pendant will definitely draw attention for the exceptional design.
---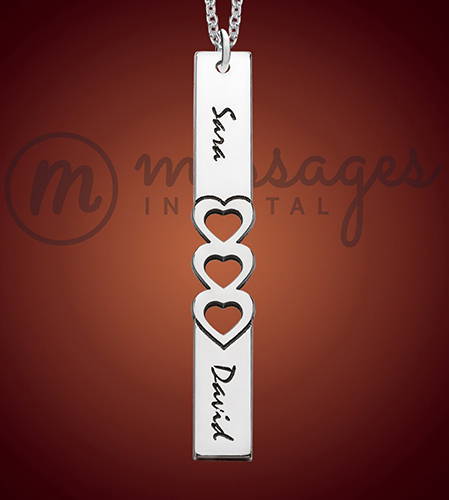 With the Three Heart Name Bar, you can add a flirty little touch to your gift. The heart cut-outs make for a sweet, more intimate design that combine the two personalized names on the length.
As an added bonus, both the top of the bar and beneath the hearts can be engraved with two names. First names, last names, nicknames or a phrase that holds special meaning is a great way to show some love!
---
Gold Heart Infinity Necklace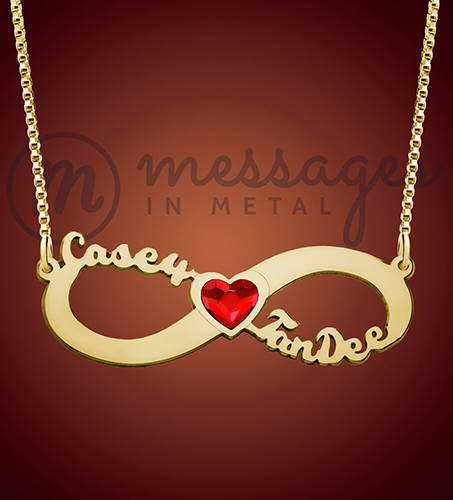 This one is the ultimate choice for someone who likes a little sparkle. The Gold Red Heart Infinity Necklace is the ultimate couples' necklace. The colored Swarovski heart are brilliant hues that come in four colors (red, pink, antique pink, and crystal).
If your names exceed the character length allowed, don't worry! We can custom create any of our pendants to fit more characters with a few simple adjustments.
Whether it's six months, the first year, or your tenth year together, your anniversary is the perfect time to celebrate. Whether it's with dinner and drinks, an exciting night out, or a weekend trip for just the two of you, you want to commemorate the moment. For any one of these big anniversaries, it may be the opportunity to show your love with some jewelry you both can enjoy.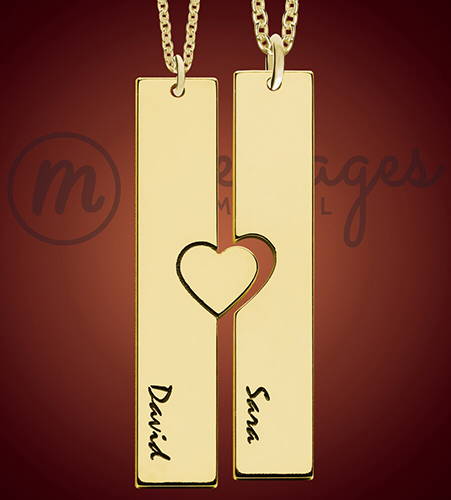 The Two Name Bar Necklace is a matching set that comes with two pendants, each with a customizable name engraved along the length. It's a gift for you both to share and one that cements your commitment to one another.
The benefit of this necklace set is that it can be worn by men and women alike - these are wonderful for same sex couples as well as best friends, roomies, or even siblings!
---
Two Heart Birthstone Necklace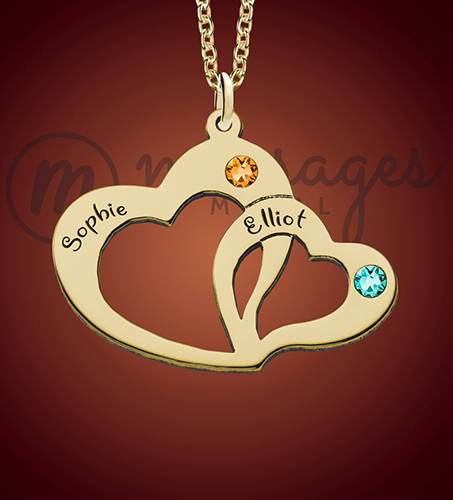 With the Gold Two Heart Birthstone Necklace, you can accent the names of yourself and your loved one with your birthstones. The stones are Swarovski crystal and guaranteed to last. This is great for an anniversary – but also for a birthday present too!
The birthstones don't have to be a certain month - you can choose based off of color if you'd rather. Or switch it up and pair your birthstone with their name and their birthstone with yours!
WELCOMING YOUR FIRST CHILD
It's no longer just the two of you. You've officially welcomed a tiny human into your home – which is a lot of work! Parenting is an incredible and rewarding experience, though it may seem tough at times. While you'll both receive plenty of gifts related to your children (and for your children) as you settle into parenthood, every new parent appreciates something that is just for them. We think that one of our family pendants is a great option for the experience.
Baby Feet Round Antique Silver Necklace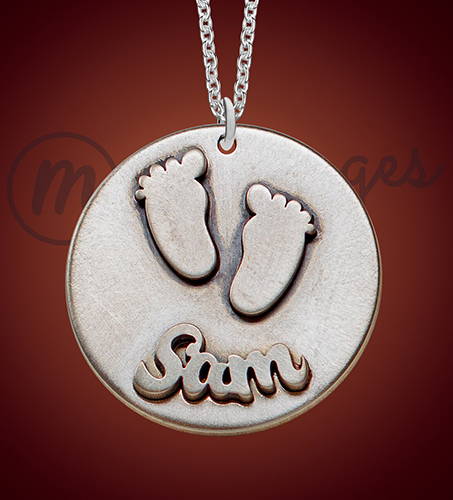 What better choice for a new parent than this Baby Feet Round Antique Silver Necklace? The tiny feet are adorable and they'll help you remember the earliest days of parenthood! The bottom of the round is personalized with the child's name in raised letters.
It's a great commemorative piece for your first child that can be worn by men or women. Since it can be personalized as well on the front with the name and on the back with a few lines of text, you can show off your parental pride in style!
---
My Heart Belongs To Necklace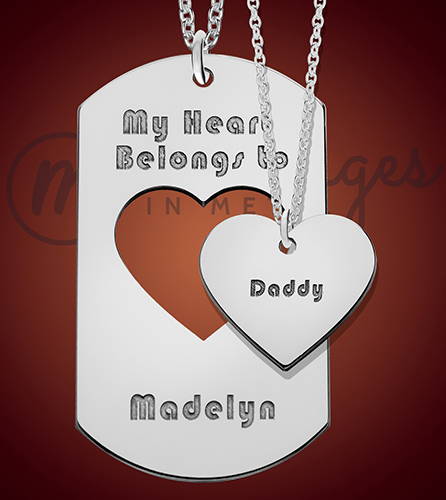 If you're looking for a bargain, our My Heart Belongs To Necklace set is just the thing! This adorable set is ideal for a Daddy Daughter moment. If you need a Father's Day present for the man in your life, we highly recommend this one.
Daddy daughter jewelry is immensely popular and you know your little one will love wearing something that matches her personal hero! And because the chain is adjustable, it makes it easy for little fingers to open the clasp.
---
Gold Full Heart Name Necklace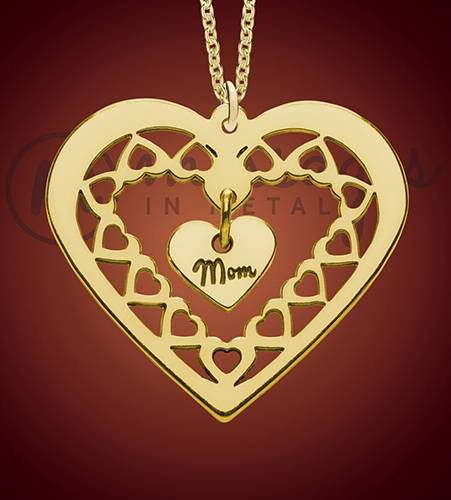 With our Gold Full Heart Name Necklace, you can share your love for your significant other and your new status as parents in a single gift. This unique, beautiful pendant is a lovely gift for a new mom.
The 1" heart is deceptively simple and the inner heart-shaped lattice work is a lovely touch that will be sure to draw attention. And what mom wouldn't love to show off the initials of her new baby!
As your family grows, there are many options to celebrate those milestones. While it's true that most of these options are more feminine, we wouldn't let that stop you from taking a look at some of our custom work! This gifts are great for moms but also for grandmothers and even an aunt or other family member who take pride in their family members.
Gold Trio Ring Personalized Necklace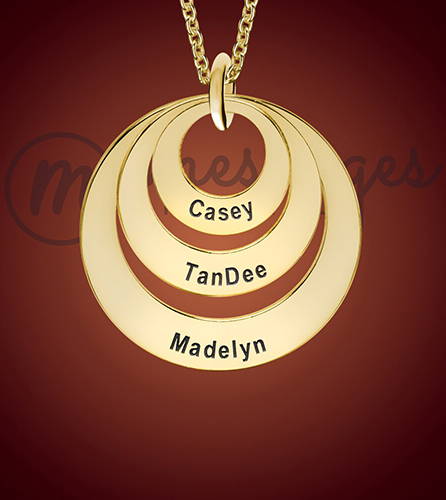 Our Gold Trio Ring Personalized Necklace is a great choice for celebrating the birth of your first child. The three rings can be customized to representing both parents and the newborn to symbolize your family. The Swarovski crystals come in all gemstone birthstones to represent the births of the most important people in your lives.
If you have more than one child, you can consider the Quad Ring Necklace as an alternative! It's a great necklace for a new mother and let's her show off her pride and joy!
---
Family Tree Birthstone Necklace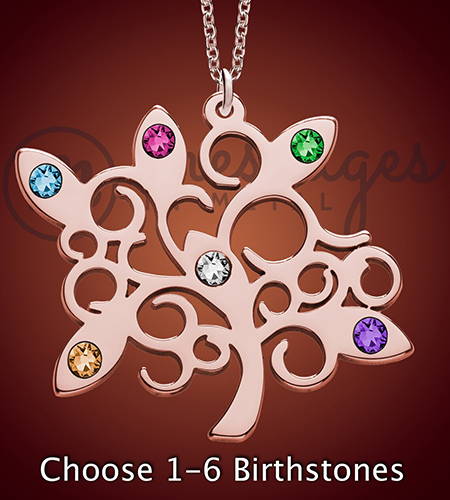 What's not to love about this Family Tree Birthstone Necklace? The tree design represents the branches of the family and is a gorgeous piece for any family matriarch. It's eye-catching, completely unique, and is the perfect, meaningful gift.
The pendant is available in rose gold plated, gold plated and sterling silver and can be personalized with as many as six birthstones. Each includes a matching chain.
---
Daybreak Patchwork Name Necklace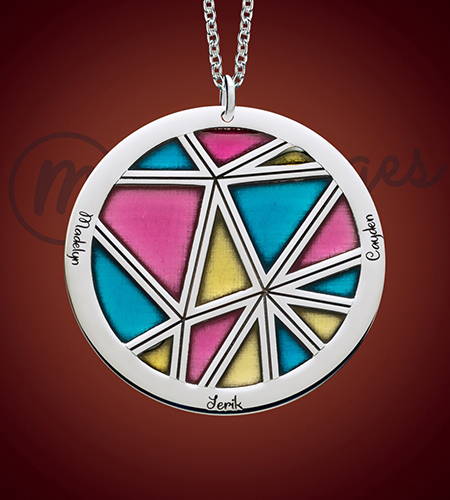 Another unique choice, there's nothing quite like our Daybreak Patchwork Name Necklace. It's another piece of jewelry that symbolizes the unique, unexpected pieces that hold each family together.
The pale pink, blue, and yellow are great springtime colors, though we do offer other color palettes in this design that will appeal to anyone's sense of style! You can put 1-6 names along the circle to share the names that matter most.
WHY CHOOSE messages in METAL?
We know you have a lot of options when it comes to jewelry, but we like to think we stand above our competitors for beautiful, quality jewelry at an affordable cost. Why should you trust your next romantic gesture to us?
CUSTOMIZATIONS ARE OUR SPECIALTY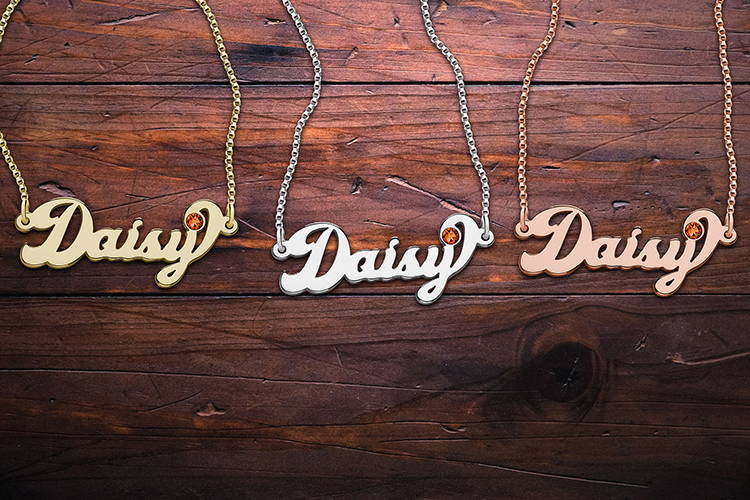 All our jewelry is completely customizable! We know that it's the little touches that matter, which is why we offer so many personalized options for each piece. As we said before, same sex couple jewelry is absolutely an option. We support all couples – love is love.
While we specialize in sterling silver, most of our pieces are available in multiple metals. You'll find our work in silver, 24k gold plated, and rose gold plated options! And if you don't see exactly what you're looking for, contact us! We'll be happy to help craft your perfect gift!
---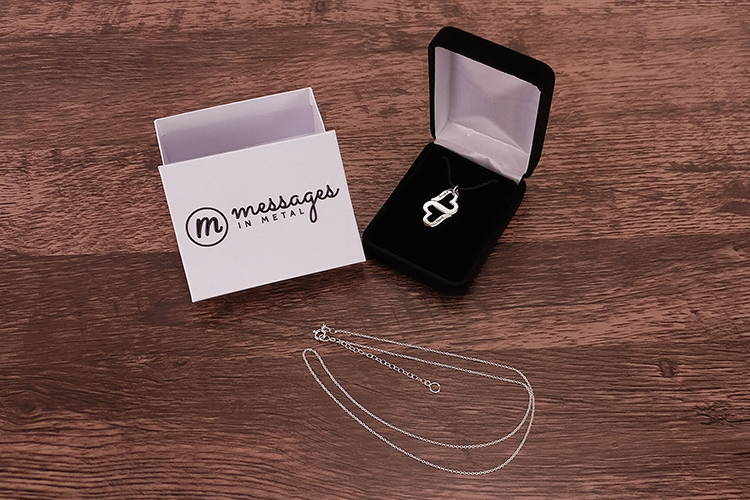 Each and every pendant includes a matching chain that has an extender on the end. The extender allows for you to lengthen or shorten the way in which the pendant is displayed. Also, when giving a gift like this, the presentation can be as much a part of the process as the item itself. That's why all our orders come in a gift box and white presentation box – because we know that the man or woman in your life deserves perfection from the start.
---
We are Made in the USA! Each piece you order will be crafted in and shipped from Montana, USA from the finest jewelry crafters in the state. Our designs are all original from our own designers. All our work is done in house, which means you won't be getting anything that originated overseas.
You are working directly with the manufacturer and we oversee the entire process from start to finish. From designing to creating to manufacturing to packaging and shipping - we are involved every step of the way!
While we tried to outline some of our favorite pieces in this gift guide, there are still plenty of options available on our site. If you didn't find what you were looking for, we hope you'll take the time to look through our collections! We think you'll love what we have to offer – satisfaction guaranteed!