HANDCRAFTED PERSONALIZED mother's name necklace WITH CHILDREN'S NAMES AND BIRTHSTONES - SHOW YOUR LOVE. SPECIAL GIFT for the mother IN YOUR LIFE
Nameplate necklaces have been a massive trend within the jewelry industry. They can come in all types of different styles, metals, and can feature full names, nicknames, or the names of loved ones on it. One of the most popular and meaningful gifts has been the mother's name necklace. This is a beautiful, thoughtful piece of jewelry that has become the ideal gift for all the mothers in our lives.
But what exactly is it, and why is it so special? Also, how can we find the perfect style to gift to them? We hope to give you the answers to your questions, and even help you with picking out the ideal, personalized gift for your mom!
WHAT IS A mothers name NECKLACE?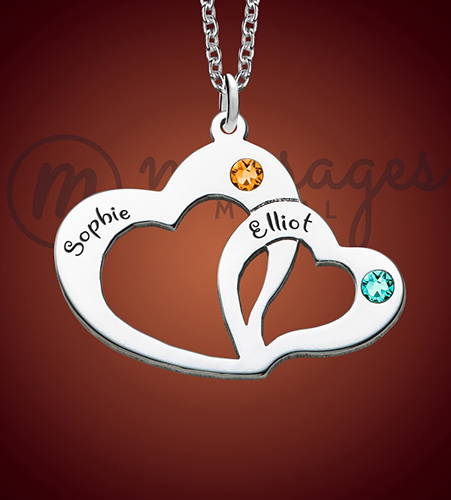 We have all seen nameplate necklaces before. They are usually a simple shape on a thin chain, with a name engraved in them. Sometimes they come in different shapes and sizes, and you can find them in all types of colors. While those are rather trendy, a Mother's name necklace has a bit more sentimentality than your normal nameplate.
A mother's necklace not only includes her name engraved on the metal, but also the names of her loved ones, often her husband and children. It's a beautiful and tangible way for them always to keep family close to their heart even when everyone may be far away from her. Another reason why these particular necklaces are so popular is because of the multiple styles and customizations you can do with them. From the names engraved to the metal used to the shapes of the nameplates, there are plenty of ways to make this necklace individually unique.
WHO TO GIFT A mothers name necklace TO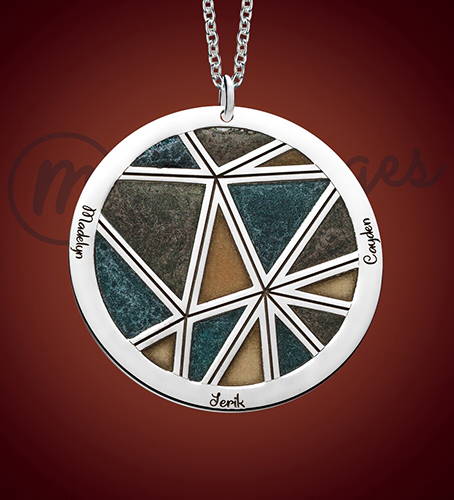 Who should you gift this to? Honestly, you can give this to any important woman in your life, be it your mother, aunt, or grandmother. The joy of a necklace like this is that you can make it unique to each recipient. Maybe your mother prefers a silver pendant in the style of disks, or maybe your aunt wants something in gold. There are plenty of choices for you to pick from.
Another reason why you should gift mothers name necklaces from us individually is that we make sure that our name necklaces from the highest quality metals. Because of us taking the time to ensure quality, our accessories are perfect for those who have sensitive skin. Take our Patchwork Pendants, for example, they are made of Sterling Silver and are not only durable but also excellent quality, and very stylish. You want to ensure that a necklace with meaning like this, that it will be able to last for years to come.
BEST BANG for your BUDGET
Before you go into buying a necklace, it's good to set a budget. When you are shopping for nameplate necklaces, price is something to consider, because this can be a factor in what features you can receive in a name necklace design. While a more straightforward design that features a single name is a cheaper option, it won't be the top option if you want to include multiple names on the pendant.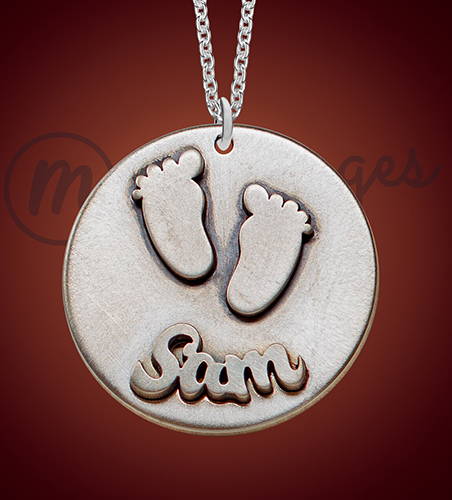 It's also important to look at the engraving costs when buying custom name necklaces. With most necklace options, you will have to pay an extra charge upwards of $15 to $50 depending on the design and how many names you want to be engraved on it. Some sites like ours will do the calculations for you and will give you multiple options and set prices for how many engravings you want. Other websites and stores can charge by the character, usually a $1 per letter.
Here are some more things to consider when budgeting for the cost and style of your name necklace purchase:
Do you want a specific font for the names?

How many names do you want to include?

What style will best fit your wants?

What metal do you want your necklace to be made from?

Are you including and unique stones or gems to your necklace?

Are there any specific finishes or textures you want to have on your pendant?
Does a higher price mean better quality?
Just because a pendant may cost a high amount, it doesn't mean that it is better quality. In fact, some of the best-designed necklaces won't require you to break the bank. So, search for the design you really want, and don't let it be about the price. Let it be about how the design will complement the wearer and the meaning that it will hold for them.
In planning what necklace you will purchase, it is essential also to consider what kind of metal will be the most agreeable for the person you are buying it for. But why? Well, while the design is essential, so is the metal that you choose. Your mother may have a preference for what metal she likes and dislikes to wear. Maybe she is a fan of gold because it matches with her other jewelry and accessories. Or perhaps she loves how silver looks on her. Taking time to know what her preference is, shows that you put thought and care into her style.
Another reason why it is essential to take care in choosing the metal is that some may cause an allergic reaction to the wearer. For example, while you may prefer the look of the color silver, your mom may be allergic to it, and can only wear 24k gold. Because of this, and multiple other reasons that we will cover, it's good to know all the options, pros, and cons, of each metal, specifically gold and silver.
Here at Messages in Metal, gold plated jewelry is a common request here. With that, we make sure that we are providing you with the most quality and durability so that your name necklace can last for years and years. Here are some features on why our gold plated option may be excellent when choosing a gift for mothers.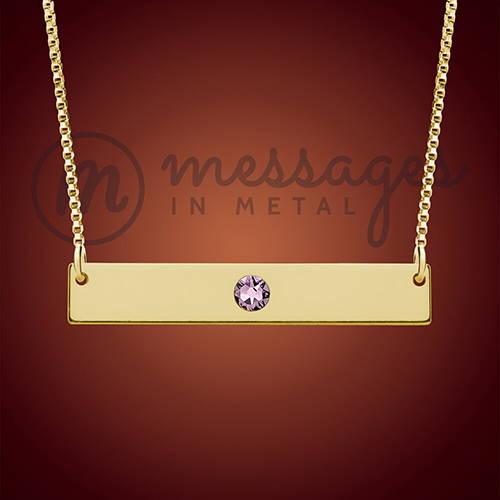 It's resistant to tarnish and is hypoallergenic, so it works well with those who are sensitive to specific metal jewelry.
Find more information about the characteristics and care for popular gold-plated necklaces here.
STERLING SILVER NECKLACES
Sterling silver is a beautiful metal for necklaces. With their gorgeous shine and high quality, they can be an excellent option for showing off your designs. Here are some more details about why silver may be the choice for you.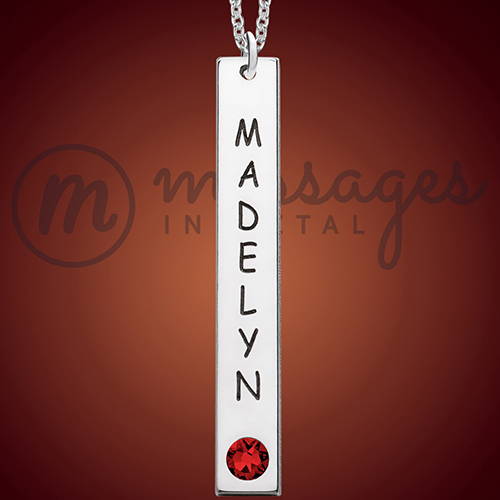 Here at Messages in Metal, our .925 Sterling Silver is created with extra anti-tarnish properties to increase its longevity.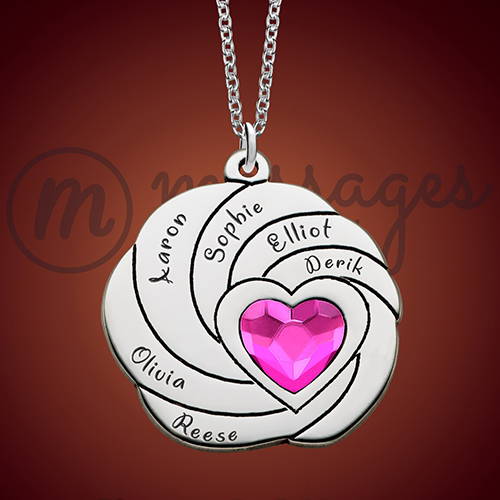 Sterling Silver is hypoallergenic and doesn't irritate the skin. Since sterling silver does not include any percentage of nickel, an irritant and also what causes tarnish, it is safe to wear and won't cause you to breakout.
Take a closer look at why sterling silver may be an option for you here.
FIGURING OUT the perfect STYLE
Finding a style that can reflect their personality can be a little tricky and a bit overwhelming when faced with so many choices. Here are a couple of our favorite styles that you can take a look at, and see which one will be the best fit!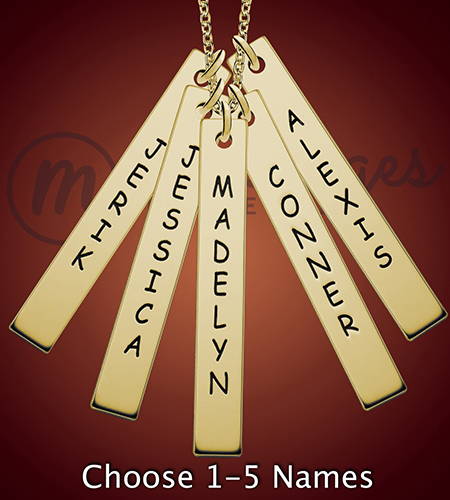 The Glory Name Bar is a tag style pendant that is incredibly simple, clean, and classic in its design. The letters are stacked one on top of the other and are featured in an easy-to-read font. The material of the bar is thick and durable, which means that it will be long-lasting and it can include up to eight letters.
The best part of this style of necklace is that it is rather easy to personalize this necklace to include multiple names. All you need to do is add one or various bars, and each name can display with equal distinctness. Also, you can make this even more personal by including the birthstone of your children to the necklace.
Here are some more details about the Glory Name Bar Necklace:
A single bar necklace is $55 and can include up to eight characters on the bar.

A family name bar necklace allows you to choose up to five names. Each name added is an extra $10.

There is also an option to have birthstones added to this design.

It comes in both sterling silver and a 24k gold plated option.

It will come with a gift box.

It can be custom made for an even more personalized present for your loved ones.

It comes with a high-quality 20-inch chain with a 2-inch extender.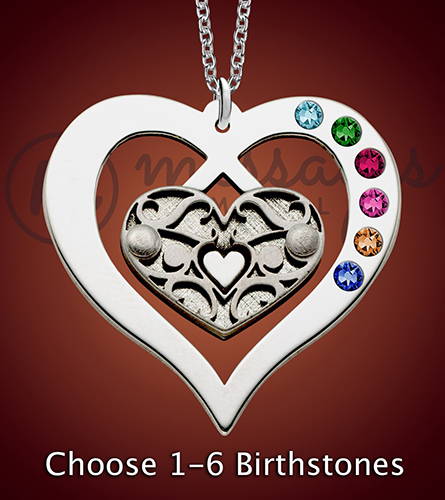 The Filigree Hearts are a unique and straightforward way to show off the love and appreciation that you have for those in your life. This necklace style, in particular, is so special because of its double heart design. The inside heart is beautifully designed with intricate design work. The outside heart is simple and can be the focal point of showing off your loved ones.
Because this particular design doesn't lend itself to engravings, gemstones are how you can personalize it and highlight the special people in your life. Because of this, you can choose how many birthstones you want to be featured on it and have them detail the outside heart in a simple and classic way.
Take a look at some of the stunning features of the Filigree Heart necklaces:
You can choose up to six birthstones for this pendant. Each birthstone is an extra $2 each.

It comes in anti-tarnish .925 Sterling Silver and will be long-lasting and durable.

Each stone is a high-quality Swarovski birthstone that will be sure to sparkle on this design.

It comes with a 20-inch matching necklace chain with a 2-inch extender as well

This design can become even more personalized and can be a custom order if requested.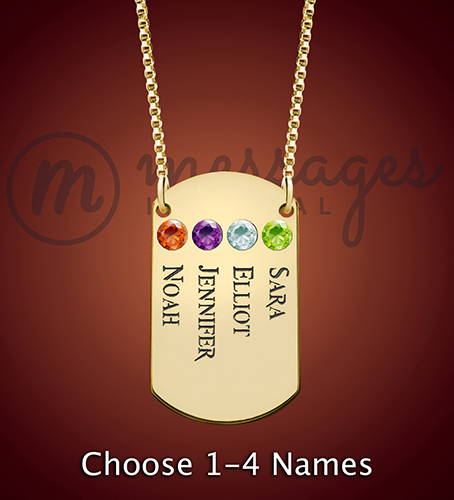 The birthstone dog tags are similar to the glory name bars. With this particular style, you can include both the name of your loved ones and also their birthstone, side by side. This specific style is different from the traditional name bar because you can add multiple names on one tag, rather than having to have a bar for each name you want to include.
The dog tag is an excellent choice for mother's who want to have multiple children's names on a pendant. Also, this is great for those who enjoy a simple style, as they won't have the extra decorations to manage. Each name is displayed clearly and equally without one being covered and not shown.
Here are some particular features of this style:
It comes in both gold and sterling silver.

Up to 12 characters are allowed per name.

You can have up to four names on the dog tag, with an extra $2 for each name you choose to add on the design.

Each stone is made of high-quality Swarovski birthstones and compliments the design nicely.

The pendant comes with an 18iinch matching chain with a 3-inch extender.

If you want an even more, one of a kind necklace, you can call Messages in Metal and request a custom order.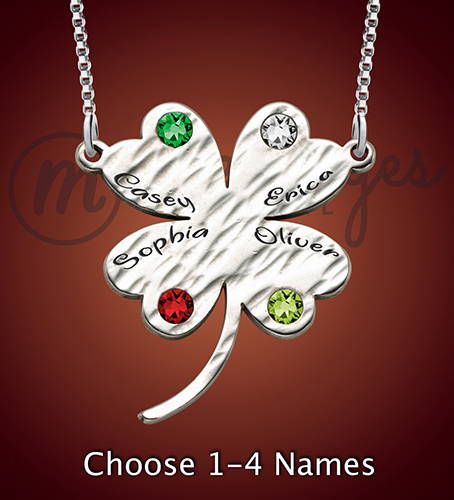 The lucky name necklace is an incredibly unique design. The central pendant is shaped like a four-leaf clover, a symbol that is associated with luck and good fortune. It's a great style, for those who are wearing it, to always know how lucky they are to have their loved ones in their lives.
With this design, you can highlight the names of your family and loved ones, while also pairing it with their birthstones. Along with this, the clover pendant's textured surface gives the necklace-amazing dimension that allows the names and birthstones to stand out. This is the perfect style for anyone who loves a good luck charm.
Read about some more reasons why this may be the design for you:

The Lucky Name necklace comes in both Sterling Silver and 24k Gold.

The pendant is made of high quality and thick material to ensure its longevity and durability.

Up to four names can be included in this design, with up to ten characters allowed per name.

It comes with a matching 18-inch chain with a 3-inch extender.

Can be even more unique by way of a custom order, when you call Messages in Metal.
TRANQUILITY NAME NECKLACES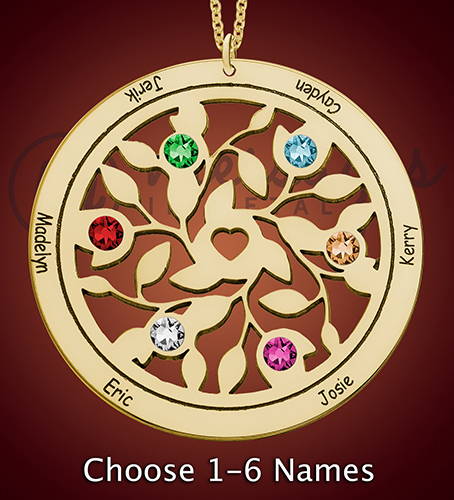 The Tranquility name necklace is a fantastic design, which will show off the names of those special people in their lives perfectly. The design is incredibly unique, and fits its name to a T. On the inside; you have a twirling leaf and vine pattern that all connect to a heart in the center of the pendant. The leaves are then all enclosed by a circle, which holds the names of loved ones on it. Not only are you able to include the names in the outside ring, but you can also add birthstones on the leaves inside as well.
This design is a perfect symbol to give to the mother in your life. The heart within the center shows that she is the focus of all the love in your family. The branches extending from the center heart, show that you all come from her and have grown from her love. Finally, the circle on the outside forms a symbol of completeness in your family. It's a beautiful and tangible reminder to have.
Take a look at other reasons why this may be the perfect necklace:

The necklace comes in both sterling silver and 24k gold, with the pendant being made of high quality and think material that will ensure that it lasts from years to come.

You are allowed up to ten characters per name and up to six names to be included on the pendant.

You can choose from our collection of Swarovski gemstones to add an even more personal touch.

The pendant comes with a 20-inch chain with a 2-inch extender.

For more options on customizing this necklace, you can call Messages in Metal.
While we love the above designs, we also are currently obsessed with the Patchwork Pendant! Keep reading to find out why we are particularly in love with this piece, and why it will be the perfect mother's name necklace for you.
WHAT IS THE PATCHWORK PENDANT?
The patchwork pendant is a beautifully designed necklace style that is wholly unique and beautiful in its design. The main body of the pendant is circular, but its simple shape is set off by the vibrant colors and mismatching geometric patterns within the circle's center. Finally, the outlining circle allows you to include the names of your family.
This particular pendant comes in some fantastic colors, from the vibrant reds and blues of the "Celebrate" style to the gorgeous pastels of the "Sunrise" style. The necklace has five different styles: Celebrate, Autumn, Sunrise, Daybreak, and Nightfall. Each one is a unique mix of colors that pop against the background of the primary metal of the pendant.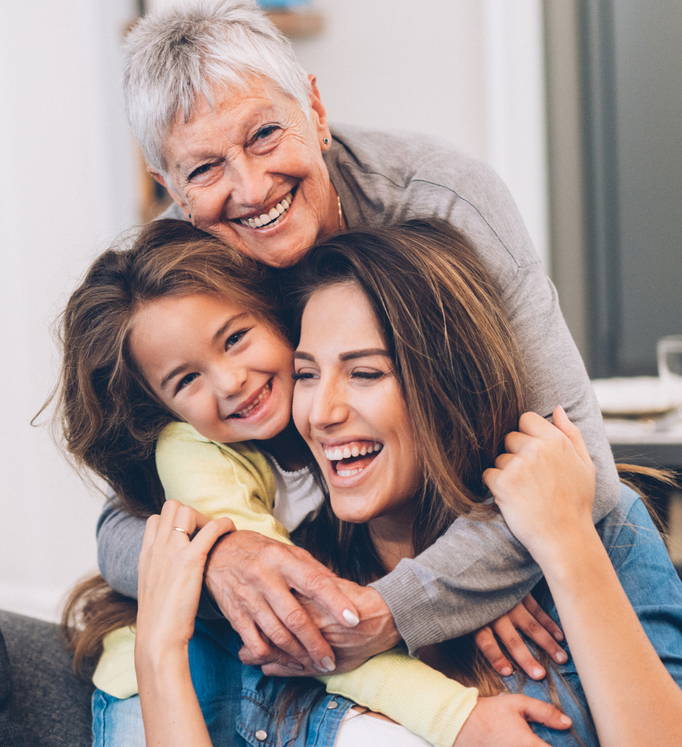 The necklace is perfect for mothers, grandmother, aunts, or any significant mother figure in your life, especially if they love displaying color in their jewelry or clothing. The mismatched patchwork allows for multiple colors to be featured and highlighted, so the wearer can pull from different colors to match with their other accessories.
The unique design of this pendant is perfect for those who are looking for something different from the typical name pendants they have seen. Also, the symbolism of this pendant is incredibly beautiful, as well. Each piece is a different size and shape, yet they all fit together perfectly and create something amazing. All of their different colors compliment one another perfectly. It's very similar to a family, where all pieces are different, but fit together beautifully.
Even more amazing features!
Need even more reasons on why this will be the perfect choice for that special someone? Take a look at some more features:
The necklaces come in three different metal options: Sterling Silver, 24K Gold, and Rose Gold, giving you a further way to personalize your jewelry.

Along with the metal options, they are all high in durability and are sure to be long-lasting.

You can choose up to six names per pendant, with each name allowed up to 10 characters.

The inside enamel colors with a pearl or metallic finish to give a distinct shine and character to the pendant.

Each necklace comes with a 20-inch chain with a 2-inch extender.

Each pendant comes with a gift box so that you can present it as soon as it arrives in the mail to your loved one.

If you want an even more unique look to your pendant, you can call Messages in Metal. This way, you can inquire about: font, birthstone additions, and colors.
A name necklace is such an incredibly special gift that can show just how thoughtful you are and how much the receiver of your gift means to you. While there are plenty of things to consider when purchasing one such as style, price, metal, and the personal taste of the recipient, it can be a gift that is not only meaningful but also can last for many years to come.
Our Montana made mothers' necklaces are 100% American made and full of care, with each name and style shipped from our warehouse to you. Not only can you trust us to deliver you a product that you will love, but we will we are always available for questions! Be it about your order, a particular style, or even getting a custom necklace made just for your mom, we are available either by email or by phone for any questions you may have. We can't wait for you to shop with us and buy a necklace that your mother will be sure to love.
YOUR MOM. our family name necklaces. MESSAGES IN METAL.
By Conor Daniels July 31, 2019