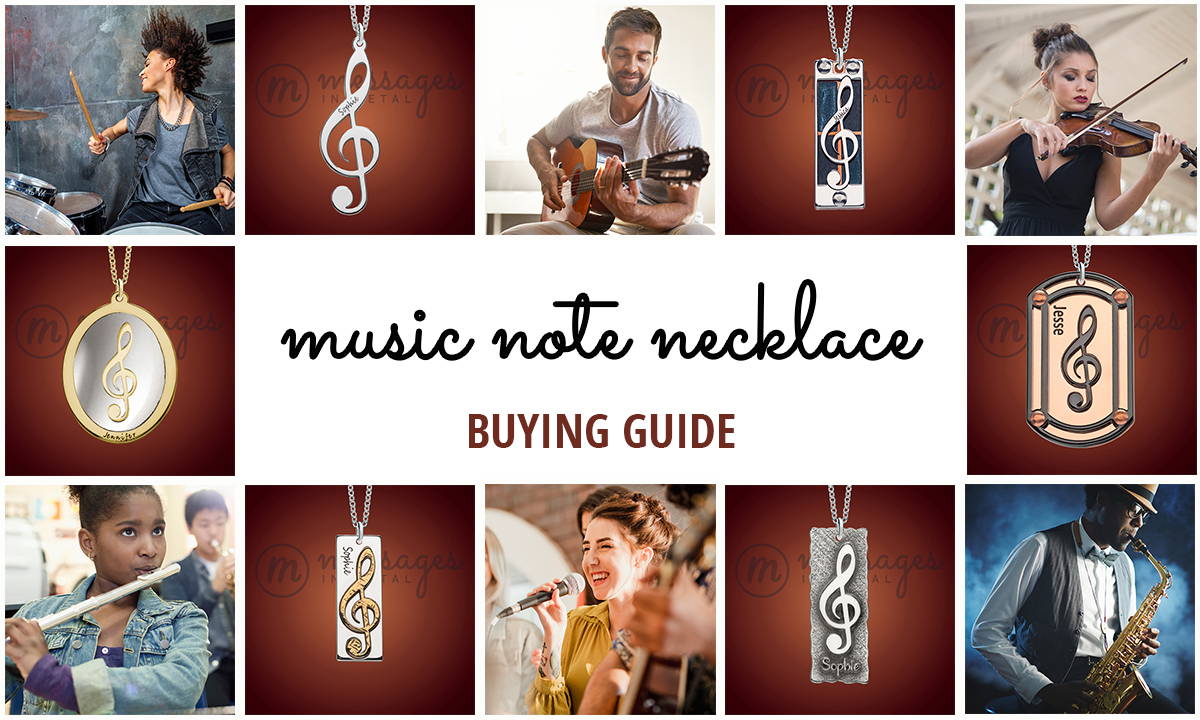 PERSONALIZED music note necklaces FOR EVERYONE
A love for music is something that most of us share and have a passion for. Whether we are musically inclined, are musical performers or love belting out tunes with the windows down on the back roads, music creates a tie that binds. Why not celebrate that passion for music with beautifully designed musical note necklaces!
Personalized music note jewelry is a great gift idea for any music lover. Whether you're searching for a gift for a music teacher, a performer or a good friend that always has the radio playing, we've got a complete guide to help you choose the music note jewelry that will suit them perfectly.
CLEANING music note personalized JEWELRY
The steps to cleaning personalized music note name jewelry are easy to follow and will help to keep your music note necklace looking its best for years to come.
Using a flat surface, lay the necklace on a dry cloth.
Using a jeweler's cloth, wipe the chain and pendant to remove any build-up on the surface.
Wet the cloth with a small amount of jeweler's polishing solution or water and dish soap. Using a circular motion, polish the chain and the pendant. Be gentle around the corners of the pendant and any stones to prevent the cloth from snagging.
Rinse your jewelry in water and remove all cleaning solution and residue.
DRY WITH A JEWELER'S CLOTH
Dry your necklace and pendant using a dry lint-free cloth or a jeweler's cloth. Do NOT use paper towels as they can scratch the finish of the jewelry.
PERSONALIZED music note necklace - A PERFECT GIFT FOR EVERY OCCASION!
You have many opportunities to gift music note personalized jewelry as a meaningful gift, and we have great ideas and suggestions.
WHAT'S in the box WITH MY PERSONALIZED MUSIC NOTE JEWELRY?
Want to know what to expect when you receive your music note personalized jewelry? We can't show you exactly what your pendant will look like but we can tell you what's in the box!
FAQ'S ABOUT music note personalized jewelry
We understand you may have questions and we have your answers!
How many characters can I have engraved?
We can personalize most music note pendants up to twelve characters. However, we can sometimes add more. Email us at sales@messagesinmetal.com or call us at 1-877-244-9625 and let us know what you're looking for and we will make it happen.
What is the length of the necklace?
All our music note personalized jewelry includes a 20" high-quality matching chain plus a 2" extension. This makes the finished length of the chain 20" - 22" depending on the use of the extension.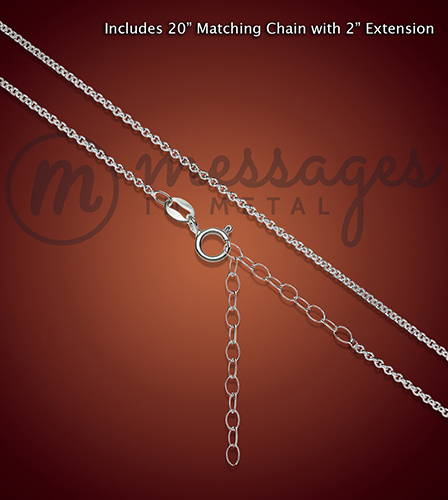 Can I get a date engraved instead of a name?
You sure can! Simply put the date in the name field when placing your order and we will engrave it as requested. Or you can always email us at sales@messagesinmetal.com or call us at 1-877-244-9625 and we can take your order over the phone.
Can I shower with my music note jewelry on?
We recommend that you don't bathe or shower with your pendant. Shampoos and soaps can damage the integrity of the metal over time. Make sure to read "Cleaning music note personalized jewelry" up top!
Most of our pendants are about 1" to 1-1/2" tall. Every pendant varies in size and you can find exact dimensions of each product on the individual product pages.
I have a bigger body frame and feel like a thin pendant will look too delicate. How thick is the music note?
All of our personalized music note jewelry is a minimum of 1 mm in thickness which exceeds the industry standards. Some of the heavier pieces such as the Sterling Silver Color of Music Note Necklace with Name are 2 mm in thickness.
At Messages in Metal, we make it easy to choose the personalized music note jewelry for that musician, music instructor or that music lover in your life. Click here to see our complete selection of music note personalized necklaces. And your purchase is always risk-free and hassle-free with fast shipping!
YOUR NAMES. our music notes. MESSAGES IN METAL.
By Conor Daniels on April 30, 2019