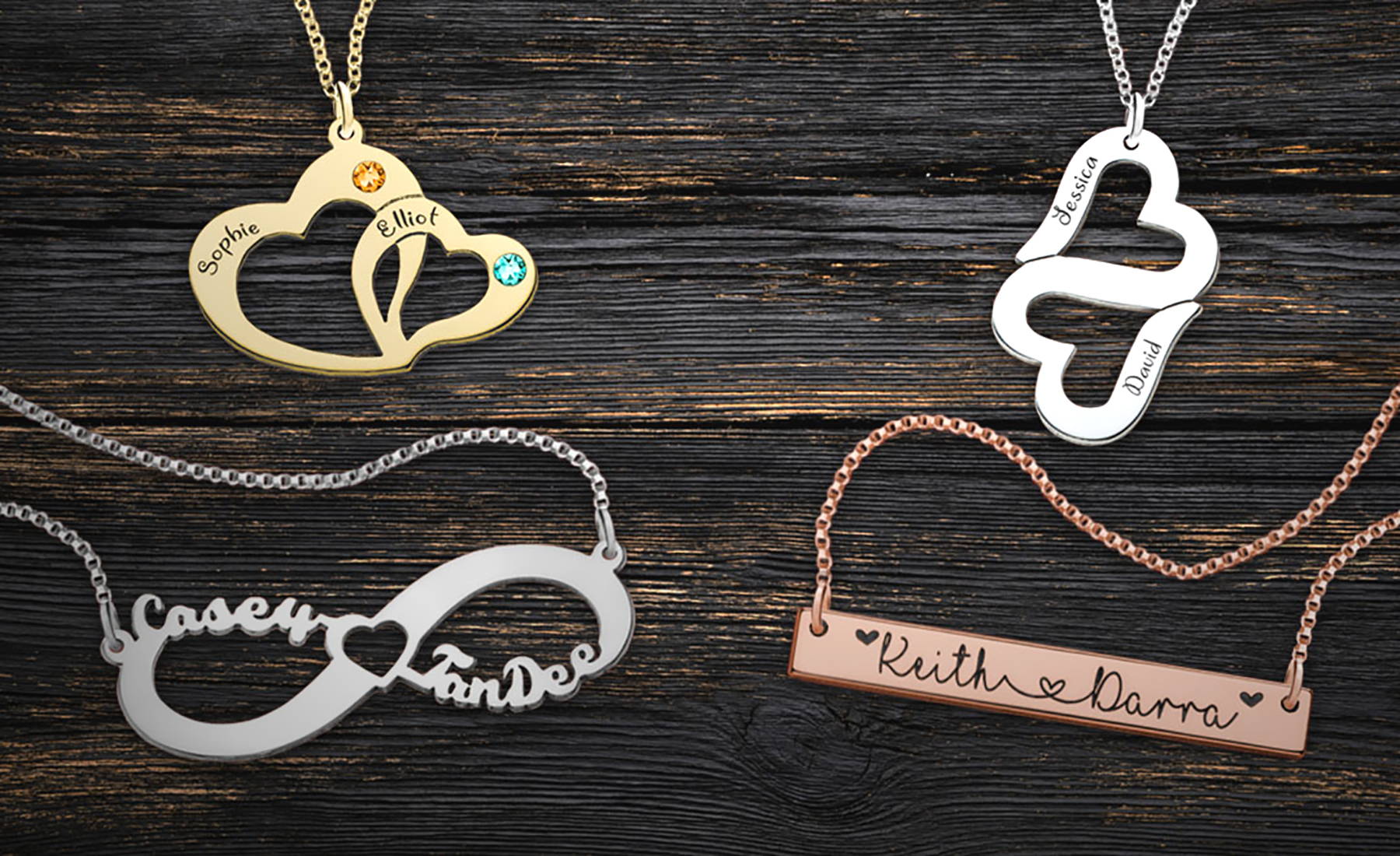 AND HOW to choose A COUPLES NECKLACE
The close relationships in our life are the most important relationships in our life. From our relationships with our children to the special bonds with our besties to the person that we share our life with, we have custom couple necklaces that help you celebrate the love. Selections range from matching couple jewelry to couples dog tags and more and we can even create a custom piece unique to the two of you!
WHAT IS A couple necklace?
Couple necklaces are a delightful take on the old idea of friendship bracelets. These classy alternatives are an excellent way to show someone that you really care, no matter who that person might be. Whether you are purchasing for a friend or significant other, a couple necklace can be the perfect gift.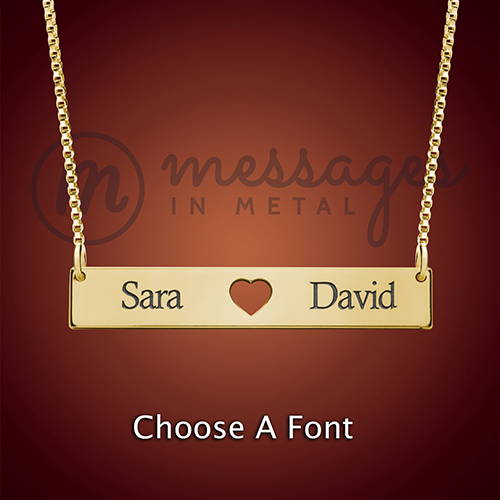 Each couple necklace is perfect for bringing your love for someone right to the surface in a beautiful way. You can find the perfect piece to represent love between two people, and we offer enough styles to make sure that there is something for everyone. We all love a special token of affection and couple necklaces are the perfect gift for the important people in your life.
WHO IS A couple necklace FOR?
At its core, couple necklaces are necklaces that are designed to show off the love that you share for another person or the love that is shared between two people. These necklaces can come in a variety of different styles.
Some include the two names of the individuals while others are fixed with symbolic birth stones instead. The necklaces can be sold individually or in pairs, with some of the pair options fitting together to create a more complete designs.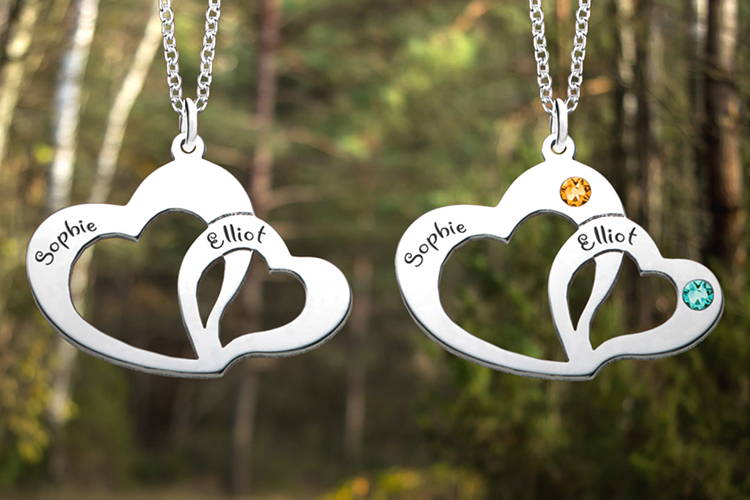 You can easily enjoy sharing your love for someone whether you buy a necklace for them, for yourself, or for both of you. These thoughtful pieces of jewelry are meant to highlight the special bond that you share with another person, which is why they are becoming so popular.
They can be used in so many different ways, and these necklaces are an excellent way to commemorate a moment or even show someone just how important they are to you. This is one of the main reasons that they make such amazing gifts.
WHAT DOES A couple necklace MEAN?
Couple necklaces are a great investment for a variety of reasons. Sometimes a nice gesture is worth more than all of the words in the world, and that is where a couple necklace comes in. Many people make the mistake of assuming that these necklaces are only good for those who are currently in a relationship, but that couldn't be further from the truth.
Couple necklaces aren't something specifically for two people in love, though they certainly can be. In reality, a couple necklace can demonstrate the bond between any two people or parties. It is simply about love in general, not any specific kind.
COUPLE NECKLACES TO HONOR A RELATIONSHIP
There are a wide variety of instances where purchasing couple necklaces might be beneficial. It can show the love between any two people, be it husband and wife, father and daughter, or two best friends.
These necklaces come in so many different shapes, sizes, and styles that it is impossible not to find something that works when you want to show someone how you feel.
COUPLE NECKLACES TO SHOW HOW MUCH YOU CARE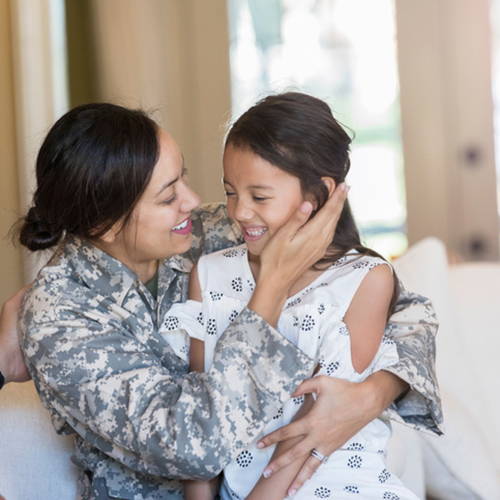 Couple necklaces come in a variety of different styles, which is just one of the many reasons that they make a great present for just about anyone. These symbolic charms can help you keep someone close to your heart, or can even just act as a promise when two people are going to be far away from one another.
At the end of the day, buying one of these is all about simply showing someone how much you care.
COUPLE NECKLACES AS AN INDICATOR OF AFFECTION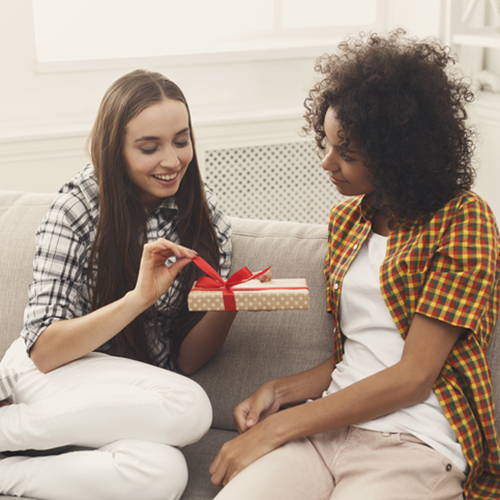 Sometimes, a token of affection can really mean a lot to someone, particularly when life gets rough. It is really just a great way to tell someone how you feel, or even to remind them just how much they matter to you.
Having a little physical indicator of your affection might be just what they need after a long day!
TYPES OF couple necklaces
No matter what you are looking for, chances are that you can find something in our collection that really works for you or your loved one. They come in all kinds of different shapes and designs, which we have detailed below to help you choose the perfect one!
Nothing says "I love you" quite as simply as a heart does. This universally accepted symbol of love makes it easy for you to show someone that you care and that you hold them close to your heart.
The heart is and always will be the classic reference when it comes to love, which is why we are so happy to offer a line of beautiful heart-shaped necklaces that are made to suit every style and preference. Our products come in different finishes, shapes, designs, and customizations.
You can go for something simple or jump right into something a little more bold. It is all about finding what is right for you or the recipient of this darling gift!
Our popular couple necklaces option is a simple and elegant way to show the love shared between two people. Simply add the names of the two parties involved and we will send you a necklace that offers two hearts for the two people who care about each other.
We offer this necklace in a gold option or a silver option because we know that everyone has their own preferences when it comes to finishes.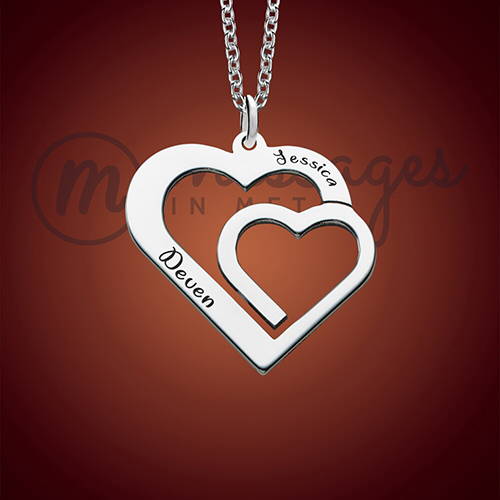 Who Do We Recommend This For?
We recommend this product for anyone who is looking for something simple and elegant. This stunning necklace is iconic in its beauty and is perfect for making a nice statement in a subtle way.
It is simple enough for everyday wear, but it can really pop with a fancy outfit too! It looks nice, and you will love wearing it!
---
For those who like a little more bling, we also offer a slightly flashier variation of our dog tag necklace. This necklace includes two adorable hearts that do an excellent job of showing off your love for someone in style.
Not only do you get to add the names of both people, but you can even add two birthstones to make it that much more personal. There is simply no denying that this necklace does a great job of physically representing the bond between two people!
Who do we recommend this for?
We recommend this necklace for fun-loving people who are looking for a great way to show it. This necklace is perfect as a present for someone you are dating, but it also works great with the names of two loving children as well.
The birthstones give is a burst of color and it is versatile and completely full of life!
---
This elegant design is sentimental and beautiful, which is why we are so proud of it. Available in both gold and silver, this necklace says "I love you" in a way that counts. Between the two names of the individuals, three adorable hearts make up the middle of the bar.
It is a flashy take on the traditional heart necklace that we are proud to share with you. It is one of our more unique designs, and it offers a great balance between bold and reserved.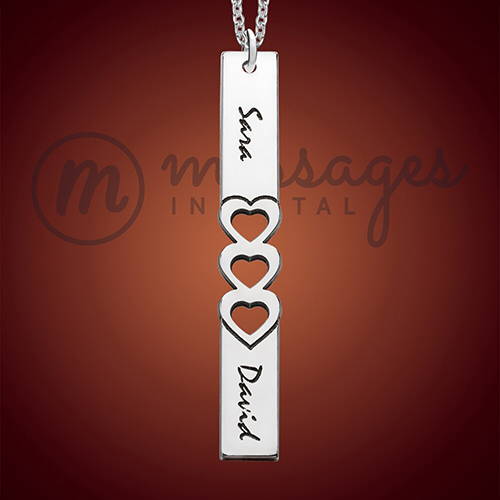 Who do we recommend this for?
We recommend this necklace for those who want to show their love in an elegant way. This modification on traditional bar necklaces shows off the names of two people and clearly fills the space between them with love.
It is the ultimate milestone birthday or anniversary present for that special someone in your life!
INFINITY COUPLE NECKLACES
Infinity has long since been a beautiful symbol for love because of its meaning. Love lasts forever and changes the hearts of the people involved. Whether it is love between parent and child or two close friends, nothing can truly affect the bond that is created.
Love is infinite, which is why we are happy to offer an infinity line that is sure to suit your needs. Nothing says "I love you forever" quite like the infinity symbol!
This simple couple infinity necklace brings a beautiful design that combines the infinity symbol with the names of the two individuals. In a way, it brings together a more comprehensive image of the love shared between two people.
Since the individual names are carefully woven into the infinity necklace itself, it gives the bond a greater significance while showing that the two people are unified to complete the eternal commitment to love.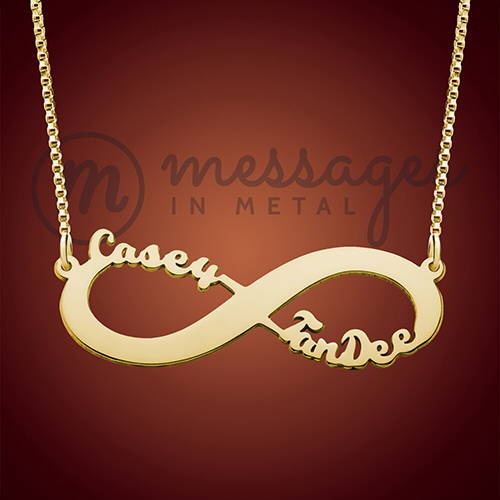 Who do we recommend this for?
We recommend this necklace for just about anyone! It is a simple and adorable way to show off your love for someone that you know is always going to be in your life. Pro-tip: this cute design is the ultimate necklace for everyday wear!
---
With this couple infinity necklace, we set out to really emphasize the love. This design offers a stunning infinity design with two names, but also adds a heart cutout in the very center of the infinity symbol. Sometimes a heart of infinity sign simply doesn't say enough, which is why this necklace brings both symbols of love together to truly show offer just how important the bond between two people can be.
It is easy to see why people love this design, and we even offer an alternative where the cutout has been replaced with a stone option of your choosing! This incredible design is perfect for really showing off a commitment of true love, which is why we think it is the perfect couple necklace for her.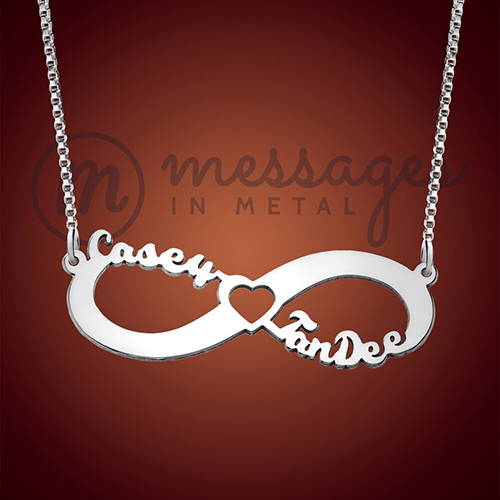 Who do we recommend this for?
We recommend this necklace for the daring and fashionable person who isn't ashamed to be a little extra about their love for someone else. This necklace very clearly shows that you will love someone forever, and it is way too cute not to throw on every single day!
ENGRAVED NAME BAR COUPLE NECKLACES
Many people are partial to bar necklaces because of their elegant style. It is easy to see what would draw people to these designs. Unlike some of the more symbolic necklaces, these look more in line with traditional fashion options. However, through the use of names and other bits of flair, these bar necklaces still do an excellent job of demonstrating the bond shared between two people.
This is an excellent option for people who want the gesture in a more understated way.
This adorable bar necklace offers you a simple collection of two names with a few fun hearts. The real charm with this engraving is the way that this font offers a connected heart between the two names, demonstrating the love and connection between those people.
This wonderful design is a common favorite, and we highly recommend it as a wedding present!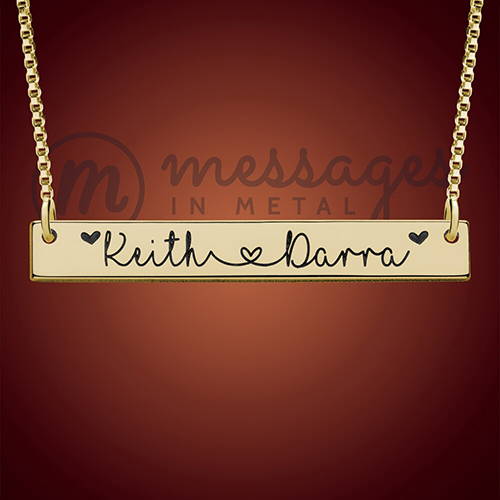 Who do we recommend this for?
We recommend this one for the person who is totally mushy about how in love with someone they are. This necklace is simple enough to wear everyday, but boy does it show off just how much you love someone else! Have fun making a quick declaration of love every time you put this adorable necklace on!
---
Though vertical bar necklaces are currently all the rage, horizontal name bars are just as stunning. With this simple design, you can enjoy an adorable necklace that offers a simplistic name engraving. It is perfect for wearing every single day. Like some of our other necklaces, it only features one name. This means that you can easily add the name of a loved one, or you can wear your very own name in a fun and modern way.
This necklace is available in a variety of finishes and looks great in each and every single one. It is easy to love this simple design that looks great no matter where you are going.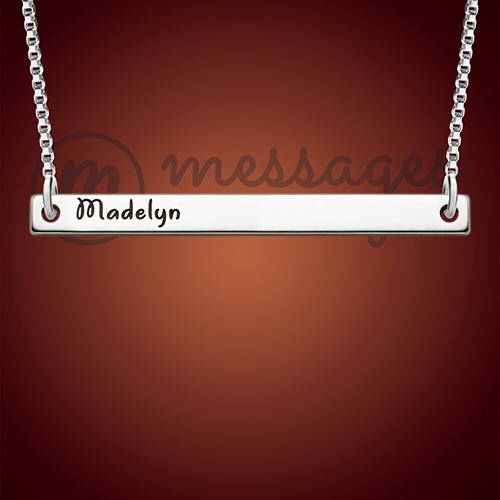 Who do we recommend this for?
We recommend this necklace for people who want to show off a single special name. Our favorite part about this necklace is that you can totally use it to be a little selfish and add your own name to it! This amazing design looks good with any outfit, and if you're feeling nice, it can easily hold the name of a loved one!
---
There are some pieces of jewelry that simply hold greater significance than others. Engagement rings, wedding rings, and other kinds of jewelry are known to just rest in a special spot in our lives. Our hope with this necklace is that it will be something truly special because it brings together the family. Each bar of this necklace can be fitted with a different name.
You will love seeing the names of children, grandchildren, or even siblings brought together in a beautiful and simplistic way. It is a great way to take family with you no matter where you go.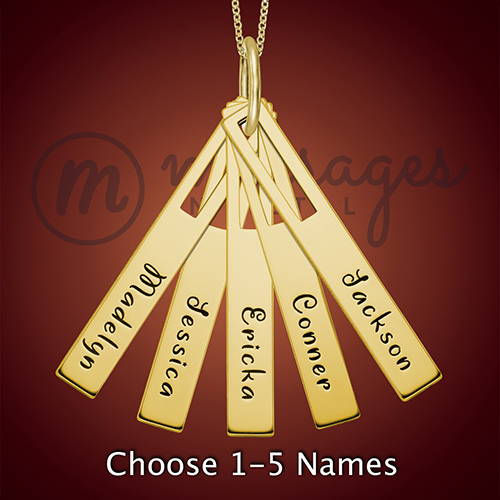 Who do we recommend this for?
We recommend this great necklace for loving parents or grandparents! There is absolutely no denying that this beautiful necklace was made with parents in mind. This makes the perfect gift for a loving parent who has raised some truly great kids. It's a nice way to show off just how much you appreciate all of their hard work!
ANTIQUED HEART COUPLE NECKLACES
Some people are partial to glitz and glamour while others are more interested in something more subtle. Our antiqued heart necklaces do an excellent job of providing the perfect couple necklaces look without being too vibrant or bold. In this collection, we rely on older styles that are great for outfits and styles of any kind.
Sometimes it is simply nice to remember that love is something designed to last the ages, and these are the perfect thematic representation of exactly that. This collection is sure to brighten anyone's day.
Not everyone likes something flashy, which is why we try to throw it back with this antique twist on a couple heart necklace. Instead of shiny metal and vibrant designs, this necklace is more built around a simplistic design that is all about love.
You will love this understated yet beautiful couple necklace. Just like the others, you can add names for both people involved.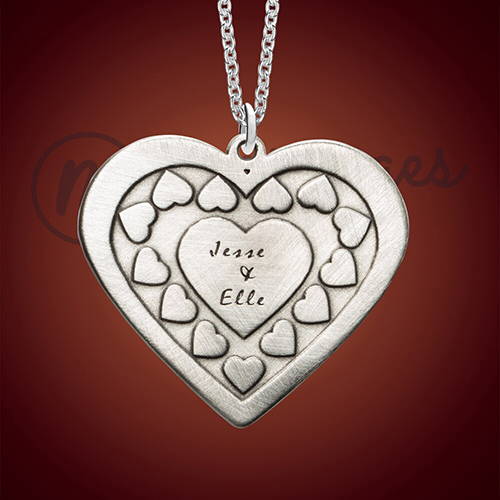 Who do we recommend this for?
We recommend this product as an anniversary present and for loving grandparents of two lucky kids! You can easily make a testament to your love with this beautiful and understated design, or you can provide a gorgeous antique look for the wonderful grandmother in your life! This versatile design is adorable and amazing for everyday wear!
---
This beautiful vintage piece is perfect for showing off love without going too far into the realm of fancy jewelry. The antique silver does an amazing job of bringing a beautiful design that won't sparkle in the sunshine. It makes the perfect necklace for everyday wear, and it allows you to put the name of someone special within the center of it.
This is a great way to show that you care, or to carry someone close to your heart!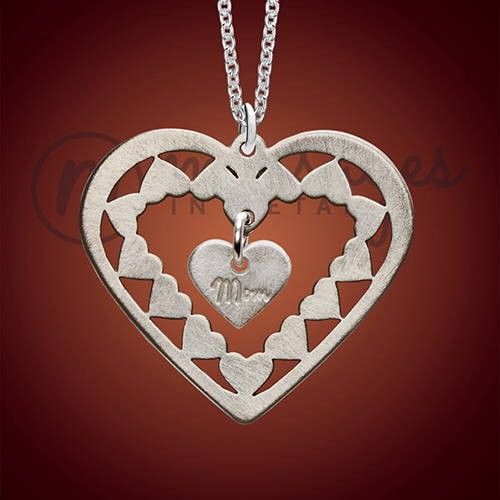 Who do we recommend this for?
We recommend this necklace for people you love that also love to fidget! This adorable necklace is cute and muted enough for everyday wear, but it comes with an unexpected perk: it is unbelievably fun to play with. Keep your hands busy in style with this totally cute necklace!
VERTICAL BAR COUPLE NECKLACES
Vertical bar necklaces are becoming more popular in the jewelry industry, which is why we are so happy to offer them. These necklaces rely on a more basic and simplistic design, which makes it easy for you to keep your love close to your heart without making that big of a statement.
These are truly great for everyday wear, which is just one of many reasons that they make the perfect gift. It is easy for you to enjoy this wonderful example of love without anything too out there.
Our name bar necklace collection offers a completely simple design that will go great with any outfit. You can dress casually or get ready to head out for a night on the town in your best outfit with this one. Its minimalistic design makes it your most versatile piece of jewelry.
With this option, you can add a name to the bar. Pick your name or that of a loved one and enjoy wearing this stunning piece that is great for daily wear!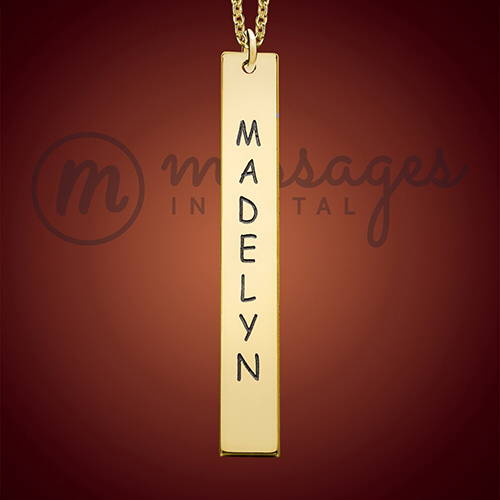 Who do we recommend this for?
We recommend this necklace for a very special someone who wants to wear their name loud and proud! This is another one of our designs that is too cute to pass up on, and it is perfect for adding your very own name! Make this necklace your go-to for every outfit with its cute and simple design.
---
Sometimes you want something more symbolic than an actual word. While it can be nice to add the name of a loved one to a piece of jewelry, you might want something that is more of a special secret. This customizable necklace, which is available in a variety of finishes and designs, allows you to trade the engraving for birthstones instead.
With our couple birthstone necklace, you can choose up to five birthstones, making it easy to get a single stone for a spouse or several for your children. No matter what, this classy design does an excellent job of bringing a simple look that has some truly significant meaning!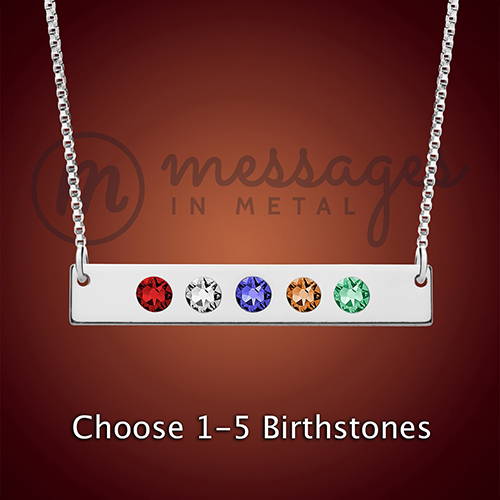 Who do we recommend this for?
We recommend this necklace for those who love bling or simply want something special that doesn't completely spell it out. For the dazzling fashionista in your life, this necklace is the ultimate gift. You can enjoy some sparkle and have fun knowing that it all spells out a secret code. This beautiful necklace can complete the perfect look! We can't get enough of it!
For years now dog tags have been a favored style of necklace, particularly for men. We offer a variety of wonderful dog tag necklaces in several different forms. This makes it easy for you to dress the look up or down depending on personal preference, which makes it simple for anyone to find the perfect necklace.
These neutral designs are perfect for wearing, and also make excellent keepsakes as a token of affection. Whether it is a gift from the perfect daughter to the world's greatest dad, or a matching keepsake for two brothers, this collection has your needs covered.
This beautiful design does a great job of bringing a symbolic representation of a loved one without making it too flashy. You might prefer dog tags as a style or be searching for the perfect necklace option for a special man in your life, but either way this necklace does an excellent job of showing it all off.
It is a simple dog tag design with two names stamped across the front along with a simple heart-shaped cutout. This is the perfect couple necklace for him.
Who do we recommend this for?
We recommend this for the loving man in your life! Boyfriends, husbands, and fathers all agree that this is the kind of token of love that they absolutely adore. Whether they wear it or use it as a keepsake, your special guy will absolutely love it!
---
Sports are unbelievably important to many people. Through sports, we can learn a variety of different and valuable life lessons. It might be learning about hard work, persevering, dealing with loss, or even embracing the importance of teamwork. At the end of the day, sports do an amazing job of sculpting people all around the world, and each one has its own charm. If you want to represent a special athlete in your life or buy them something that honors their dedication, this is the perfect kind of product.
It is available in a variety of different finishes and comes with some great customization options. Each dog tag is fitted with a name, number, and sport icon. This makes it the perfect gift for any and all sports lovers that you know!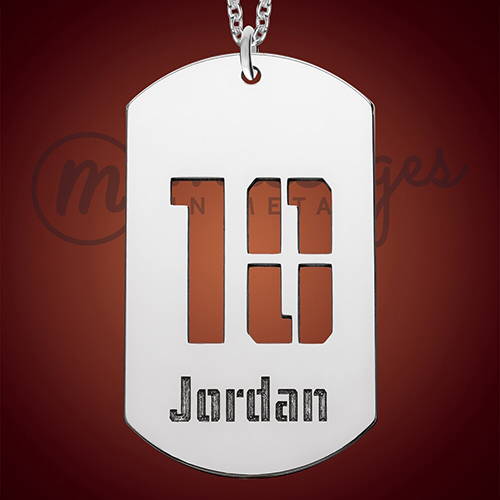 Who do we recommend this for?
We recommend this for the special athlete in your life. It is the perfect way to show off their talents in a simple piece of jewelry. It has an amazing font and sports stamp that makes it just like a little metal jersey! Did we mention how cool it makes people look? A total must-buy!
Since true love is something that must be shared, it comes as no surprise that these shared necklaces make for the perfect gift. The beauty of these necklaces is that they are meant to be shared between two people. In a way that is similar to the classic friendship bracelet, you can count on these necklaces to unite two people across any distance.
It is a way of ensuring that both people always have each other close to heart. These are perfect for students going off to college, or even a set for best friends necklaces.
Sometimes you want to really embrace the idea that love brings people together. This set of matching couple necklaces comes with two bars. Each bar is intended to be filled with the name of the other person, with one half presenting a heart and the other presenting a cutout where the heart fits right in. It is beyond easy to see why this is such a favored necklace.
This physical representation of the fact that two people complete each other is perfect for people who love one another and only truly feel whole when they are together. These are perfect for siblings, best friends, and significant others!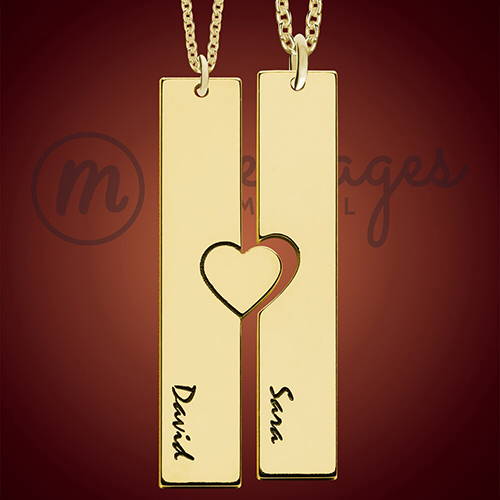 Who do we recommend this for?
We recommend this adorable and simple design for couples and friends! These interlocking necklace options look great separate, but they are even better when you put them together. Show off your special bond in style, and look great doing it! If you want to keep someone close, you absolutely must make this purchase. It is too cute to miss out on!
Though we love necklaces ourselves, we also know that they aren't necessarily for everyone. Some people can't wear necklaces because of their line of employment, or simply don't like them. We understand this, which is why keychains became an obvious choice for our product lineup.
A keychain is something that anyone can use, and it is perfect because it goes with you everywhere. Since we all rely on our keys anytime we leave, it can be nice to take a little token of affection with us!
For the individual who wants a demonstration of love that they don't have to literally wear around their neck, this is a really great option. It allows for you to enjoy a sweet saying with the addition of completely custom text. Write something special or add in names or symbols.
This customizable keychain option is a great way to show some love without going too far over the top. For the person who just isn't that into jewelry, this keychain is meant to carry sentiment and survive life on a keyring for years to come!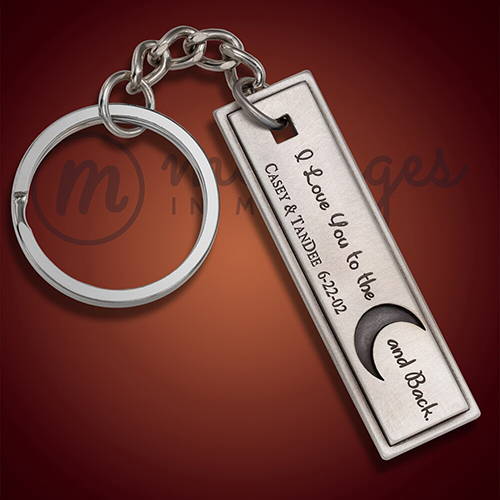 Who do we recommend this for?
We recommend this keychain for people who need some love but don't really wear jewelry. This adorable keepsake makes it easy for the shy person to still carry a token of love with them. It is too cute not to hang it on your bag or add it to your keys!
WAYS TO USE couple necklaces
Contrary to popular belief, couple necklaces are not simply intended for a singular use. They can be presented in a variety of ways for plenty of different reasons. There are several instances when a couple necklace is the right thing to buy. You can buy one for yourself or for someone else, but it is always going to be a great way to commemorate something special and focus on the love shared between two people.
To show you just how broad of a range these necklaces have, we decided to break down a few different ways that you might use them.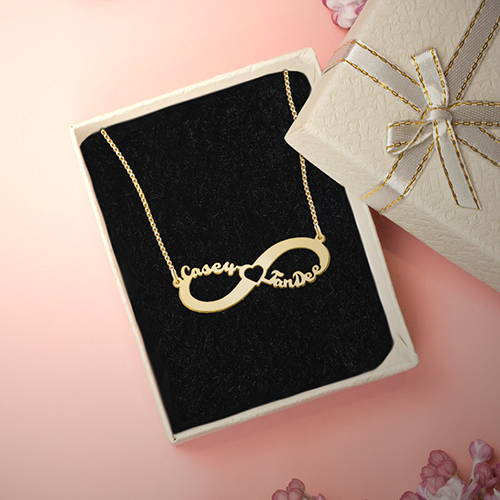 One of the most commonly used reasons to buy couple necklaces is as a present. When you give someone a couple necklace, it means that you plan on showing them just how much they mean to you. It is the perfect present for just about anyone in your life. Many people enjoy giving them to significant others, family members, and more.
These are the perfect gift for:
Birthdays

Valentine's Day

Mother's Day

Christmas

Any special occasion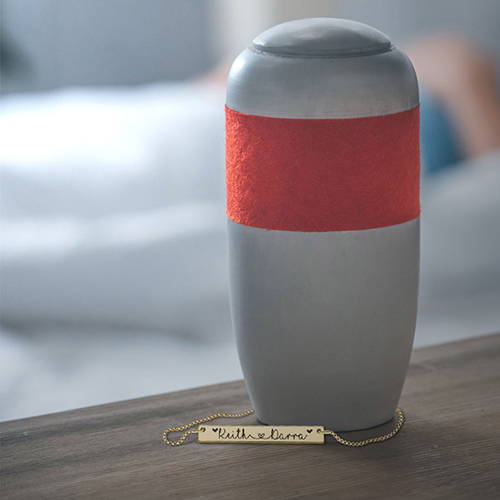 Loss can be a terribly difficult thing to cope with, but losing someone doesn't mean letting them go or forgetting them. Sometimes it is important to remind yourself that the people that you love are still in your heart. Purchasing a couple necklace for remembrance is a really great way to carry a little piece of someone with you, even if it is only symbolic.
For those who have lost someone incredibly special, it can help the healing process to just have something special to remind you of that person, their influence, and all of the love that you carry for them in your heart.
TO CELEBRATE AN ANNIVERSARY
Anniversaries are landmark moments in a relationship. It is an opportunity to really sit down and focus on everything that you have been through and the ways that you have grown together. An anniversary is the perfect time to present couple necklaces because they is a day designated to celebrate your shared love with another individual.
With this love-inspired gift, it is easy to remember that you always have someone on your side no matter what.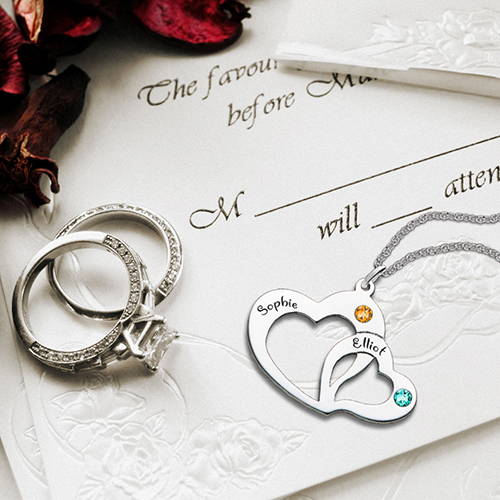 When you attend someone's wedding, you are there to bear witness to the love that they share. While there are plenty of options when it comes to giving wedding presents, this is one that always goes over well. As you come together to celebrate the union of two loved ones, use couple necklaces to show them that they will always have each other's hearts, and that you are so happy to see them committing to sharing a beautiful life together.
This thoughtful gift is perfect for wishing the new couple a lifetime of happiness!
OPTIONAL customizations for COUPLE NECKLACES
Everyone has their own preferences when it comes to jewelry and style, so we like to make sure that you can choose the perfect product for you or your loved one. Subtle differences in design and style can help make this special kind of necklace even more special for you.
There are so many factors that come into determining what kind of finish you want for a piece of jewelry. You might have a favored finish that you like all of your jewelry to come in because it is your preferred style, or you might have a preference based on something like skin tone or general neutrality.

We offer a variety of finishes including:
Rose Gold Plated Sterling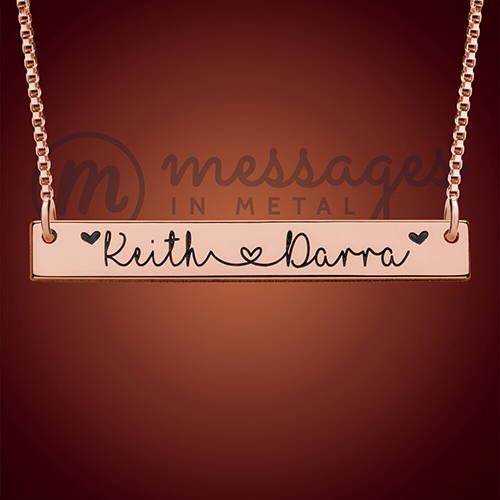 Rose gold offers an amazing modern look and is being used everywhere. Our rose-gold plated sterling silver is perfect for enjoying rose gold affordably!
Though a simple and elegant look can be nice for a necklace, sometimes you just want a little bit more. This is why we like to offer options for stones to be added to your couple necklaces. We believe that it offers you the opportunity to dress your jewelry up in a fun way.
Birthstones are unique to an individual and can pay tribute to them in a simple and elegant ways. Since these necklaces focus on the unity of two parties, we are always happy to add birthstones to make them that much more special.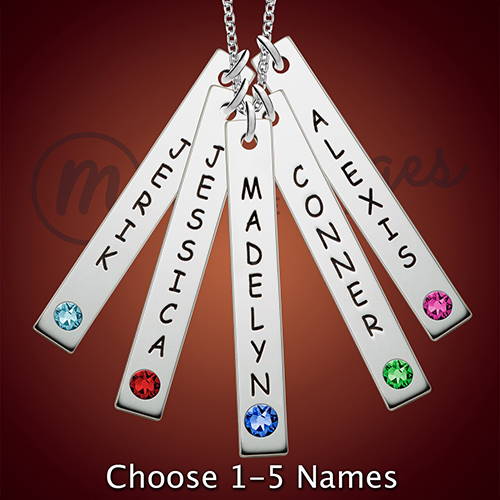 Engravings have long since been a preferred customization option in many products for hundreds of years. A simple engraving can add so much to a piece of jewelry, particularly if you are kind of person who likes to make things even more personal. Whether you are choosing to engrave names or messages onto the necklace, it is always possible to make a special gift a little more special.
Fortunately, our engraving services are perfect for helping you to make a gift that much more sentimental with a classy finish. We even offer font selection on some of our models!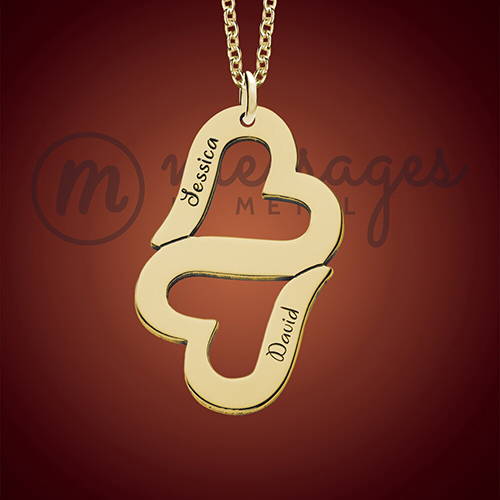 Common engraving options include:

Names—A name is special and pays tribute to the individual. Wearing someone's name shows just how much you care about them!

Nicknames—Nicknames are fun and often show an extra special bond. Use cute nicknames for a truly special and custom necklace.

Initials—Initials are special and often used for declarations of love. Instead of carving initials into trees, let our custom engravings show off initials in style!

Special Dates—Some dates you want to remember forever. Whether it is someone's birthday, an anniversary date, or any other special day, you can immortalize it with one of these necklaces.

Memories—We all have special little words or phrases that remind us of a special time. Use them here!

Significant text or symbols—It might be a favorite animal or a simple heart with a special words, but symbols and text can be used to show our love for someone in a thousand different ways. Get creative!
CHOOSING the right COUPLE NECKLACE
Picking the right couple necklace is a process that is deeply personal. In order to find the right necklace, there are a variety of factors that you might consider. These driving forces might change depending on whether the necklace is for you or someone else. It might be influenced by personal preference or circumstance.
No matter what, you should take the time to really think about what is important to you so that you can choose the perfect necklace.
Budget generally plays a fairly significant role when it comes to choosing the right couple necklace. You might have an agreed upon present budget with a spouse or simply need to work within your personal financial constraints when it comes to making a purchase.
No matter what, you want to take time to decide in advance what you feel a reasonable price is. This will make it easier for you to get the best value when you shop and will enable you to more effectively filter out which necklaces will be right for you.
Another huge factor to consider when it comes to finding the right necklace is what finish you want. We all have our own personal preferences when it comes to jewelry and knowing what finish you are looking for can help you to find the perfect necklace. Consider if you want something that will go with your outfit every single day or if you need an accent for their one perfect outfit.
Each finish has its own perks. For example, our gold and rose gold plated necklaces do not oxidize like sterling silver so they require less polishing, but they are also subject to other kinds of wear. Take the time to consider these factors and choose what is right for you.
Skin type plays a huge role for people who are deciding what type of necklace to purchase, particularly if they want something that pops or something more neutral. Plenty of people love gold but feel like gold simply isn't their color while others wouldn't be caught dead in silver because it washes out their complexion. Think about how each of the finishes looks against the appropriate skin tone, and then let that help guide your choice so you know that you are investing in the right piece for you or your loved one.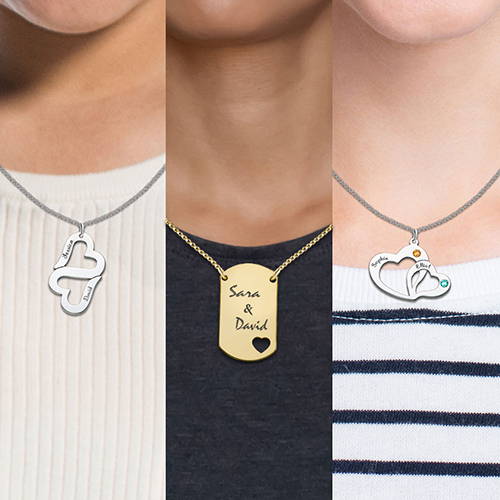 A few general considerations to make include:
Gold pops against darker skin

Silver can be subtly charming with pale skin

Rose gold stands out against olive tones
CHOOSE SOMETHING BY STYLE
The most popular way to pick out couple necklaces is by style. Since we all have our own sense of flair and fashion, it comes as no surprise that not every necklace is the right fit for every person.
PICKING SOMETHING FOR MEN
Shopping for men can be difficult, particularly when jewelry is involved. Though accessories are becoming exceedingly more common for men, that doesn't change the fact that they tend to prefer more minimalistic designs.
We offer simplistic and masculine designs for men who want the token of love without the flashiness of our other options. Our dog tags, distressed rounds and bar necklace options are perfect for that special man in your life!
WHAT IS INCLUDED WITH a couple necklace?
At Messages in Metal, we know that presentation is key. That is why we deliver all of our products in a fun and fashionable way that we believe accurately represents the quality of our products. When you make a purchase with us, you are committing to a high-quality product, and in return we give our very best to you.
Each product is delivered in a custom monogrammed box that offers monogrammed paper, and a stamped jewelry box. Inside the box you will find a beautiful necklace box with a velvet finish that is designed to display your purchase in style, which makes it excellent for presenting it as a gift. Within the velvet box, you will receive the necklace that you ordered safely tucked away. Every step of this beautiful gift setup is perfectly represented and ready to show off just how thoughtful you are!
Want to know more? Check out our video below and see for yourself What's In The Box!
CURRENT couple necklace PROMOTIONS
The Messages in Metal team has a commitment to providing high-quality jewelry at an affordable price, which is why we offer promotions when we can.
Current promotions are:
As a general rule of operating our business, we like to offer free shipping to our customers. Simply use the code BOZEMAN to receive free ground shipping anywhere within the United States.
We know that plenty of companies offer free shipping, but we like to focus on giving back to our customers that much more. Life is expensive and we value your business, which is why we are also currently offering $15 off for any order. Whether you are looking to save money or want a discount on a secondary item, we are happy to help you out. You can use the code HELENA to receive $15 off for any order of $100 or more.
There is nothing more important to us than our customers, and we try to prove that to you all time and time again. That is why the Messages in Metal team also likes to offer other custom discounts when they can. If you plan on making any unique purchases or are planning to order several of our necklaces, we would love to hear from you first because we might be able to sweeten the deal. Give us a call at 1-877-244-9625 or send an email to sales@messagesinmetal.com to see what we can do for you!
COUPLE NECKLACES frequently asked questions
We want you to be fully informed when you purchase your couple necklace. Read some of our frequently asked questions and find the answers you're looking for!
I'm a single mom. Could I do my child's name and mine instead of a traditional couple?
Absolutely! Couples necklaces are meant to celebrate all the special relationships in our lives. Couples, child and parent, grandparents, best friends - the options are really limitless! Each couples necklace includes a matching chain and beautiful presentation!
Is this a suitable gift for a bride?
You bet! Why not surprise her with an infinity couples necklace that has her name and her groom's beautifully engraved and connected with a red heart? You could also custom create a necklace for the bride and her groom. It's a terrific way to celebrate their union and we would love to collaborate with you! Email us at sales@messagesinmetal.com or give us a call at 1-877-244-9625 to learn more!
What other types of occasions can you gift couple necklaces?
Couple necklace jewelry is a great gift for every occasion. Choose a couple necklace to celebrate an engagement or the mutual decision to be 'exclusive'! A super gift for a godparent, gift them a custom designed Moon and Back Round Keychain with their birthstone and their godchild's birthstone. Why not choose a couple necklace to congratulate a close friend's closing on their first home!
Birthdays, Mother's Day and so many other special celebrations can be made that much more memorable with couple necklace jewelry!
I'm buying the couple necklace as a gift. Is it ready for gift giving?
All of our couple necklaces come ready to be given as a gift! Your selection is packed in a beautiful velvet gift box and the gift box is placed in a specially monogrammed white presentation box. The presentation box is placed in tissue paper to allow for maximum surprise and delight when the Messages In Metal box arrives in our signature packaging.
And extras don't cost extra! We include a free matching chain as well as a jeweler's cleaning cloth with your purchase.
Do you have couple necklaces for men?
Yes we do! We have a great selection of dog tags that can be custom designed with one or two names. Our name bar necklaces can be engraved with a nickname, a last name, a favorite saying and we can custom design them to be slightly larger than average for the man looking for a bold and durable pendant. And we specialize in custom designs! Give us a call at 1-877-244-9625 or email us at sales@messagesinmetal.com and let us custom create something special for you and your other half!
COUPLE NECKLACES celebrate your SPECIAL RELATIONSHIPS
Showing someone that you care isn't always easy, but we like to think that we can help to simplify the process. Our products are about more than simply getting someone a present or buying yourself something nice.
At Messages in Metal we make our necklaces in a way that allows you to make them all your own. Be it by choosing a certain style, adding your own words, or adding a few special stones, we like to think that our jewelry is a collaborative effort. Make sure to make it your own to show off just how unique and special your love is!
Updated March 12,2020 by Conor Daniels