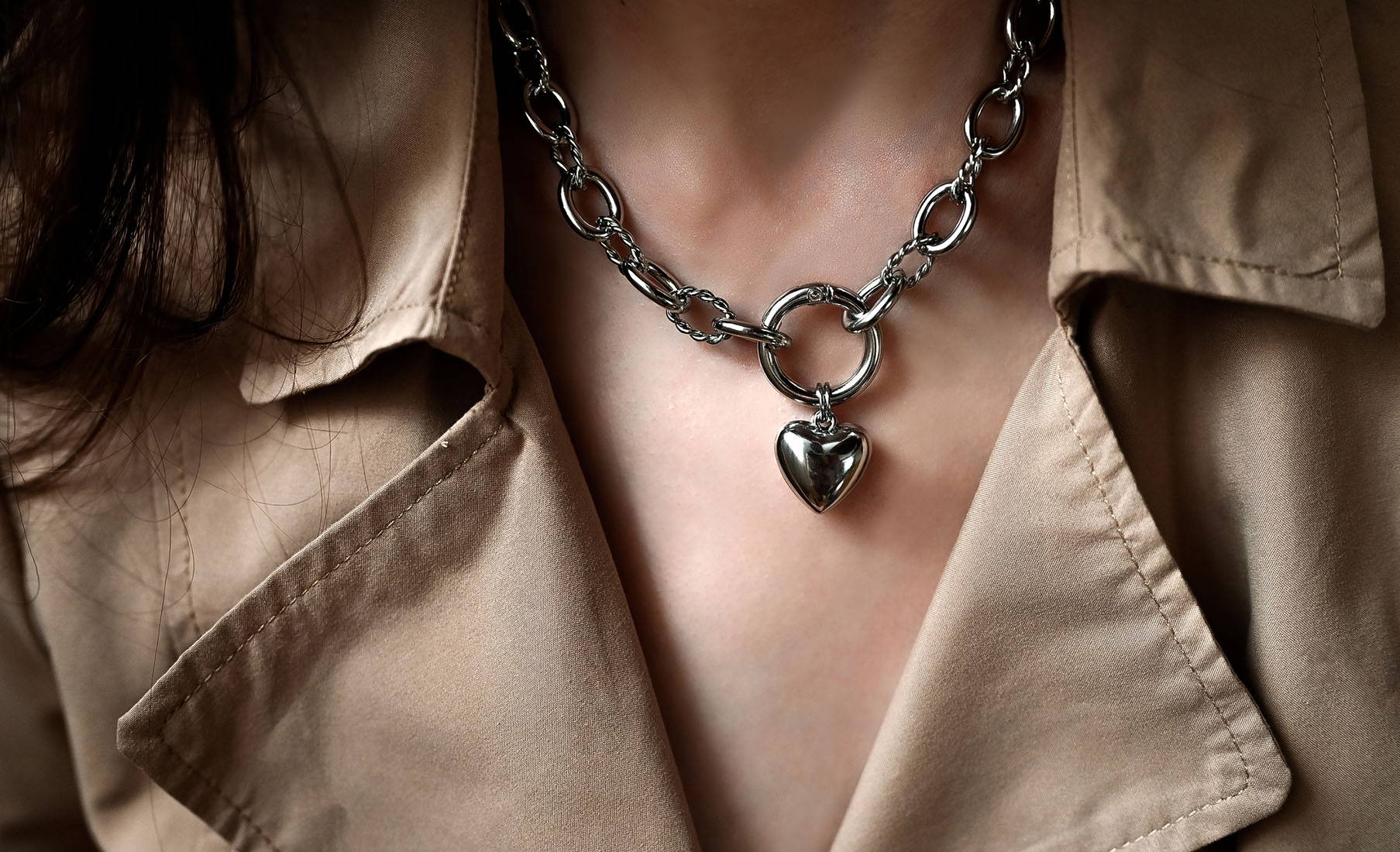 "Something is elegant if it is two things at once: unusually simple and surprisingly powerful."
Matthew E. May
A silver necklace is the epitome of this quote from Matthew E. May. Throughout history, necklaces have become a representation of power, faith, and beauty. Nowadays, necklaces are more than status symbols. They've also become a way to express one's personal style and affection. It's no wonder that silver necklaces have steadily become one of the top accessories for any lifestyle.
Which is a better option for your necklace, gold or silver? Personal preference is a key factor in choosing between these precious metals. Plus, the rules for wearing necklaces state that you should choose a metal based on your skin tone and lifestyle. However, those who prefer silver have a lot going for their side of this endless debate.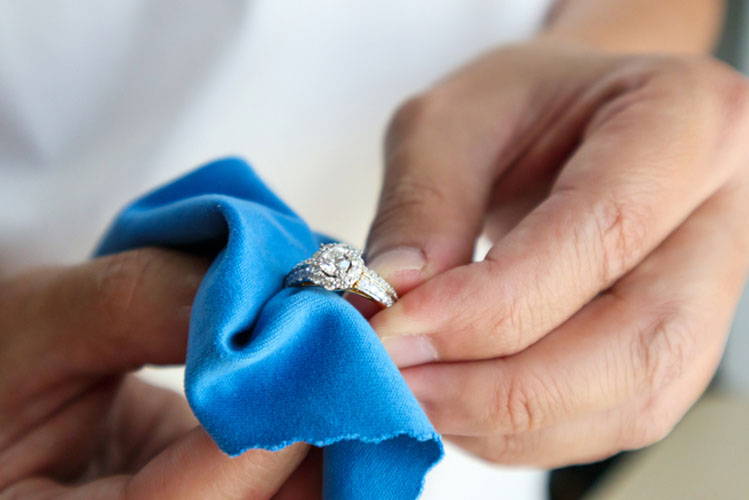 Compared to gold, silver jewelry is more cost-efficient. Gold commands a higher price because this precious metal is rarer than silver. Plus, gold is considered a form of currency, which drives up demand.
Another distinct characteristic is silver's brilliant white appearance. If polished well, this metal appears more radiant than white gold. Silver may not be as striking as gold, but it is just as luxurious.
Many prefer silver as their choice for necklaces and other accessories because it goes well with everything. Silver jewelry complements most styles of clothing, contrasting nicely against dark colors and monochromatic fabric.
Not only that, silver's durability makes it a great investment. Jewelers love this metal because it is malleable and easy to mold into intricate designs. Repairing silver necklaces is usually less complicated and expensive than fixing gold pieces.
This kind of jewelry appeals to all people of all walks of life and age. There is a simple elegance about a silver necklace that makes it appropriate for both formal and everyday wear. Even children can wear them. Some even claim that silver pieces have health benefits when worn daily.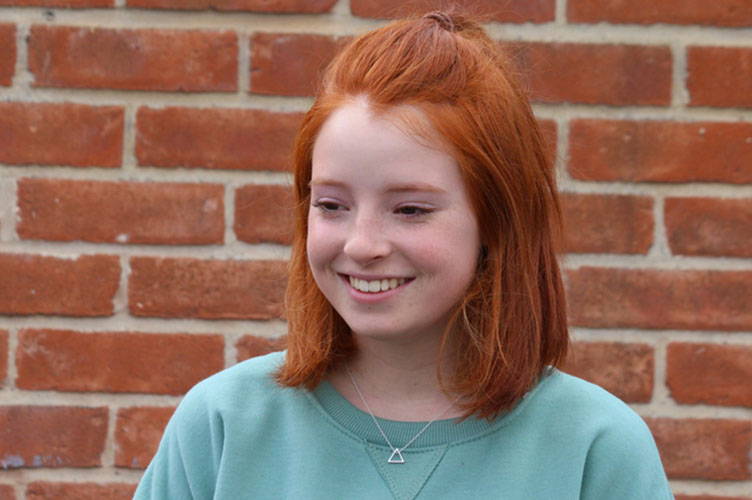 With all these advantages, why not make a silver necklace part of your jewelry selection?
WHY SHOULD you buy A SILVER NECKLACE?
Here are some reasons why you may want to get the trendy silver jewelry that's making waves in TikTok.
APPRECIATING A FAMILY MEMBER OR FRIEND
Silver necklaces make great gifts. This accessory is a practical and beautiful memento that everyone will appreciate.
Anything can be given as a gift, but silver jewelry is extra special because it is both sentimental and wearable. Silver necklaces can be given for milestones like birthdays, anniversaries, and graduations. You'd want your gifts to your loved ones and special friends to be timeless.
Do you have a significant other? Some people want to show tangible proof of their commitment. Why not proclaim your relationship with a couple's necklace? You and your beau can wear a couple's silver necklace or a silver initial necklace with both of your names.
Shop our collection of personalized couple name necklaces!
You can give this ornament even if there's no occasion. Let it be a sign of your affection and appreciation for your nearest and dearest.
---
Buying jewelry for yourself is always a great idea. After all, you know exactly which designs you are partial to. Whether it's adding to your personal jewelry collection or celebrating a personal milestone, there is no doubt that you deserve to treat yourself!
Add To Your Jewelry Collection
Necklaces are an essential part of a personal jewelry collection. There's a special joy in possessing beautiful ornaments, not to mention wearing them.
The best part? What serves as a gift to yourself today will eventually become an heirloom for your loved ones. Your silver birthstone necklace can be passed on to your children or grandchildren who share the same birth month.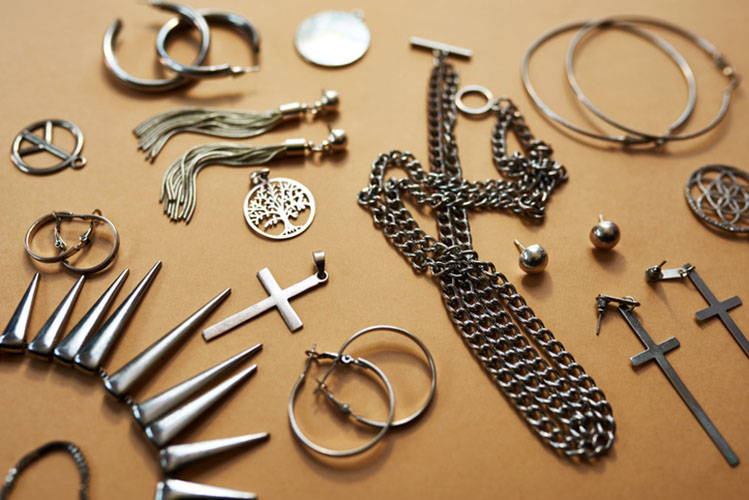 A silver necklace can be a staple for your wardrobe. Whether you choose a simple chain with no frills or an elaborate choker, this metallic ornament makes the perfect accessory. Updating older outfits is a breeze with trendy silver jewelry.
One of the beauties of silver necklaces is they can be personalized. With name necklaces or an initial necklace, you can stand out from the crowd. Check out these helpful tips for selecting a name necklace.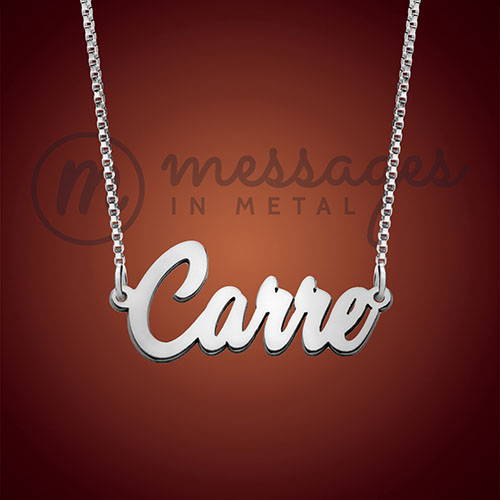 Take Advantage Of An Investment Opportunity
Although it might not have the same value as gold, your silver necklace can still appreciate in value over the years. Your silver jewelry may even double in value if you choose pieces from up-and-coming jewelry designers.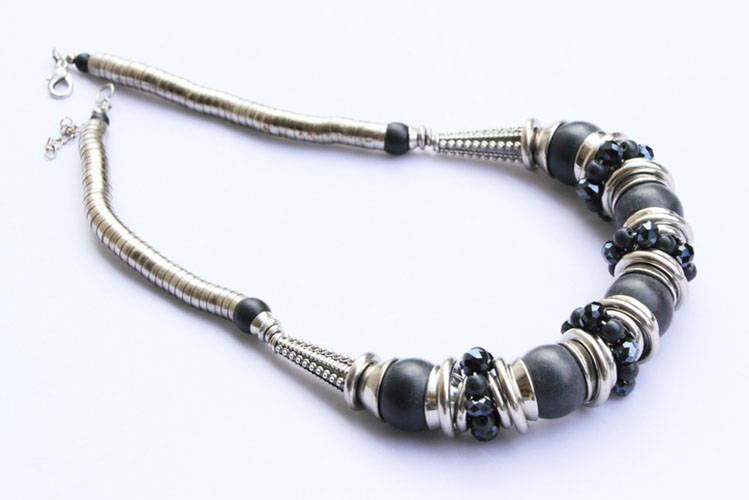 Celebrate Personal Milestones
Have you recently been promoted? Did you complete your master's degree? Have you published your first novel? To celebrate, why not reward yourself with a name bar necklace? This unique piece will remind you of your success decades later.
Shop and save on our Personalized Name Necklaces collection!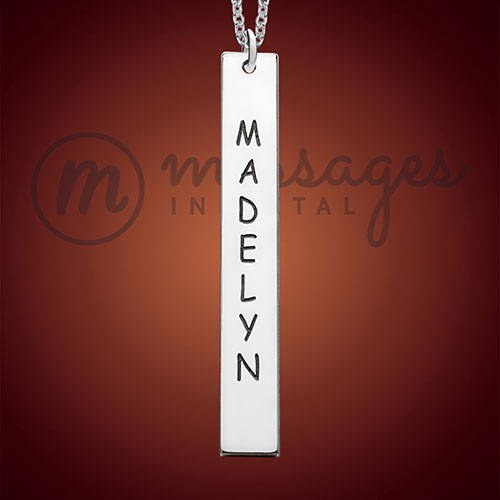 It's always a great idea to reward yourself a piece of jewelry that will make you happy!
SILVER JEWELRY buying guide: THREE STEPS TO CHOOSING A NECKLACE
Are you interested in buying jewelry? Here are three basic steps you can follow to help you choose the ideal silver necklace.
STEP 1: CHOOSE YOUR SILVER
Silver comes in varying types of alloys for jewelry making. The most common ones being used right now are fine silver, sterling silver, and silver-plated.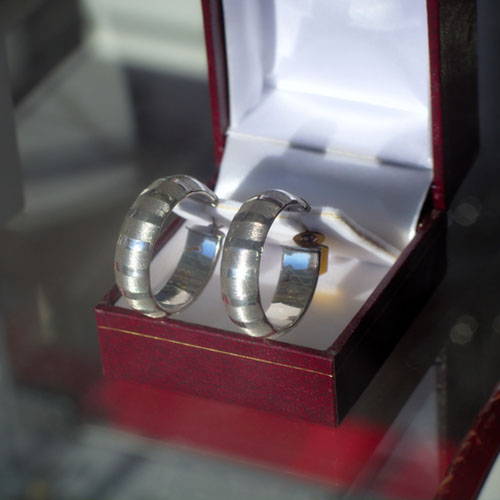 Fine silver, also referred to as .999 silver, is the purest and softest grade used for jewelry. It is made up of 99.9% silver, with the remaining 1% composed of trace elements. This form of silver does not tarnish easily.
While purity sounds like an advantage, fine silver gets dented or scratched quite easily. Since it's not durable, fine silver is rarely used for necklaces. If you are still keen on having fine silver, go for a pair of earrings or a small pendant instead.
---
Jewelry-makers prefer this grade, which comprises 92.5% silver and the remaining 7.5% of other metals like copper and nickel. These elements add luster and strength to the silver. The resulting alloy is a lightweight and malleable material that is harder than pure or fine silver.
This silver alloy first came from Europe, where it started to be used in trade in the Middle Ages. Silversmiths used it to create coins, jewelry, cutlery, drinking vessels, and other items.
Sterling silver continues to be in demand centuries after it was first produced. Its popularity was boosted when Tiffany & Co. made sterling silver a standard for their signature jewelry.
Are you unsure about identifying sterling silver? Reputable jewelers add a hallmark to sterling silver pieces. Check if your necklace has .925 stamped on its surface. Other key indicators to watch out for are the words "Sterling," "STER," "STG," or "Sterling Silver." If you see the number "800" stamped before or after these indicators, it means that the silver came from Europe.
---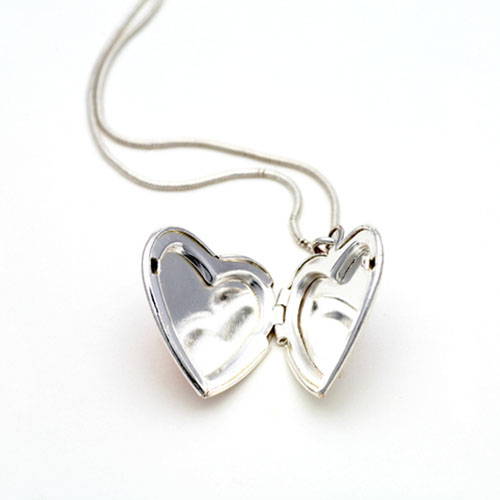 Similar to gold-plated jewelry, a base element like copper is coated with silver. Silver-plated jewelry contains the least amount of this precious metal, making them less expensive than fine or sterling silver pieces.
However, a silver-plated necklace will lose its color and tarnish quickly. Soon, you will see the coating start to flake off.
---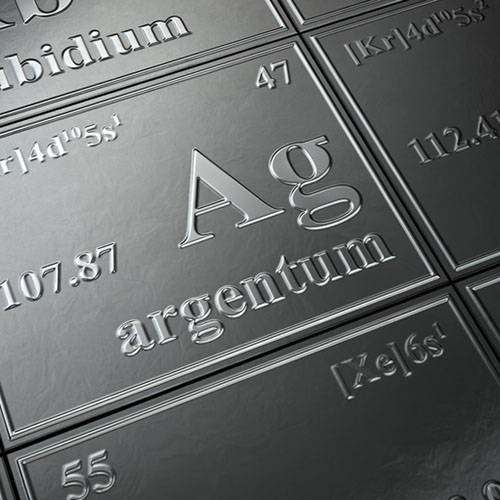 Non-tarnish Argentum silver has its share of fans because it retains its luster. Like sterling silver, this alloy is made up of 92.5% pure silver. The remaining percentage is a mixture of the elements copper and germanium.
Germanium is responsible for hardening the metal and making it less prone to tarnishing. Argentum silver is more expensive because it is more challenging to procure.
---
Shopping for the best silver necklace can get rather complicated. It's not enough to consult jewelry style tips 2021. You also need to consider other factors to get the best necklace for your collection. Good thing you can choose from a wide range of chain options and lengths.
STEP 2: CHOOSE YOUR NECKLACE LENGTH
One of the best jewelry style tips is to select the right length for your necklace. Don't ignore this, as it will accentuate your neck and flatter your face. When choosing a necklace, compare these standard lengths.
Standard Necklace Lengths For Women
Collar or Choker (14-16 Inches): Necklaces of this length are usually referred to as a choker or collar. These styles are intended to wrap closely around your neck. Chokers go well with V-neck, scoop-neck, or boatneck tops. You can also wear a collar necklace with strapless dresses. This chain length will look different depending on your body type. For taller women, a 16-inch necklace would fall at the base of the neck. But if you are petite, expect this length to land nearer your collarbone.
Princess (18 Inches): This is the top choice among women. At this length, your silver necklace will settle gracefully on your collarbone. This length works with almost any neckline.
Matinee (20-24 Inches): A necklace with a chain length of 20-inches will fall below your collarbone. According to jewelry style tips, choose your top carefully if your necklace is of this length. Your typical round-necked shirt or dress will conceal a pendant on a 20-inch necklace. Only the chain will be visible unless you make an effort to keep the pendant on top of your clothes.
Opera or Rope (28-42 Inches): The longest necklaces are suitable for elegant gowns and formal wear. An example is the multi-strand necklaces of the 1920s. At this length, your chain would fall on or just below your bust line.
---
Standard Necklace Lengths For Men
18 Inches: For men with smaller neck sizes, this should nicely sit at the base of your neck.
20 Inches: This is the ideal chain silver necklace 2021 length for most men. It settles nicely on the collarbone area.
22 Inches: Your silver necklace will fall loosely below your collarbone.
24 Inches: At this length, the necklace will reach your sternum.
Here are additional tips for picking jewelry specific to the necklace length.
Measure your neck before buying jewelry. Add 2 inches to your neck measurement if you want a choker and 4 inches for other lengths. Chokers are best for people with long necks. They also go well with open necklines.
If you have a round face, you may want to steer clear of chokers and short-length necklaces. They make your face appear wider and your neck shorter. Women with a height below 5'4" look great in 16-20 necklace lengths. If you are taller, any necklace length will suit you.
Keep in mind that matinee necklaces (20-22 inches) draw attention to your chest area. It may not be a good idea for busty women.
STEP 3: CHOOSE YOUR NECKLACE CHAIN TYPE

While you can commission a custom piece, most necklace chains fall under these categories:
This is the most common silver necklace chain type. You usually see these in dog tags and cheap fashion necklaces. As the name suggests, it is composed of chains that are linked together by tiny metal bars. The ball beads come in varying diameters and are ideal for streetwear.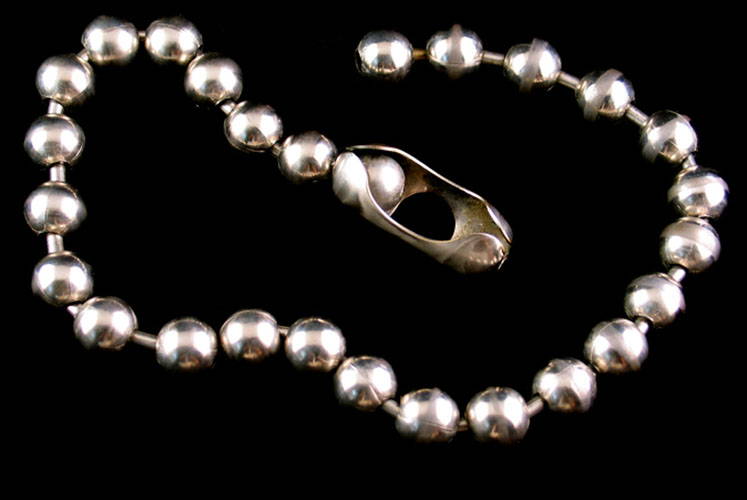 This chain is one of the most flexible chains around. Since the materials are relatively accessible, this is one of the most affordable options for you. However, it is also the weakest chain of all. This kind of chain is not designed to hold heavy pendants. Not only is it prone to breaking, but it is also challenging to repair.
---
A cable chain is usually paired with a pendant. However, without some bling on them, cable chains can appear rather dull and plain-looking.
This is a sturdy kind of chain, especially if the individual links are carefully welded. The best thing about cable chains is that they are easy to repair. You can remove a section of broken chain with zero impact on the rest of the silver necklace.
---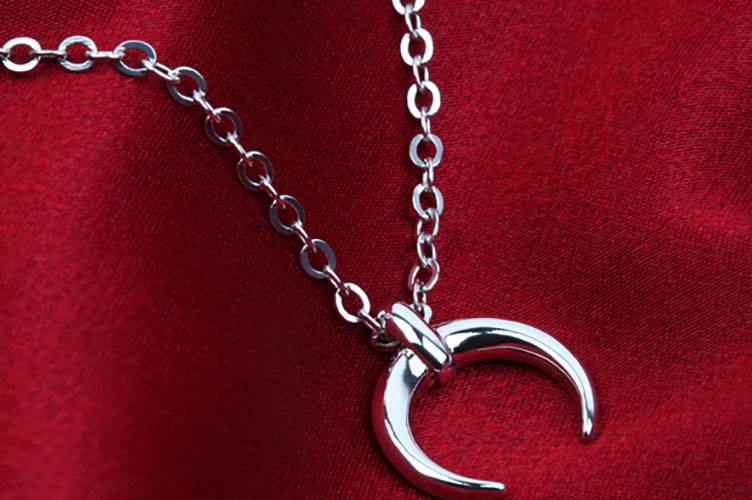 Curb chains are made of oval links that are twisted to lie flat across your neck or collarbone. Men prefer this kind of chain.
You don't need other accessories because a polished curb chain will stand out on its own. This sturdy design can also support pendants. Curb chains usually last for years.
---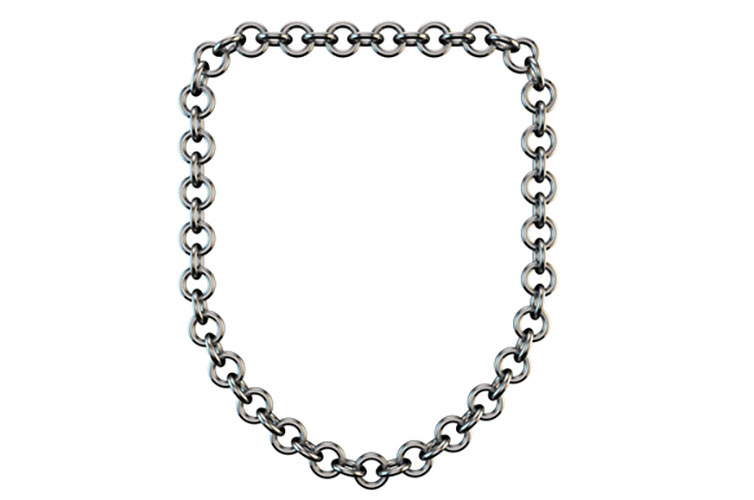 Necklaces with this chain have round links instead of oval links. They share the same strength, durability, and ease of repair as cable chains and curb chains. Rolo chains look better with a medium-sized pendant.
---
A box chain is considered one of the strongest chain links. As the name suggests, each link is similar to a box. If part of this necklace gets broken, you can simply remove it without impacting the overall appearance of the necklace.
---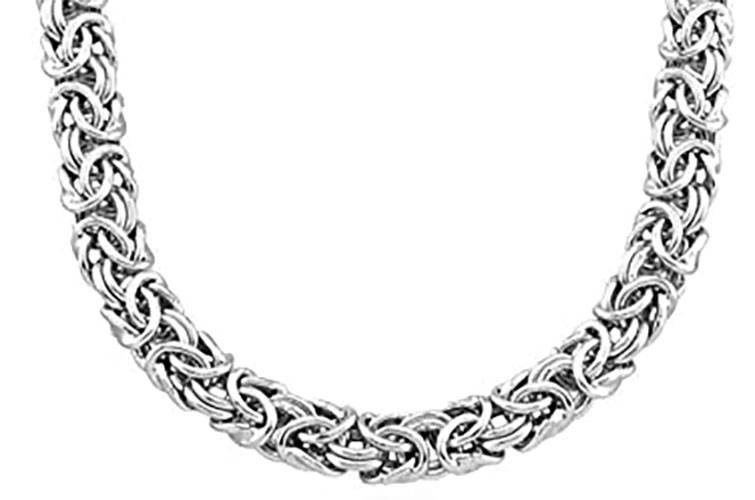 Do you like intricate styles that make a strong statement? You're going to love the chunky Byzantine chain. This textured design is made up of bent links that are connected through oval links. The resulting chain is quite elaborate and eye-catching.
This chain is usually worn without a pendant. However, repairing it can be complicated because of the complexity of the design.
---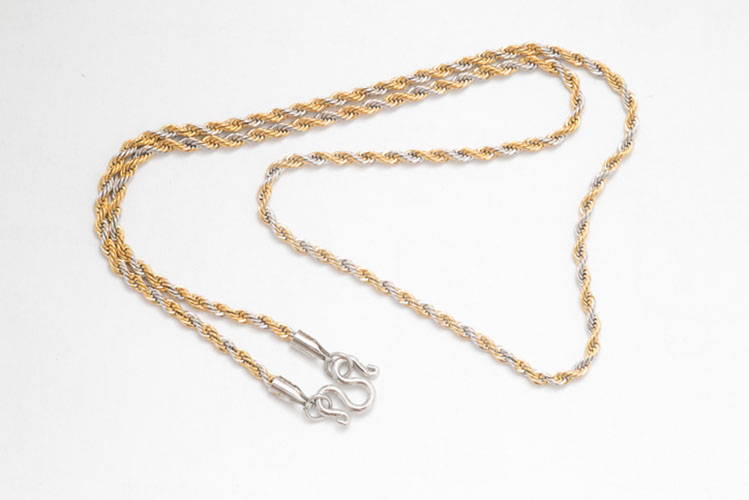 As its name suggests, the links form a pattern resembling a rope. Despite its narrow width, this is one of the sturdiest chains that you can get. If you're going for a delicate and feminine look, a rope chain is a great option. Due to the way it is twisted, repair can be tricky.
---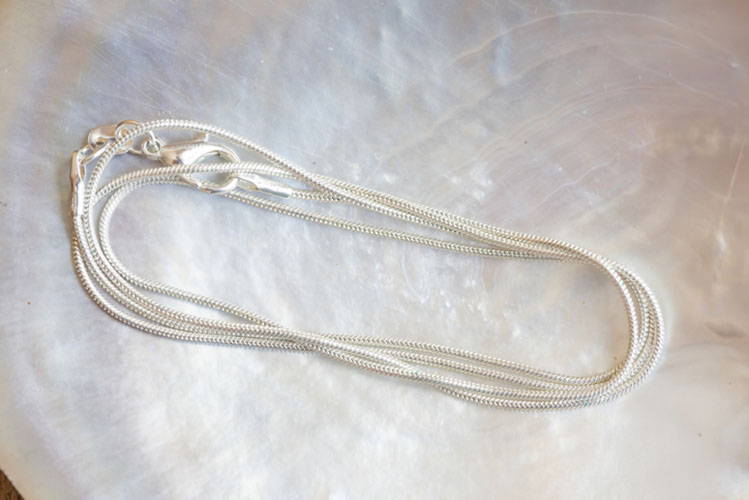 Still looking for a statement piece? This sinuous necklace has a solid appearance, thanks to its tightly locked curved plates. A snake chain can handle heavier and bigger pendants without the risk of it breaking.
---
This necklace has links with a single bar in the center. The design is inspired by the large chains used to attach an anchor to a ship. You can choose between flat or puffed mariner chains.
Before you give your credit card information, go over this handy checklist for purchasing jewelry.
The wide range of styles for this accessory can be overwhelming. Good thing you can ask yourself these questions to narrow down your choices.
Would you like a simple silver necklace, or are you planning to hang a pendant on it? Do you like gemstones in your jewelry?
Is the necklace intended for daily wear or special occasions or do you prefer subdued elegance or a bold statement piece?
Are you keen on buying trendy silver jewelry necklaces? Or would you rather opt for vintage, boho, or classic pieces that never go out of style?
Are you purchasing a necklace for yourself? If you are buying it as a present, what are the preferences of the recipient?
One of the best tips for picking a necklace for somebody else is to go with a classic box chain or rolo chain type with a matching pendant. The safest charms would be name initials or birthstones.
---
PURCHASE FROM REPUTABLE SELLERS

This is rather obvious, but sometimes it is difficult to identify who can be trusted or not. Make sure you do your research before buying from local stores, online resellers, or less recognizable brands.
It pays to get information online. Always check reviews about the brand and the retailer. You can also ask your friends for a referral.
Do you have questions about the selling process, payment terms, or shipping methods? Don't hesitate to ask questions through chat or email – whatever mode of communication channel the brand has.
---
IDENTIFY THE HALLMARK OF YOUR SILVER

Your silver necklace should have a hallmark. If you can't see it upon inspection or if it is not part of the uploaded images on the brand's website, ask the seller or dealer. Take note that some pieces are so small that there is no place for the hallmark.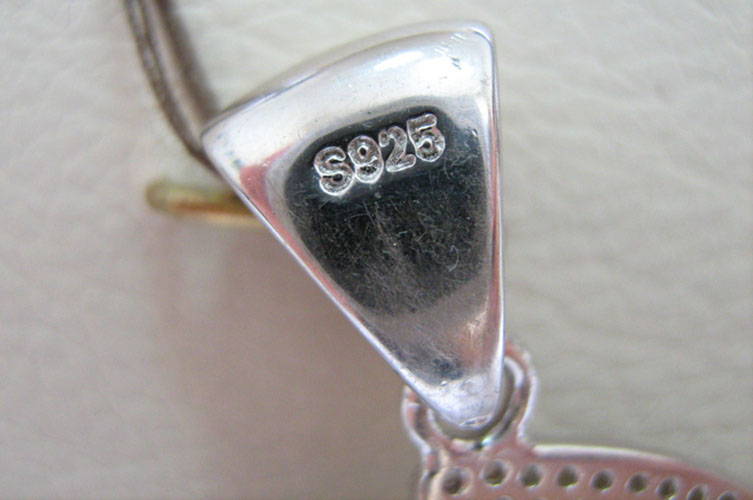 ---
ASK ABOUT NON-SILVER COMPONENTS

At the onset, you have to know the silver component that your necklace has. Remember, your skin can react negatively to certain silver alloys. If you are allergic to metals like nickel, it's safer to know from the get-go.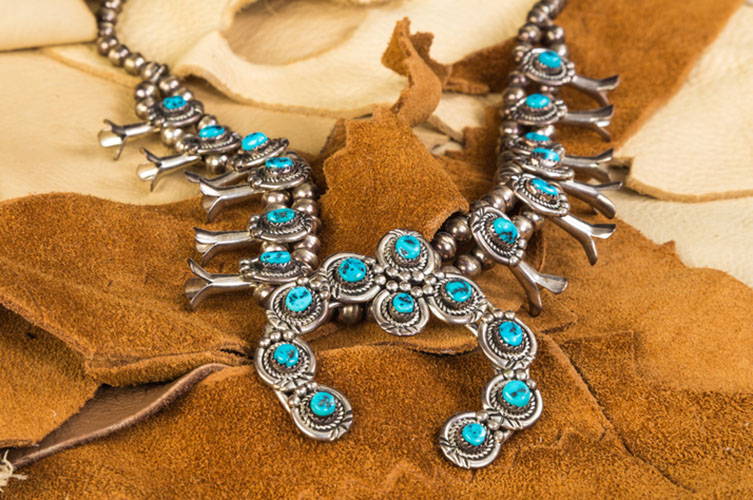 Non-leather components like leather, crystal, or gemstones may also require special care instructions. You don't want to destroy your new necklace out of ignorance or neglect. For example, you should not store leather in plastic as it may promote the growth of mildew.
---
KNOW THE AFTER SALES PROCESS

Sometimes, you may need to return or exchange your silver necklace. You may receive the wrong product or get a necklace that does not match what's advertised by the company. That's why it's better to know the after-sales policies for silver jewelry. You have to know who to contact should there be any problems.
Aside from knowing what's inside the box, get the details about the warranty and the inclusions of the service contract. Find out the services included and what you will physically get upon purchase.
If your silver necklace is ordered online, you also need to have a clear understanding of shipping policies. You may be surprised by how long it takes for you to get your necklace.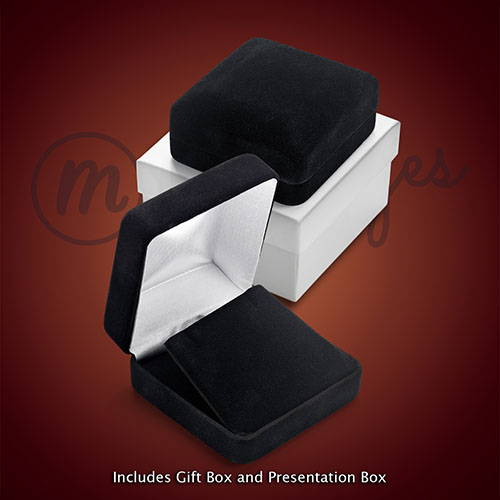 SILVER necklace care TIPS
Part of owning that perfect silver necklace is caring for it. The more years you can enjoy it, the better. But if there is one thing you need to understand, tarnishing is natural when it comes to silver.
If your silver necklace looks darker, dull, or dirty, don't fret. It is just a natural chemical reaction. Easy maintenance is one of the advantages of silver jewelry. With the proper care, you can enjoy the subtle beauty of your silver necklace for decades.
Here are some practical ways to care for jewelry, especially if you are wearing it daily.
WEARING YOUR SILVER NECKLACE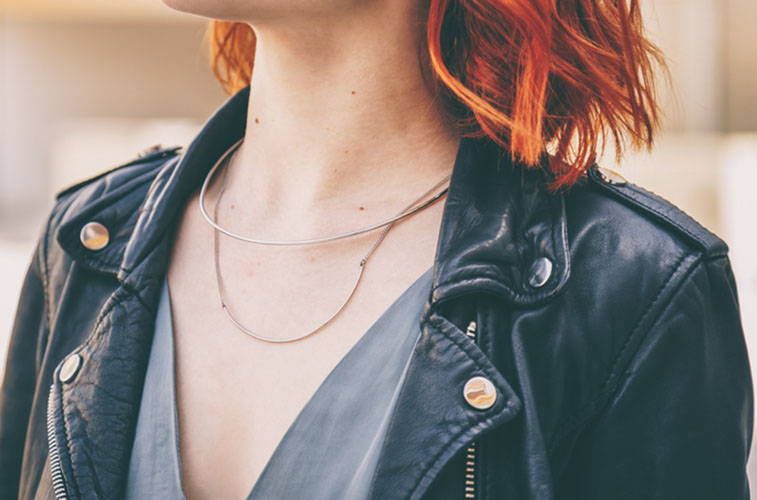 Believe it or not, there are some basics when it comes to wearing your silver necklace that help keep it looking great!
Don't just store or display your silver necklace. Instead, wear it as often as you can, and you are all set. Your skin has natural oils that can help your necklace retain its sheen.
When getting ready, always put your necklace or any other jewelry last. This way, your silver jewelry has the least exposure to lotions, hair sprays, and perfumes. These beauty products have ingredients that can fast-track tarnishing.
Take It Off When Necessary
As much as possible, don't wear your silver necklace when you are swimming, exercising, or doing chores. Cleaning solutions, sweat, and chlorinated water have sulfur. This chemical can accelerate tarnish and corrosion. Take note that your delicate necklace might snag and break during certain activities. If the clasp opens by accident, you run the risk of losing your jewelry.
Avoid Exposing It To Direct Sunlight
Do you want to show off your necklace while swimming or frolicking on the beach? Skip this plan. Avoid wearing your sterling silver necklace when you are spending the day out in the sun. Sunlight can trigger tarnishing.
CLEANING & POLISHING YOUR SILVER NECKLACE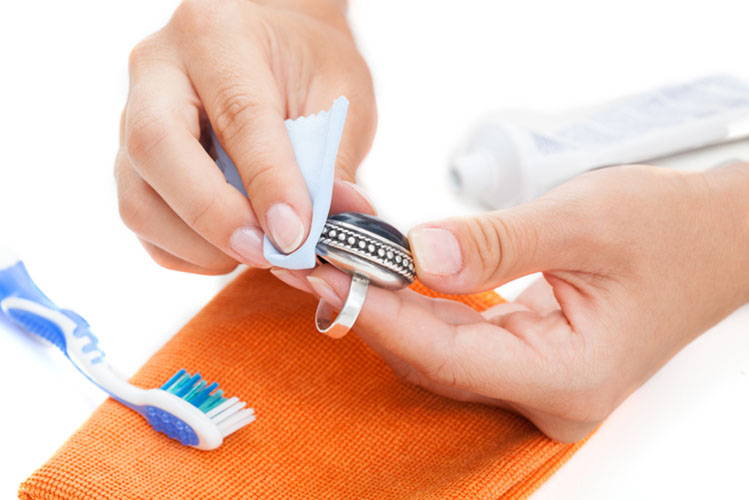 Do you want your silver necklace to retain its original sparkle for a long time? Make sure you clean it regularly. This will help prevent it from getting tarnished or looking dull. It's best to clean your pieces as often as once a month.
Here's what you'll need to clean your silver necklace:
Soapy Water: If your necklace does not have any gems, you can wash it in warm soapy water. A few drops of mild detergent or dish soap will do the job.
Commercial Silver Polish or Cleaner: Some people prefer to use commercial silver cleaner or polish to restore the shine to silver necklaces. You can buy this from your jeweler or supermarket.
Silver Cleaning Dip: Heavily tarnished jewelry may require using a silver cleaning dip. Immerse your necklace in this solution. Leave it there for a couple of seconds then take it out. Afterward, wipe your necklace clean using a soft cloth. The risk factor of using this chemical is that it can damage your silver jewelry's surface because of its fast chemical reaction to tarnish.
Polishing Cloth: Microfiber is recommended as it is soft enough to polish without scratching your necklace.
Baking Soda or Toothpaste: Your grandma probably used these household staples to clean her silver jewelry. However, keep in mind that they are slightly abrasive and must be used sparingly.
DIY Jewelry Cleaner: All the ingredients needed for a DIY solution are already in your pantry. First, you will need to line a bowl with aluminum foil and put in some baking soda and salt. Next, add in boiling water and white vinegar. Soak your silver necklace in this solution for a few minutes. Then, you can gently scrub any stubborn stains using a brush. Once the tarnish is gone, simply wipe your jewelry.
How To Clean Your Silver Necklace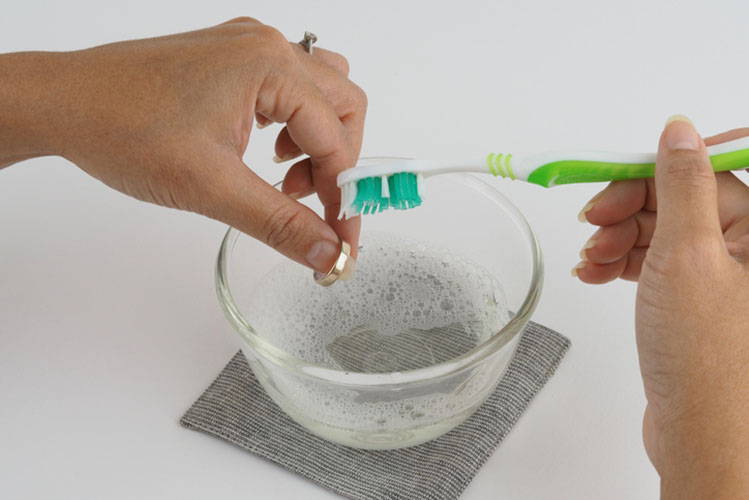 Put your necklace on a flat surface, preferably on a dry cloth.
Use another piece of lint-free cloth to gently wipe your necklace. Get rid of dirt or oil from its surface, including narrow crevices.
Apply a small amount of commercial or DIY cleaner to your cloth. Gently buff your silver necklace with the damp polishing cloth.
Rinse with warm water to remove any excess cleaner.
Dry your necklace on a jeweler's cloth. Avoid using paper towels as they can scratch your necklace.
SILVER NECKLACE frequently asked questions
How Can I Tell If a Necklace Is Made Out of Real Silver?
Genuine silver pieces have a hallmark of stamps. If you have the budget, purchase products from a recognized retailer to be on the safe side.
Some suggest using vinegar to test a small portion of the necklace. However, vinegar is not a reliable way to test if a silver necklace is fake or not. Professional jewelers may use a special acid or testing stone to verify the authenticity of a piece.
Can I Shower With My Sterling Silver Jewelry Necklace?
This should be no problem at all. Soap and water should not have any adverse effects on your necklace. Although some would say that dry silver is a happy silver, you can leave it on while you take a bath. The only time it is recommended to be removed is when you will be swimming on the beach or in the pool.
What's the Best Kind of Silver Necklace Chain?
You can't go wrong with the cable, curb, and rolo chains. These chains are pretty enough to be worn alone. Not only that, but they are strong enough to support a pendant.
Is Silver Jewelry Hypoallergenic?
Silver jewelry is usually made from alloys. Since pure silver is too soft to keep its shape, this metal is often mixed with other components. While pure silver is hypoallergenic, silver alloys that have nickel, copper, or brass may trigger allergies.
If you have sensitive skin, it's best to choose silver necklaces that are labeled hypoallergenic or nickel-free. Go for palladium alloys, which have the bonus of being lightweight and more affordable.
This kind of silver falls under the description of "tribal" silver. It has a base metal alloy that only looks like silver. Unfortunately, it has zero silver content. Instead, it is made up of nickel, tin, or copper.
Some of this Tibetan silver contains hazardous elements like lead, so this should never be given to children. Tibetan silver is usually procured because of its beautiful and antiqued jewelry look.
SILVER APPEAL - choosing the silver necklace THAT SUITS YOU BEST
The rules for wearing jewelry change over the decades, depending on the prevailing fashion. They are intended to help you select necklaces and other pieces that will help you look your best.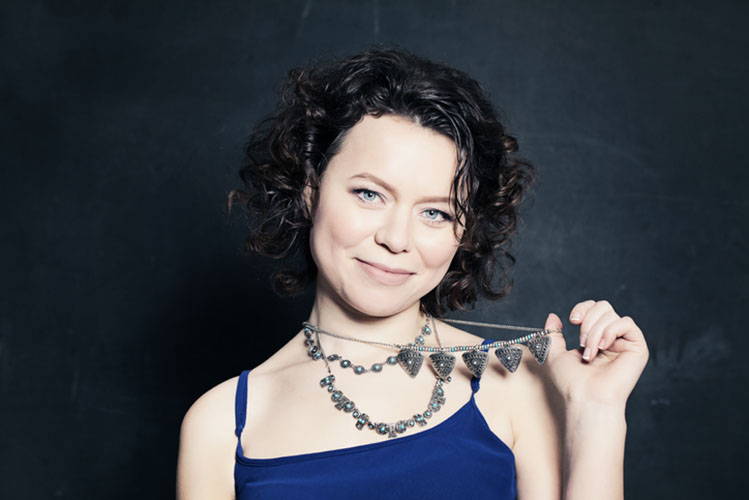 What has stayed constant is the appeal of silver necklaces, from handmade silver necklace to trendy silver jewelry.
More Resources:

June 29, 2021 by Conor Daniels