Your name, their name, a word that holds special meaning - name necklaces for all!
If you think about it, our names play a pretty major role in our life. Whether its a name that has been passed down from generation to generation, a decision we agonize over when having children and it's a defining part of who we are. Our selection of custom name necklace jewelry was designed to not only let you show the world whom you are but to also capture a part of your personality and personal style.
With that in mind, how do you go about creating a personalized name necklace? Where do you start? We've created an easy to follow, three step process that will help you create a custom name necklace that captures you to a T.
Step 1
Choose your name
This may sound crazy but we go by a lot of different names in our day to day life. Our given names. A nickname. Mom. Pops. Choose the name that you most identify with and that you feel best suits whom you are.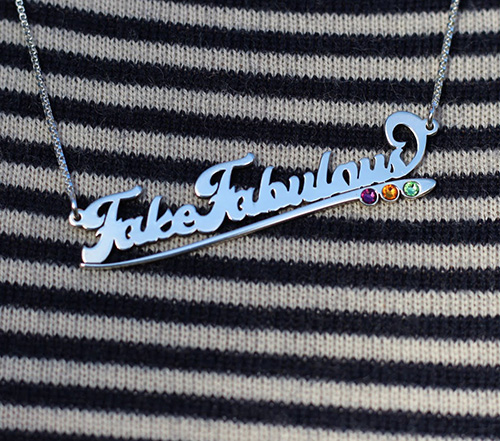 And it doesn't have to be your name! Maybe you want to do the name of that special someone, perhaps a boyfriend name necklace. Maybe you'd like to string together the first letters of all of your children, creating a personalized name necklace that is personal to your life story. So whether it is yours or someone else's or a 'name' that holds special meaning in your life, knowing the name that you're going to use is the first step in the process.
Step 2
Choose your font
We offer a variety of different fonts because we understand that everyone has different tastes. If you're looking for something a little more on the simple side, consider choosing the Confidence font. For those that want something with a bit more pizazz, our Dynamic font has a bit of italics feel while still remaining understated and elegant. And if you're looking for something with wow factor, take a look at the Brilliant font which has more curves to the lettering and a more ornate look.
Step 3
Choose your metal
You can choose between a sterling silver name necklace and a gold plated name necklace. Our sterling silver name necklaces are made of .925 sterling silver and the silver has anti-tarnish qualities. This adds great luster and durability to the name jewelry. Our gold personalized name jewelry is 24k gold plated over .925 sterling silver and all of our name necklaces are 1mm in thickness.
Where to buy a necklace with name on it - Commonly asked Questions
So it's not a perfect process and we get that. We don't know all your questions but we do know the questions that we are asked all the time. And if you have a question that isn't answered here, shoot us an email, give us a call. Reach out and let us give you the answers you're looking for!
What size will my custom name necklace be?
Most personalized name necklaces range from about 1-½" wide to ½" tall. This will vary depending on the length of the name and the font selection.

Where can I buy a name necklace and how much will it cost?
We offer a great selection of name necklaces! From simple to more ornate, our name jewelry is available in different finishes. A sterling silver name necklace is about $45 and a gold plated name necklace typically costs around $55. Our shipping is FREE and there is also a coupons and discounts page that is constantly updated with promo codes that will help you save a few extra dollars.
Can I customized my name necklace?
Absolutely! The options are endless when it comes to customizing name necklaces and we can do just about anything you'd like. We can add birthstones to the custom name necklace, make it bigger for a more dramatic oversized pendant, create a name necklace in a foreign language and so much more. Simply give us a call or send us an email with your custom design questions.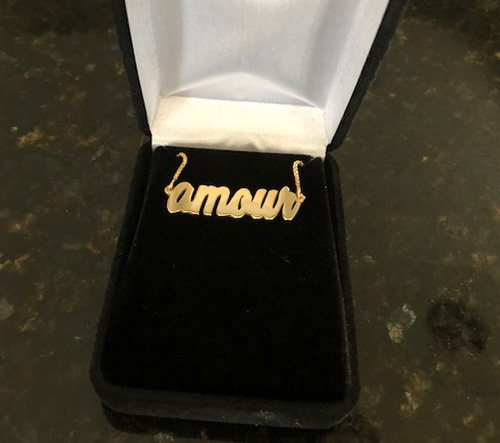 My friend wants to know where to buy name necklaces. Do you have a physical store?
Our online retail store is our best way to reach our customers. All of our pendants are made in Montana and from designing to producing to shipping, we are proud that our products are American made. Whether searching from your mobile device or in the comfort of your home office, Messages in Metal is our go to when it comes to where to get name necklaces!
I don't see a font that I like. Can you create a custom font for me?
We are happy to work with our customers on their custom name necklace selection. From font selection to longer names to addition of birthstones and more, our expert designers and engravers will go the extra mile to create a personalized name necklace for you that is exactly what you're looking for.
Is this something a man or a boyfriend would wear?
Sure, why not! We have some great vertical styles that are simple and masculine in style and are a ideal for any guy. Because the pendant is vertical it sits further down on the chest and when paired with one of our 24" chains, it's a fabulous option for a boyfriend, a spouse, a best friend, a brother, etc.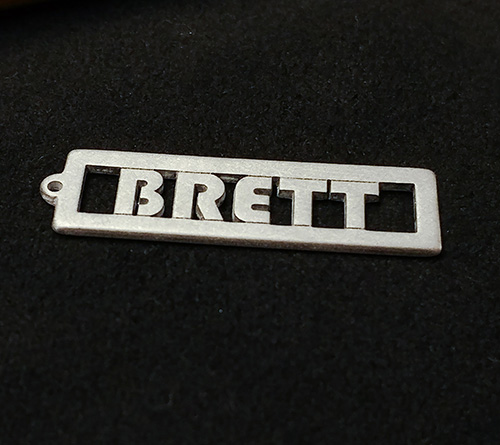 Creating a custom name necklace for you or as a gift for others is hassle free. Start designing yours today and simply have the name you'd like to use, select your font and metal and leave the rest up to us. Let us answer the question of where can I buy a name necklace with the best answer we know - Messages in Metal!